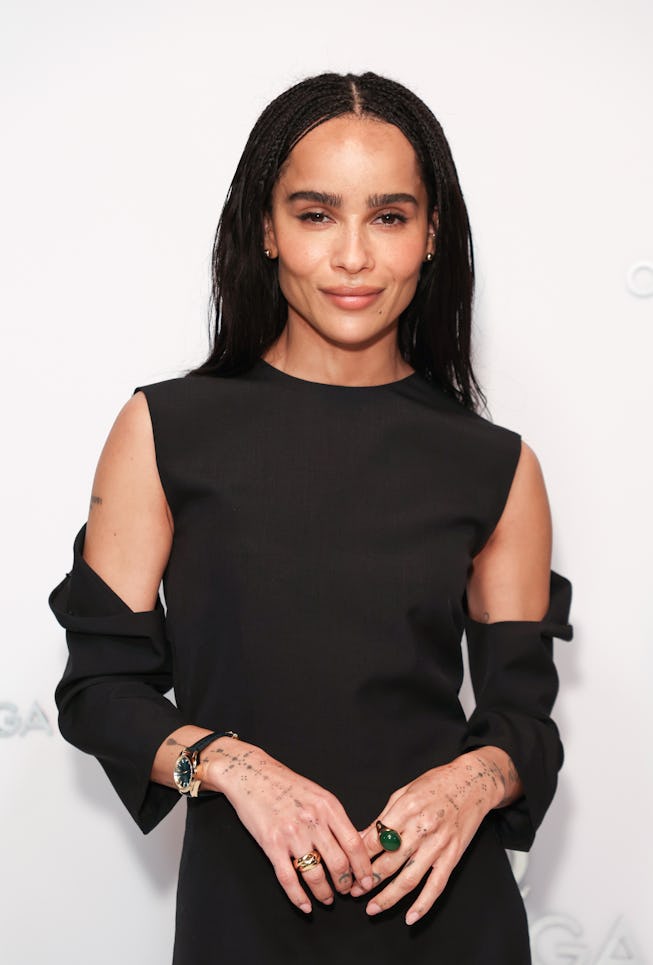 Zoe Kravitz's Micro Bangs Are Back
She showed off her new French girl bangs at Saint Laurent's Paris Fashion Week show.
If there's one thing that micro bangs are known for it's being notoriously hard to pull off. Categorized by sitting far above your eyebrows, the edgy haircut is often divisive but has been gaining steam over the past couple of years. Emily Ratajkowski wore clip-in micro bangs to the Met Gala this year, and Barbie Ferreira just got micro-bangs for the first time. "Why not? Hair grows," Ferreira told NYLON right after she cut them. It seems actress Zoe Kravitz shares a similar mentality, bringing back her micro bangs for the Saint Laurent Womenswear Spring/Summer 2024 show at Paris Fashion Week.
Kravitz wore a black and white polka dot mini dress and black heels, with effortlessly understated makeup and long, straight hair. Tucking her hair behind her ears, her new micro-bangs had the full focus, resting three-quarters of the way down her forehead. Her new bangs are choppy and light — worn as a full fringe with natural gaps between sections of hair. Kravitz's hair was styled by her go-to hairstylist Nikki Nelms and her natural bushy-browed and subtly lined eye look was done by her frequent makeup artist Nina Park.
September 2023Marc Piasecki/WireImage/Getty Images
February 2022Lia Toby/Getty Images Entertainment/Getty Images
While Zoe has been bang-free for the past few months, this isn't the first time that the star has ventured into micro-bang territory. At a special screening of The Batman in London last February, Zoe wore choppy micro-bangs to the side. She kept up with the sweeping side micro bangs at the March 2022 Academy Awards, before chopping her hair into a pixie cut at the end of last year. Earlier in 2023 she's been seen wearing long micro braids.
It's clear that Zoe had missed her chic micro bangs as much as we all have. After all, the style is the ultimate edgy it-girl hairstyle — making it a match made in heaven for the star that nails effortlessly cool, every time.