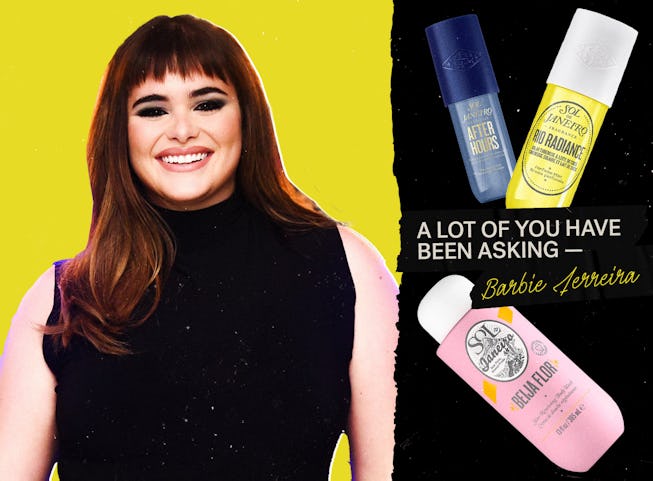 Nylon; Courtesy of Sol De Janeiro
Barbie Ferreira Loves To Enter The Room As "A Cloud Of Fragrance"
The actress talks about beauty as self-reinvention, her new micro-bangs, and her favorite Sol de Janeiro fragrances.
Over the past few years, Barbie Ferreira, has captured our hearts as Kat in HBO's Euphoria, Bailey in Unpregnant, and as a model and excellent internet follow. Known for always serving and committing to a look, she's become a fashion and beauty icon in her own right. From wearing "upside down" sunglasses to channeling "Barbie Weasley" with red hair (way ahead of the trend) or rocking line-drawn eyebrows for The Met Gala, it turns out Barbie has just as much fun experimenting with her style as we do keeping up with what she does next.
This week, the actress was in New York for the launch of Sol De Janeiro's latest limited-edition fragrance, After Hours. Coming from a self-proclaimed, "family really loves to overdo it with fragrance", Barbie has gone pro with her love of scents as the face of the Sol De Janeiro's perfume mist category. The body care, hair, and fragrance brand is a cult-favorite among people that prioritize smelling really, really good and Barbie is no exception. She says she likes to layer the scents until she becomes "a cloud of fragrance", making her presence known.
Below, Barbie talks with NYLON about wearing eyeliner at seven years old, her new micro-bangs, and her favorite Sol de Janeiro fragrances.
WHAT'S YOUR EARLIEST BEAUTY MEMORY?
"My earliest beauty memory is putting on so much black eyeliner from my mom's bag when I was in fourth grade and going to school. I got yelled at by my principal for wearing makeup— I remember it so vividly because I loved the eyeliner. I remember thinking, 'I'm so it right now' and having the eyeliner as a singular oval over my eye. There was no nuance to it. I'm seven years old. My mom always let me play and look crazy just to express myself."
WHAT'S ABOUT YOUR EARLIEST MEMORY OF FRAGRANCE?
"My earliest memory of perfume is definitely my grandma's collection of perfumes. It was always the same two or three but my family really loves to overdo it with fragrance. I'm a victim of that as well. I like to really spritz."
WHAT'S A PERFUME THAT YOU CAN'T LIVE WITHOUT?
"For me, Sol de Janeiro's Rio Radiance is so nice. I also love the new After Hours scent. It's a very limited edition vibe—so get into it. Also I just love the scent of the body wash—and the combo of them all! My shower always smells really good. I want everything to be highly fragranced. My eczema probably doesn't like that, but that's okay."
WHAT'S YOUR RELATIONSHIP WITH BEAUTY NOW?
"It's pretty much the same as when I was growing up but now I can explore more because I'm an adult and I get to buy my own things. I don't have to always use the same things, and I love to experiment with smell. I never wear the same perfume every day— I don't have a signature scent. I'll do a Rio Radiance or an After Hours, or just an essential oil sometimes. Sometimes I'll combo all of it. It all depends on how I'm feeling."
WHAT DO YOU LIKE TO SMELL LIKE?
"I tend to like to smell like florals and a little bit more vintage-y smells. I like to smell things that remind me of my mom and grandma, actually. It's a very nostalgic smell that is floral and feminine."
DO YOU HAVE A BEAUTY PHILOSOPHY?
"I just try to think of being glam as fun. It's fun to dress up. I don't think it has anything to do with who I am because I look so different every day, depending on what I'm doing. It's like being put into character and costume. I have fun always reinventing myself, always being inspired, and never being scared to try different things. I really like to play with my glam—for better or for worse. There are some misses, but we take it."
ANY FALL BEAUTY TRENDS THAT YOU ARE EXCITED TO TRY?
"I don't know. I'm excited about my own micro-bangs—they're not a trend at all, they are just my new bangs. I got them done for a project and then I went even shorter and was like, 'fuck it'. It's a look. I've never had micro-bangs before and now I have them with long hair. Why not? Hair grows."
WHERE DO YOU GET YOUR BEAUTY INSPIRATION?
"Characters in movies inspire me. I've been really into dressing like in Isabella Rossellini in Blue Velvet. Or maybe Dita Von Teese. All of these iconic people who really go for a full look. I love it. Blue Velvet was my inspiration for today— in a not literal way. I'm not wearing blue eyeshadow or anything, but it was just the vibe."