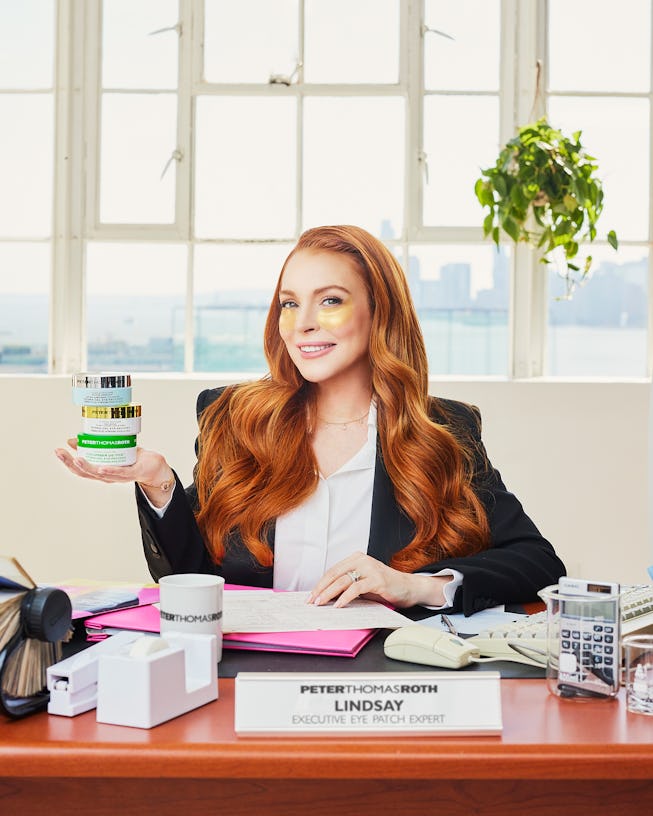 Courtesy of Peter Thomas Roth
Lindsay Lohan's Newest Gig Is Being An "Under-Eye Patch Expert"
She stars as a hotline operator in the latest Peter Thomas Roth skin care campaign.
We may receive a portion of sales if you purchase a product through a link in this article.
If you've ever wanted to hear more of Lindsay Lohan's signature raspy voice, or perhaps thought it would make her perfect for radio or to work as a phone operator, skin care brand Peter Thomas Roth's newest campaign is for you. Released this morning on the brand's Instagram, the new campaign video features Lohan in a Working Girl '80s-era-style office, playing operator to the "Peter Thomas Roth Eye-Conic Eye Patch Hotline", here to advise us all for any of our eye patch needs. Lohan says she has personally used Peter Thomas Roth's Hydra-Gel Eye Patches "for years".
Just last year Lohan had a triumphant return to the movies in Netflix's Falling For Christmas and this year she's bound to be even busier having recently announced her first pregnancy. "I've tried countless eye patches on set and off, and these are my absolute favorite because they leave my under-eyes looking bright and refreshed," Lohan says in a press release from the brand. "I've been using them so long, I'm becoming a bit of an expert, so playing an 'Executive Eye Patch Expert' was a fun way to creatively capture my experience!" It's a good time for the actress to stock up on all of her faves.
Lohan's outfit in the new video even matches the colors of the brand's top eye patch varieties. This includes the Water Drench Hyaluronic Cloud Hydra-Gel Eye Patches for instant moisture, Cucumber De-Tox Hydra-Gel Eye Patches to help awaken and depuff tired eyes, and the anti-aging 24K Gold Pure Luxury Lift & Firm Hydra-Gel Eye Patches, all available at Sephora.
If the idea of having Lohan on speed dial for all your under-eye needs tickles your fancy, you'll be pleased to hear that Peter Thomas Roth customers can dial the toll-free number "1-844-EYE-CONS" starting today to hear a special message and determine which eye patches are right for their desired needs. No, that doesn't technically mean you have Lohan's personal phone number, but we can only dream.