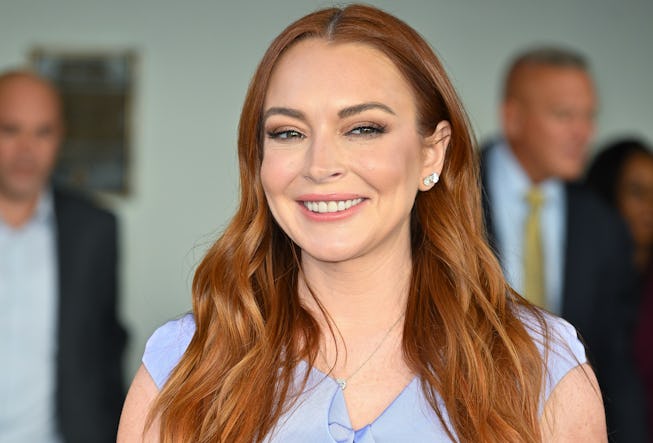 James Devaney/GC Images/Getty Images
Lindsay Lohan Is Going To Be A Mom
Lindsay Lohan has been enjoying a much-deserved comeback tour, after the actress best known for her generation-defining work in films like The Parent Trap, Mean Girls, and Freaky Friday (alongside now-Oscar-winner Jamie Lee Curtis), inked a multi-film deal with Netflix. Lifelong fans are relishing every step of it — from her lovely style renaissance, which includes a darling mixture of sweet and polished looks, to her greatest creative endeavor yet: her own baby.
Everyone from M3GAN to Jennifer Coolidge is so mother these days. But there's about to be a new mother in town, literally and figuratively: Lindsay Lohan announced Tuesday that she is pregnant with her first child.
Lohan announced the news on Instagram with an image of a tiny white onesie with the words "coming soon..." emblazoned over the photo in Pinterest wedding font.
"We are blessed and excited!" Lohan wrote, the "we" referring to her husband Bader Shammas, the Dubai-based financier who she married last year, whom Lohan met during the years she lived in the UAE, a place where she finally was able to escape paparazzi and find peace. She told Vogue last year that she loved Dubai because paparazzi were illegal there.
"I really found that I had a private life, and I could just take time for myself," she said. "I decided to stay there because I really learned to appreciate what it is to go, do my work, and then leave and live a normal life."
It feels like the normal life was an on-ramp to Lohan's much-deserved resurgence. In a statement to TMZ, Lohan further expressed her joy: "We are very excited for our new family member to arrive and we are looking forward to this next chapter of our lives!"
This is Lohan's first pregnancy, if you don't count her leading role in Labor Pains, the 2009 ABC Family romantic comedy where Lohan pretends to be pregnant to avoid getting fired at her job. (Recession malaise truly gave us so much good art.) The film also stars Tracee Ellis Ross, Willie Garson (RIP) of Sex and the City Fame, and Janeane Garofalo. The role marked Lohan's last leading role before a hiatus that only recently saw its end with her leading role in Netflix's Falling for Christmas, this past Christmas, which she starred alongside Glee actor Chord Overstreet.