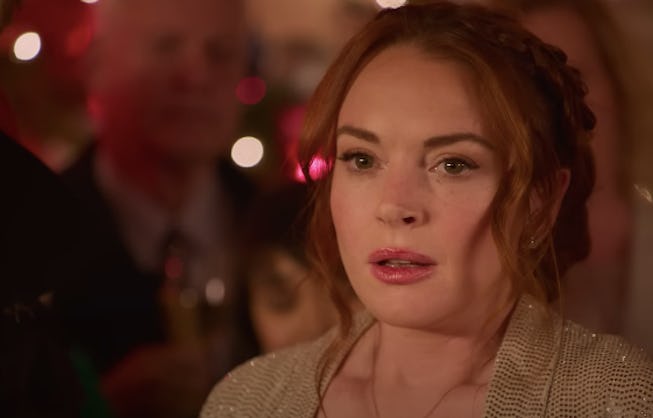 Screengrab via YouTube
Lindsay Lohan Plays An Heiress With Amnesia In 'Falling For Christmas' Trailer
Lohan said getting back into acting was like "riding a bicycle."
The holiday season is right around the corner, and this year we can celebrate with the return of Lindsay Lohan. The 36-year-old actress stars in Netflix's latest holiday romcom, Falling for Christmas, which premieres this fall — and the first trailer dropped on Friday, October 7th.
In the trailer, Lohan stars as a hotel heiress who wants to be remembered for more than her last name. When she falls and hits her head after he fiancé proposes to her with a giant yellow diamond on a ski slope, she appears to get her wish. In classic rom-com style, she rides out her amnesia with a hunky guy (Chord Overstreet) at his Christmas-themed lodge as she tries to remember who she is. An adorable child encourages Overstreet's character to confess his love for Lohan. You can watch the full trailer, below:
Lohan has been mostly retired from acting for years, and Falling For Christmas marks her return to the industry. She currently has a two-movie deal with Netflix and the upcoming Christmas film is the first of their collaboration. In an interview with The Hollywood Reporter Lohan explained that getting back into acting after nearly a decade was like "riding a bicycle." "It's just in me," she said. "It's a part of me. Doing films, playing a character, it brings me so much joy to be able to share a story with people. To take people on that journey with me is such a blessing."
The second film that Lohan will star in is called Irish Wish, a supernatural rom-com set in, where else, Ireland. Lohan said her partnership with the streamer is going well. "I am having a wonderful time working with Netflix and am discussing next steps! I would love to dive deeper and play a character who's on a journey [of] self-discovery."
Falling For Christmas hits Netflix November 10, 2022.