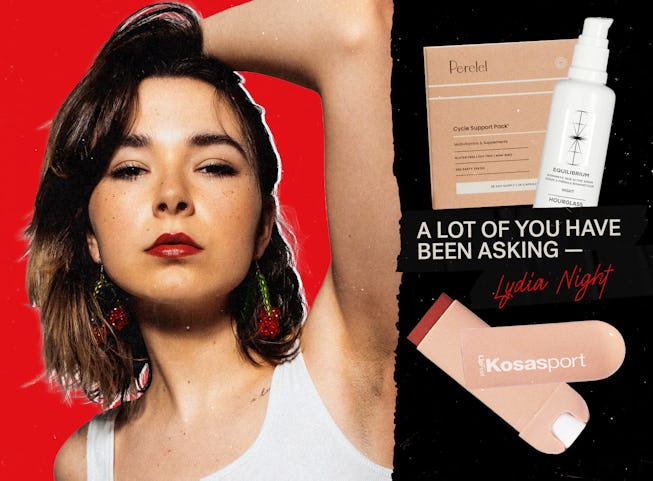 Lydia Night's Best Wellness Tip: "Be F*cking Nice To Yourself!"
The Regrettes singer on her non-negotiable self care rituals, her favorite serum, and why we should all be talking more about periods.
There's something about Lydia Night that makes everything she does incredibly cool — especially because she doesn't care about being cool. As frontwoman of The Regrettes, she's a musical powerhouse with three highly addictive alt-pop albums under her belt. While twenty-something musicians and wellness influencers used to be considered two groups that nary mixed in the past, she manages to be both in this new era. On tour she prioritizes her mental and physical health. ("I barely drink on tour, and I try to eat foods that fuel me and energize me.") She also maintains a food Instagram account on the side for fun ("I just love to make food and eat food and felt like it was starting to get annoying on my regular account.") That's what being a rockstar looks like in 2023.
Next her list of things to lend her inherent cool factor to is her partnership with menstrual and hormonal vitamin and supplement brand Perelel on their latest project to educate Gen Z women about their bodies and cycles. "As soon as I heard about the project, I was obsessed and knew I wanted to be involved," says Night. In the new YouTube series, The Hormonal Hotline, Night serves as the everywoman correspondent dialing into OB/GYN Banafsheh Bayati to answer questions so many want to know but are too embarrassed to ask. And yes, we're talking everything, from charting the phases of a cycle to PMS symptoms and period poops. "It's kind of the first step to true normalization," say Night, "because normalizing our cycles isn't just pretending it's not going on, or suffering in silence."
Below, Night gets into it with NYLON about her daily self-care rituals, period talk, and The Hormonal Hotline.
What's your first memory of practicing self care?
I remember when I was about 13, I started having nights where I would do a face mask and paint my nails while watching The Office and that was peak self-care at the time. It honestly still is.
How big of a role does self care play in your everyday life now?
Self-care is a massive part of my life! I think it kind of has to be for survival. I try to check in with myself every day and do my best to honor my intuition on what I need to do for myself that day in terms of wellness. I think what that means for me is that it changes everyday.
How do you prioritize wellness when you're traveling and performing?
I barely drink on tour, and I try to eat foods that fuel me and energize me so I'm able to perform. I'm not supposed to drink coffee on tour and that's hard for me. Balance, I guess.
Do you have any daily wellness rituals?
I like to start my day by cuddling my cats, eating some probiotic yogurt, taking a probiotic, and drinking a f*ck ton of water. I also recently started taking Perelel's new vitamin pack that syncs with my menstrual cycle. It's their Cycle Support Pack. Those are my non-negotiables.
What's your go-to skin care routine?
I honestly mix it up in terms of my skincare and beauty routine, but a product that I'm currently really obsessed with is the Hourglass night serum. My skin's been glowing. Another staple for me is the Kosas Lip Fuel.
What were the questions you were most interested in answering in the Hormonal Hotline series?
It's honestly crazy how little we're taught about our bodies, so I was just excited to learn more about the different phases of my cycle and what's actually going on with my hormones throughout the month. We should also understand what's going on in our own bodies. It's wild. We feel these symptoms but aren't expected to understand why we feel shitty — it's just "PMS." And we're supposed to just accept that and power through. So the idea of getting that context for my symptoms was really interesting to me.
What's the most surprising thing you learned?
We did a myth-busting episode which was really fun. Like, is it true that we sync up our cycles with our friends? The answer was, "not no" — which was kind of surprising. They also put together this landing page about how your cycle works. It shows you what to eat, how to exercise, and what to expect during each phase of your cycle. I was blown away by how simply they broke down something that's so complex.
Has anything been a game changer for you?
I think just the idea that we can talk openly about this — period poops and all. It's kind of the first step to true normalization, because normalizing our cycles isn't just pretending it's not going on, or suffering in silence. It's validating how we feel, especially in public. We can actually say: My boobs are sore, I'm spiraling, and I'm just not 100% today, and that's okay. That's normal.
Do you have a wellness or beauty philosophy?
I think it's so important to recognize the fact that what wellness means to you is going to be constantly evolving over time the more that we grow as people. Having flexibility around that is so important to me and a lot easier said than done. I can sit here all day and say be f*cking nice to yourself, but that shit is hard! But also, be f*cking nice to yourself!
This interview has been edited and condensed for clarity.