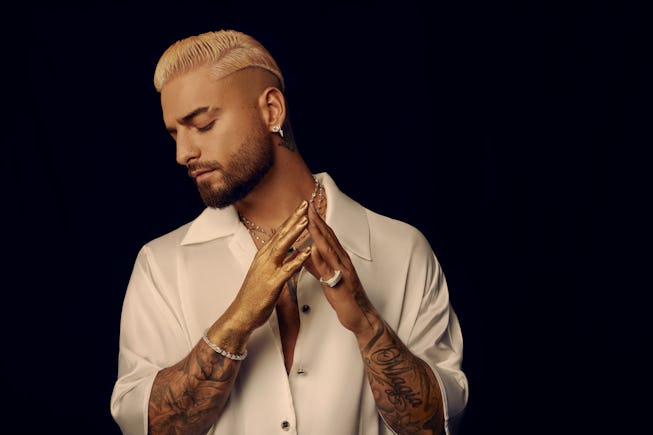 Courtesy of Royalty by Maluma
Maluma Wants You To Smell Like Royalty
The singer, songwriter, actor, and global superstar releases his first fragrance collection.
Juan Luis Londoño Arias, better known as Maluma, is a Colombian singer, songwriter, actor, and superstar with over 62 million followers on Instagram alone. With a busy year of music and film releases (including last month's Marry Me, starring Jennifer Lopez), he his quickly becoming a global household name. Today, the star is announcing that he is also following J.Lo's lead in another venture and taking his first foray into fragrance. Maluma will be launching his first range of fragrances, available to purchase starting Friday, March 4. Instilling this first drop with stately importance, the name of the fragrance range is named Royalty by Maluma and the first collection is, of course, The King and Queen Collection. The collection consists of four scents for both men and women, each selling for $45 starting tomorrow on the brand's website, royaltybymaluma.com.
With just three posts on the brand's Instagram, it already has over 14 thousand followers ahead of the official launch. "Be Loyal. Be Respectful. Be Royal" is written in the bio. "My feeling is that everyone should remember who they are and never their crown slip, because we are all kings and queens," Maluma said when speaking about the inspiration for the scents in a press release. "My father let me wear his signature fragrance in the morning growing up and it created my love for scent at a very young age."
Each of the four fragrances in the first drop is named after a precious gem—Jade, Onyx, Garnet, and Amethyst. Onyx and Garnet are the more masculine fragrances included in the King Collection, and Jade and Amethyst are the two scents of the more expressly feminine Queen Collection. Each bottle has a cut jewel-like shape in the respective color of the gem it represents and luxurious gold detailing of the letter, "M". Maluma himself considers the collection open to interpretation of his fans, "I wanted the collections to be unisex and fluid for all my fans. We wanted no limits to the scents and make sure both genders can use any of the collections." Whether you're more interested in the woodier Onyx and Garnet scents or the juicier and more floral Jade and Amethyst fragrances is up to you. The singer adds that the note that was most important for him to include in this first collection was "the orchid flower, which is the main flower of Medellin," he explains of the ingredient found most prominently in the Amethyst scent, "to have an element that represents my hometown and roots."
Maluma is the latest musician to dip into the beauty space, following other stars like Rihanna, Arianna Grande, Justin Bieber, and even Dolly Parton. As the Royalty By Maluma Instagram account touts, Friday, March 4th is the launch date for "Drop 1", so this is only just the beginning.