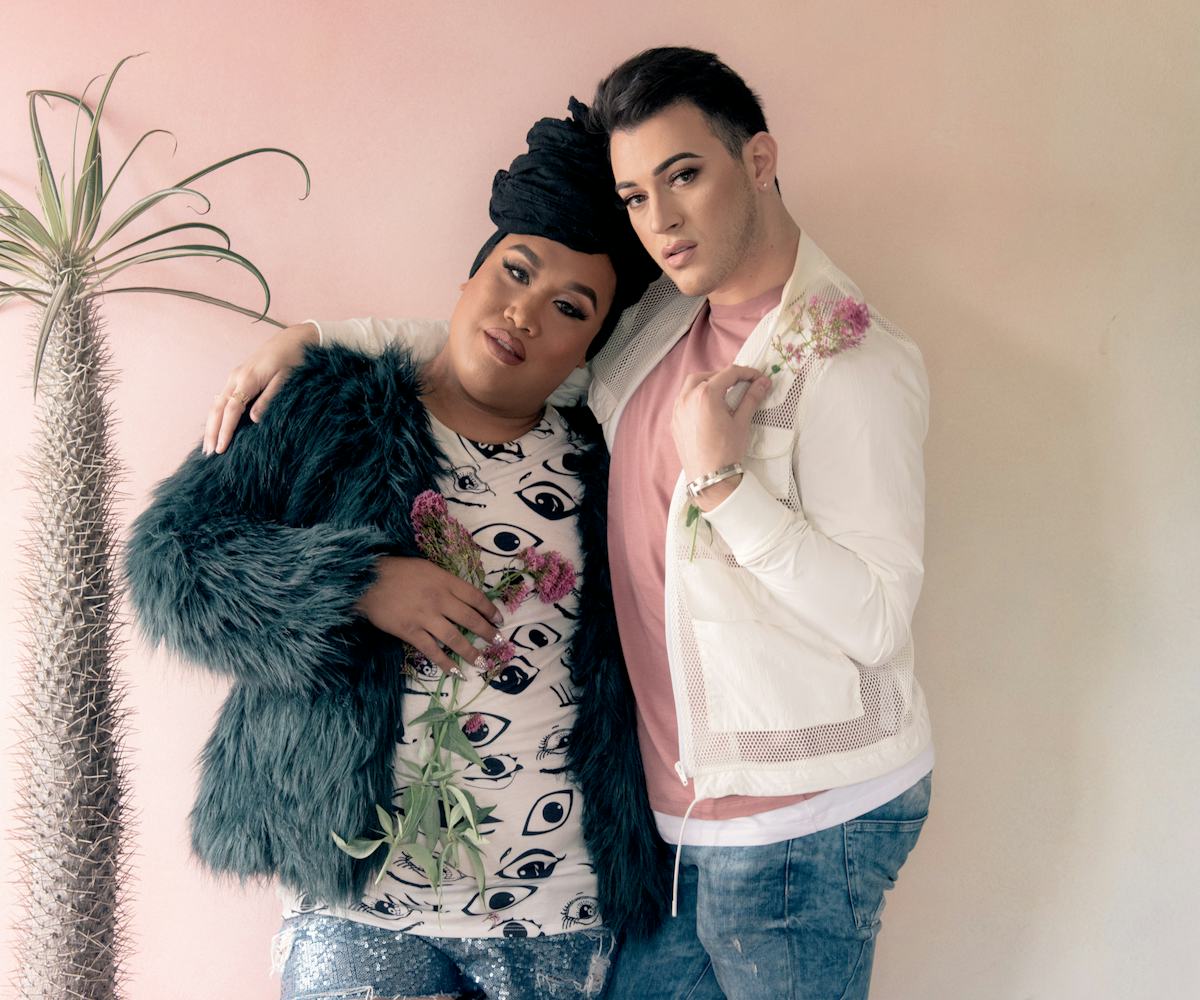 Photographed by Amy Harrity.
Manny Mua And Patrick Starrr Talk About Being Men In The Beauty Industry
And how we can continue to shape it
The following feature appears in the October 2016 issue of NYLON.
After taking a leap of faith by creating their youtube channels to show off their skills, makeup artists Manny Mua and Patrick Starrr became overnight sensations (and best friends) in a beauty world that was once believed to be for girls only. Here, we chat self-love, makeup secrets, and how to handle the haters, one highlighter at a time.
What was your first memory of playing with makeup?
Manny Mua: When I was a young boy I would watch my mom apply her makeup, so one day I took a lipstick she had and put it on my mouth, trying to imitate her. It ended up all over my face.
Patrick Starrr:I didn't play with makeup until I was 17 years old, but I remember stealing my mom's CoverGirl foundation that was too dark for me [laughs].
When was the first time you were told it wasn't okay for boys to wear makeup?
PS: I'll never forget the time I was told to wipe my makeup off at the makeup counter I was working at. It was the first moment something like that happened to me in public. All I wanted was to look good and sell what I was wearing on my face.
MM: I didn't start wearing makeup until I was in my early 20s, so I never realized that makeup "wasn't for boys," as many social norms say. 
Why is it important for men to be represented in the beauty industry?
PS: Makeup is one size fits all. It makes me feel good and it's no different than what we eat and what we wear.
MM: It's important because being different is beautiful. I believe that society needs to be more open and accepting of things that are seen as "different."
What are your dreams for yourself in this industry?
PS: To bring awareness to parents out there that makeup is art. I want parents to educate and teach their children that men in makeup are no different than anyone else. At meet and greets I thank parents for allowing their children to watch my YouTube channel—it means so much to me. We can change the world.
MM: I would love to keep growing. I want to become successful and represent a different form of beauty in my generation.
Click through the gallery to read the rest of the feature. 
Patrick, what's the most inspiring thing to you about Manny?
PS: I admire his drive. He's such a go-getter and he does every move with passion. He has pushed me to be more vulnerable. For me, friends were hard to come by until I met him.
Manny, same question about Patrick.
MM: I love that he's such a hard worker. He's one of the original boys I saw wearing makeup online and really bending the rules of society, and that really resonated with me. I definitely wouldn't be where I am now without him in my life. 
You've both done makeup collabs in the past, Manny with Makeup Geek and Patrick with Formula X. Would you ever start your own eponymous line of makeup products? Do you have any upcoming collabs?
PS: I have a collaboration coming up this holiday season! I would definitely love to have my own makeup brand one day, that would be a dream come true.
MM: I would also love to start my own brand, that's definitely in my future. I do have two upcoming collabs, though. I can't talk about them just yet, but they will be amazing.
Who can beat a face faster?
PS: I take forever. I feel like Manny is faster!
MM: No way, Patrick for sure [laughs].
How do you handle the hate that comes along with being a male beauty vlogger?
PS: I ignore it. If I do come across hate comments or bullying, I know where the block button is. I know at this point that I have a responsibility. My platform is under my control and I know there are boys and girls reading, and I would hate for my social media to be a hub of negativity.
MM: There is tons of hate, yes. However, there is so much more love and positivity that makes the hate roll off my shoulders. You can't let hate control you or what you do. You have to see past it and know that people who send you hate online are insecure with themselves and it ultimately has nothing to do with you.
What's your dream for the beauty community and its inclusion of men?
PS: My dream is to have beauty influencers in the forefront of businesses and communities outside of YouTube and Instagram. There is so much we can do beyond social media.
MM: My dream is for male beauty models, bloggers, YouTubers, and everyone in between to be seen as equal to women in the beauty community. I'm not talking about makeup artists—I'm talking about those who love to wear makeup and be seen in makeup. I hope that society will one day be accepting of men in makeup: no stares, no talking behind our backs, no bias, just acceptance. 
What is your advice for a young boy who wants to explore wearing makeup?
PS: Make friends who love what you love. When Manny and I became friends my life changed. I became more inspired and driven to go after my dreams.
MM: My advice would be to talk to your parents, let them know that makeup is something you love, that you're passionate about it, and it's your artistic freedom. After you're done talking to them, have them help you pick out your first highlighter.
Where do your YouTube illuminati meetings take place, and can we get an invite?
PS: You need three Morphe brushes purchased with the discount code "PSTARRR," then bring them to the Hollywood sign and knock on the "D" three times, and name your favorite Tarte eyeshadow palette while wearing American Doll liquid lipstick by Anastasia Beverly Hills. Boom.
MM: I plead the fifth!