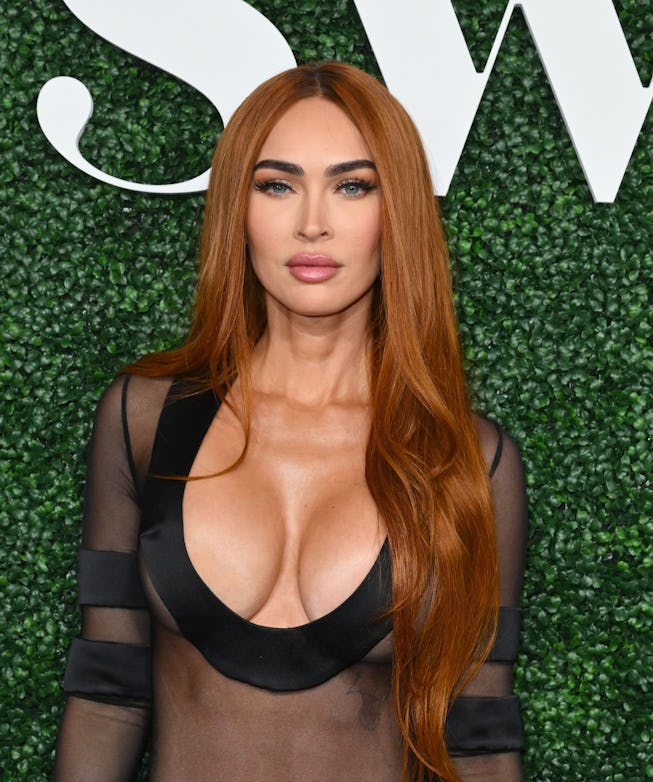 ANGELA WEISS/AFP/Getty Images
Megan Fox Just Debuted A New "Red Velvet" Bob
The major hair change is a fall dream.
This year, Megan Fox has been experimenting with being a redhead. After stepping out with ultra-long, auburn hair in May, the Jennifer's Body actress has kept the subtle ginger tone ever since. The orange shift was major for Megan—who is iconically known for her long raven hair (and also a few brief moments as a blonde) but perhaps not a big enough change for the star as she's just taken being a redhead up another notch.
Yesterday, one of Megan's go-to hair stylists Dimitris Giannetos posted a photo of Megan with a brand new look, something he's calling the "red velvet bob". Changing it up with a new saturated red shade (with dark undertones, like its dessert counterpart), Megan also opted for a much shorter length. Her hair just reached her shoulders and was styled with effortlessly messy touseled waves.
Considering that Megan herself has been on somewhat of an Instagram hiatus since posting the launch of her book last month, she hasn't posted the dramatic change herself (yet). She has, however, been spotted walking around New York with her fiancé MGK, rocking her new bright red velvet hair.
This, of course, isn't Megan's first time with a bob (or as a redhead) but it's a brand new look with those elements together. At the start of this year, Megan posted a long honey-blonde bob with wispy bangs. What can we say—Megan loves a dramatic hair chance and we're here for the delicious cake-inspired drama.