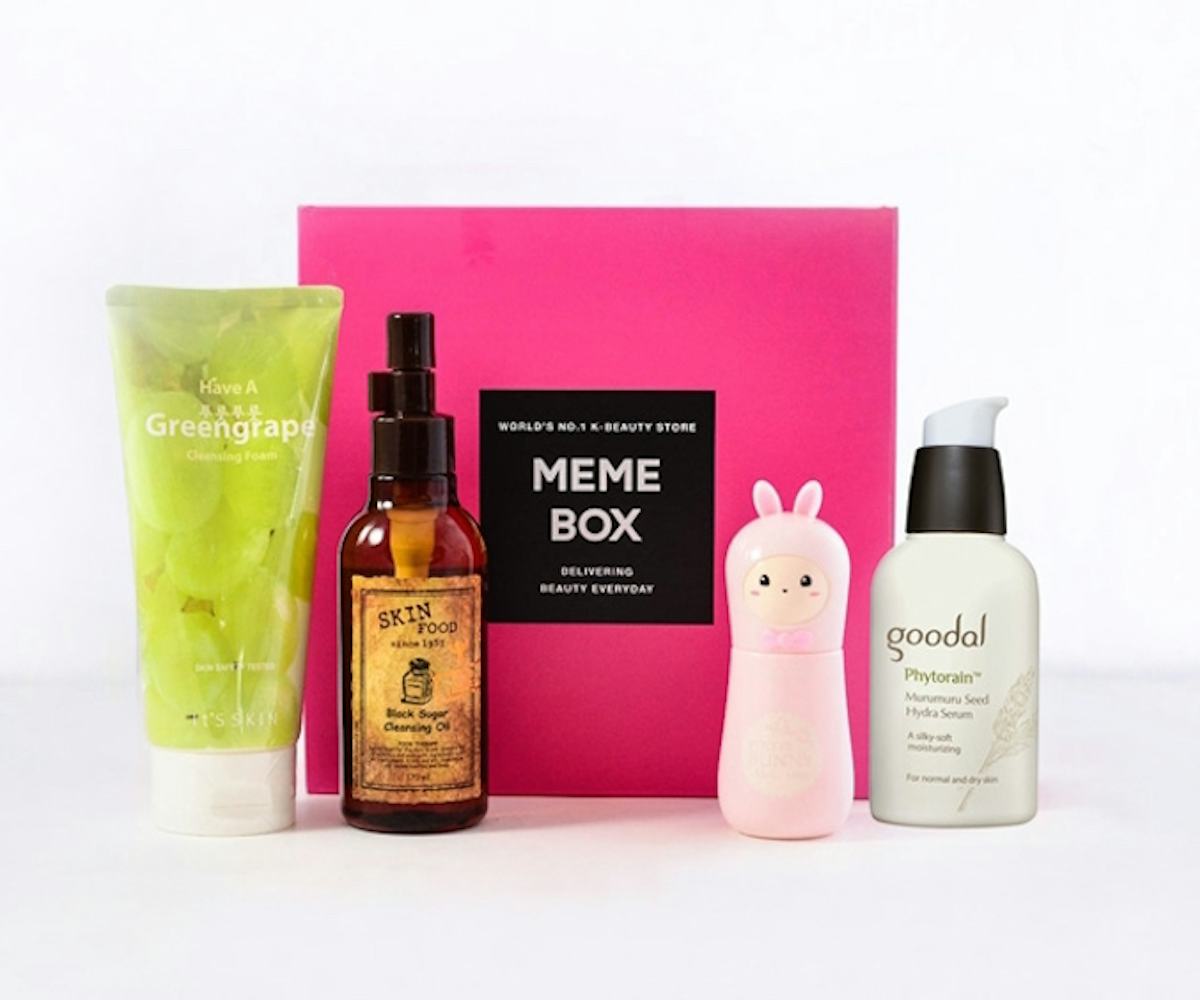 memebox breaks down the korean beauty trend
a flawless face begins with skin.
The frantic search for a beauty routine that will save our winter skin is killing us. In the hopes of finding the secret to salvation—we've been giving the Korean Beauty Starter Kit from Memebox a pretty good run, and yes, we're hooked. Memebox is on a mission to take down the stigma of Korean skincare (which consists of a daunting 10-step process if you didn't know) by simplifying the intense regimine into four easy steps that we were actually willing to try. The kit features a bomb group of key beauty essentials that have managed to beautify our compexions from the inside out (we're talking sans concealer). The whole "go naked"/"dare to bare" message has been all but played out—but not only are we into Memebox's easy-to-use skincare weaponry, we're also on board with their #beginwithskin memo that goes along with it.
We made room on our shelves for the Beauty Starter Kit that soon sparked a love affair with all things K-beauty. If you're still a skeptic then listen up—because we're sharing our affirmation with a basic breakdown of everything you'll need to know on how to get OUR gorgeous skin (we're really feeling ourselves).
Step 1: Cleansing Oil
Skin Food Black Sugar Cleansing Oil: The first step of a double-cleansing system (that's right— K-beauty success involves washing twice ladies) starts with a cleanser designed to rid your skin of oil-based impurities that are typically the most damaging and the hardest to eliminate.
Step 2: Cleansing Foam
Round two features a water-based cleansing foam to eliminate sweat and dirt. Purify your skin while retaining a healthy level of moisture with one of three cleansers: green grape, pomegranate, and eggshell (yes, you read that right). In an appropriation of the controversial eggwhite mask, this cleanser will leave your skin feeling rejuvinated without you having to skimp on breakfast.
Step 3: Serum
The Goodal Phytorain Murumuru Seed Hydra Serum is a super strength formula built for locking in moisture and leaving your skin as silky-smooth as the serum itself. Treat yourself to brighter, calmer skin—a much needed combo during these times of face-freezing temps.
Step 4: Mist
Trust us when we tell you that there will never be a facial mist cuter than this one. The Tonymoly Pocket Bunny Moist Mist is a hydrating potion with fresh peach, raspberry, and apple extracts concealed in a beyond-adorable bunny capsule. Bring your cutesie skincare accessory with you wherever you go, along with your freshly hydrated skin.
Conquer the climate (and every other skin detriment) with K-beauty bonuses thanks to 
! We're giving MAJOR face.