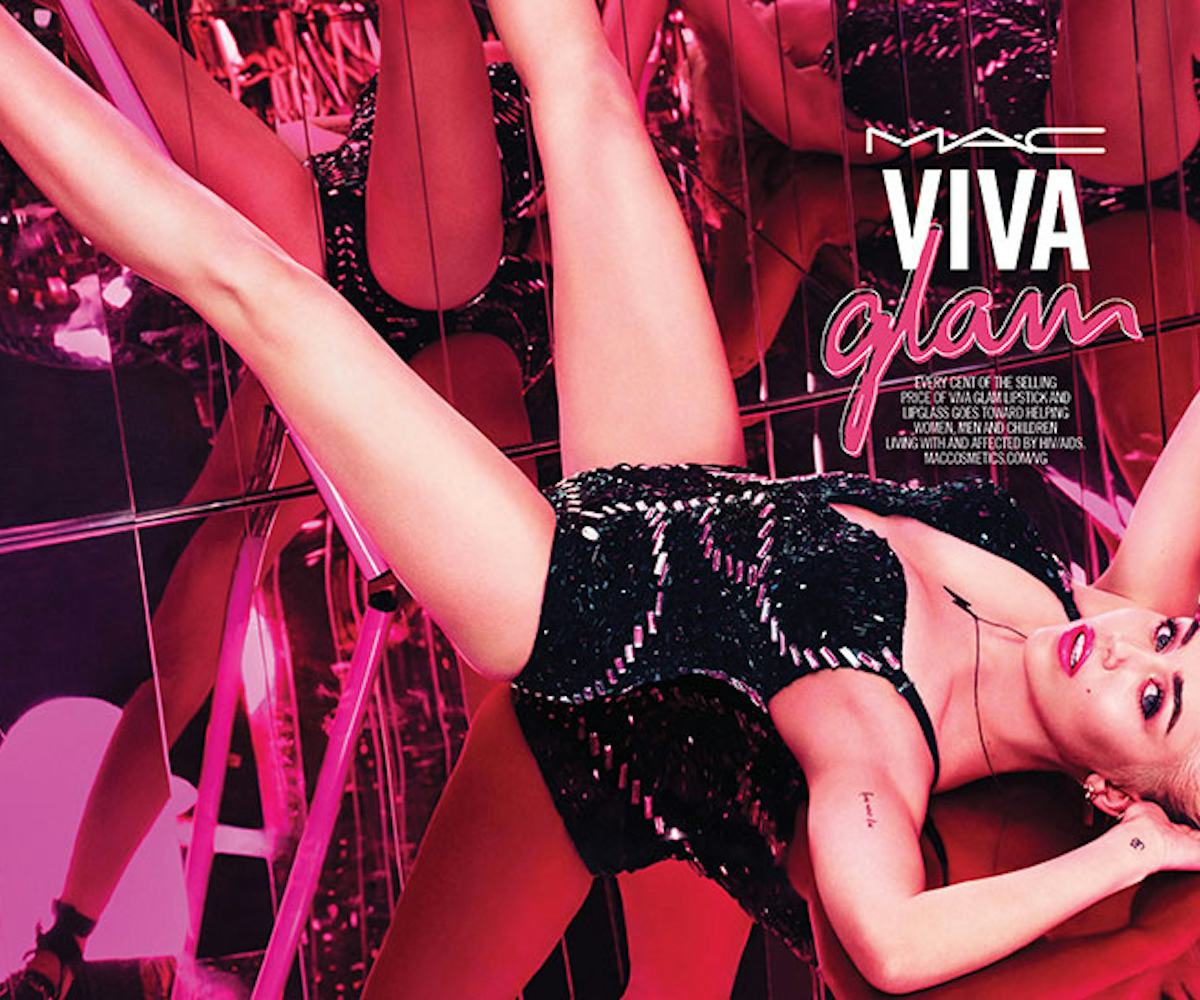 all photos courtesy of m.a.c cosmetics
miley cyrus and mac is actually happening
and it's going to make a big difference.
We love new beauty products as much as the next girl, but when it comes to a beauty product that has the power to make the world a safer and healthier place? That's a million times cooler. The M.A.C AIDS Fund's beauty line, VIVA GLAM, is one of those rare gems of a charity that donates 100% of its proceeds to helping people affected by HIV and AIDS, in addition to playing a major role in raising awareness about the issue and breaking down stigmas associated with it.
Miley Cyrus tweeted the announcement of her new VIVA GLAM campaign earlier today, which means that she's going to be the face of their newest lipstick, which will be out in early 2015. Although she's already a regular American superstar, this is still a pretty big deal for Miley, seeing as VIVA GLAM features only the raddest, most badass people who are really making a difference in the entertainment industry. After all, the first face of the line was the notorious and glorious RuPaul, followed by Elton John, Mary J. Blige, and former NYLON cover star Shirley Manson to name a few. Most recently, the mantle was upheld by Lady Gaga and Nicki Minaj. But since the brand stands for outspoken, fierce, and unabashed beauty—plus allowing for diverse voices to be heard, Miley seems like the exact fit for next in line. 
We're already super excited to be able to take home the awesome products of this collab next year (think there will be lipstick that can stag a strong tongue-wagging?). But we are even more excited to see proceeds go to one of the most important causes in the world right now. Miley, you may be kooky and controversial at times, but we can tell—you've got a heart of gold.
Related Articles:
Christopher Owens Wants To Make Miley A Country Star
Go Inside The Beauty Bags Of 3 NYLON It Girls
Your Insiders Guide To Korean Beauty Products
miley's m.a.c hot pink lipstick
matching lipglass with sparkling pearl shimmer