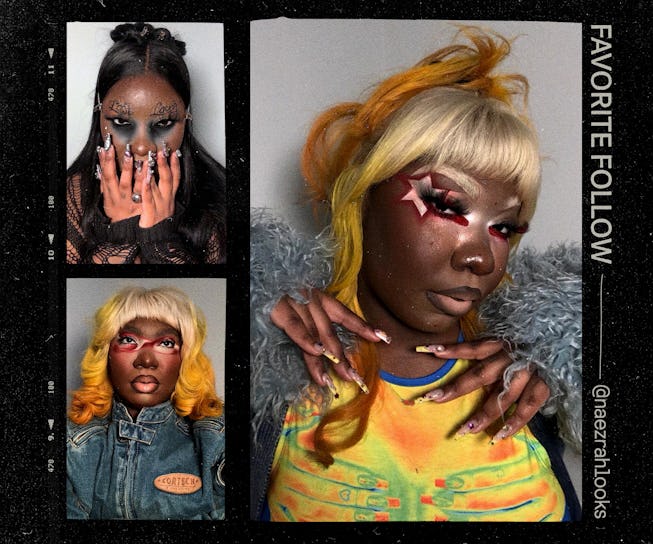 Nylon; Photos Courtesy Of Naezrah
Meet Naezrah, The Abstract Makeup Artist Behind SZA's Coolest Looks
The makeup artist talks starting trends, going viral, and meeting SZA over DM.
Welcome to Favorite Follow, a series highlighting NYLON's favorite creators and the stories behind some of their most memorable content.
In even just the past five years, there's been a dramatic push for the beauty industry to become a more inclusive space, but that was not always the case— something makeup artist and content creator Naezrah knows too well. At the beginning of her career, she endured countless rejections by the traditional establishment and harassment online, but she saw building her platform and sharing her art as a radical act of self-love. After years of establishing her style and listening to her inner voice, that resilience and determination has paid off Now Naezrah has built a platform of 345 thousand followers on Instagram and 280 thousand followers on TikTok—and counting.
Another reward of staying true to her artistic vision? Getting recognized by SZA—even getting direct messaged out of the blue to work with the singer. "SZA sent a picture of a star look I did on myself, asking if I could recreate it on her," Naezrah recalls. Now, Naezrah tells NYLON that her mantra is, "Do nothing without intention." Her drive, first and foremost is to champion Black creatives and contribute to their visibility who are often overlooked in the editorial space. With her growing presence in beauty and fashion, we can only imagine sky's the limit.
Below, Naezrah talks with NYLON about her artistic background, embracing individuality, working with SZA, and more.
On getting into makeup
"My first experience with makeup was regular high school stuff, that was during the era of block eyebrows when the concealer that was light at the top and bottom. And that was my look with a little sparkle on the inner corner of my eyes and gloss from the beauty supply store. But I honestly wasn't interested in makeup as much as I am now. That still shocks a lot of people.
Drawing is my first talent and I went to school for fashion. I used to look at NYLON and Teen Vogue to make my mood boards for school. It wasn't until my freshman year of college, late 2016 going into 2017, that I was in my dorm and thought everyone looked nice—and I wanted to look nice, too. There is a natural collision between fashion and makeup, so I decided to veer onto the beauty path. Back then, almost every Black girl was wearing MAC NW45, looking very orange or ghostly—even me. So I got creative, looking to different sources of inspiration, such as drag makeup. That is how I started to master face dimension with the limited shade ranges until I found my medium."
On breaking into the beauty industry
"After about two years, I was fully into makeup. Of course, I wanted to work at MAC so badly, but kept getting rejected. After a year, I went to Sephora and kept getting denied. I got a call back for what I thought was an interview. When I got there, they only asked for my resume, and that was it. I remember walking past the Milk Makeup aisle on my way out and thinking, 'I'm going to work with them one day'. As soon as I had the thought—I was still standing in the store—I saw an email from Milk Makeup's PR! That was the beginning of big brands seeing me."
On her signature look
"The start of this career wasn't great. Millions of people dogged me. Back then, we didn't have a lot of dark-skinned influencers. We had Jackie [Aina] and Nyma Tang who were doing beautiful clean work, but I wanted to shake it up. Even though I was constantly being harassed about how my bright under eye makeup was, something inside me said, 'stick with this'. So to piss people off more, I started doing the bright under eye in different colors. I don't retaliate but take delight in the hate. Fast forward years later, the trend reemerges and finally, I got the credit."
On working with SZA
"I don't know how she found me, but SZA has been following me for more than half of my journey. I want to assume it's because someone gave me credit for something. That's why crediting people's work is so important. One day she DMed me—it was early in the morning—and I thought, 'is this for real or a fan account?' I was so excited my Aunt had to remind me to text back. When I did, SZA sent a picture of a star look I did on myself, asking if I could recreate it on her. She flew me out for a Spotify event, which was an exciting experience. SZA is so sweet to work with.
The next time I worked with her, I came with sketches of looks for her to choose from. There have been more times than not that my work was stolen and not credited, so I was very intentional with my designs. When the Billboard ad and visuals for SZA's "Shirt" music video came out all my mutuals hit me up. They knew it was my work even before I confirmed it. It was so surreal when the video came out and I saw my name in the credits. I'm eternally grateful."
On her makeup must-haves
"Maybelline FitMe was my first foundation—and the foundation and powder are still that girl! E.l.f. and NYX also get it right! You have to use them how they are supposed to be used."
On what's next
"I feel I've got makeup down pat and still plan to share more of my sketches as beauty looks, but I also want to revisit the things I originally wanted to do. I originally went to school for design and can still sew a clean industrial item, so maybe I'll be collaborating with designers. I know many people are curious about how I dress because they think my makeup is interesting, so I'm excited to share that side of me on my platform.
Yeah, its kind of scary to pivot, but it's not like I'm leaving makeup altogether. The ones who want to rock with me will rock with me. I feel if I'm genuinely happy, that's what's most important."