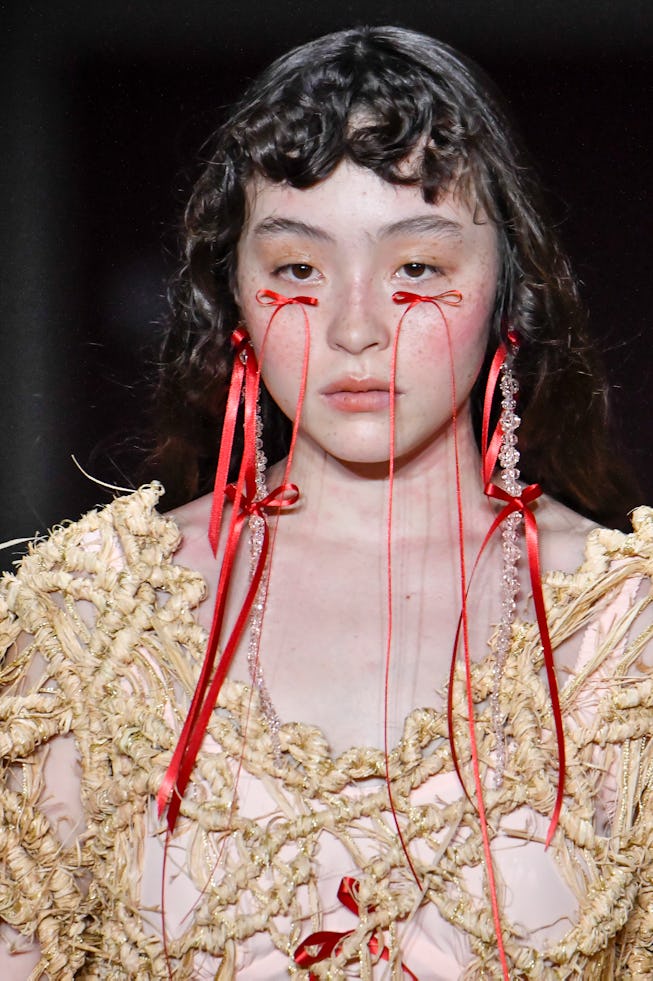 Victor VIRGILE/Gamma-Rapho/Getty Images
5 New Ways To Wear Bows, According To The Fall 2023 Runways
Here are the five new bow trends to tie into your wardrobe in 2023.
There's a reason "to tie something up in a bow" is a common expression to signify something is finished in a wholly satisfying way. Many things just feel incomplete without adding a bow on top—fashion included. The clothing industry has always had a fascination with ribbons and bows as a completing touch. Hair ribbons made of gold have been traced back to ancient times, from 2600 to 2500 B.C. Since then, there have hundreds of iterations of bows, from bow ties to statement hair bows, to tiny bows added to the front of lingerie. An ever-present force, bows stick around season after season, yo-yoing between being an underrated (and sometimes unnoticed) detailing to the accessory of the season. In 2023, it seems bows will continue to be the latter.
With cottagecore and balletcore aesthetics on the rise, all things ultra-feminine are taking over. Last year, we saw large, dramatic bows at shows like Christian Cowan, Jason Wu, and Carolina Herrera. And, while we doubt the statement bow is going anywhere, this fashion month has paved way for miniature babydoll bows to have their moment in the sun in 2023.
From "eye bows" as makeup to baby bow barrettes, here are four new bow trends to tie into your wardrobe this year.
"Eye Bows"
Cormio SS 2023Victor VIRGILE/Gamma-Rapho/Getty Images
Cormio FW 2023Victor VIRGILE/Gamma-Rapho/Getty Images
At the Simone Rocha Ready to Wear Fall/Winter 2023 show in London, models walked down the runway not with heavy eyeshadow or dramatic eyeliner, but sporting miniature "eye bows". Micro-bows appeared both under the eyes and also as earrings, with long black, red, or white ribbons flowing. This is not the first time we've ever seen eye bows, however. Tiny bows adorned eye brows and cheeks at last season's Cormio show in Milan.
Oversize Bows
Asai FW 2023NIKLAS HALLE'N/AFP/Getty Images
Bora Aksu FW 2023Jeff Spicer/BFC/Getty Images Entertainment/Getty Images
With clown-sized bows showing up in upcoming fall and winter collections, we can rest assured that over-the-top bows aren't going anywhere. Instead, we can expect to see more bow collars of all kinds, like those seen at Bora Aksu.
Double Bows
A chicer take on a traditional pigtail adornment, the understated black bows at Susan Fang look all grown up.
Bow-Tied Stockings
Taking the concept of ballet slippers up a notch, bows on socks and tights are now trending, proving almost every accessory in 2023 is set to be wrapped up nearly with a bow (or two).
Baby Bows
While standard hair bows have been well-loved for the past couple of years, Sandy Liang's FW 2023 show in New York introduced us to the micro hair bow and we're not looking back. These tiny bows are more art and accessory than they are practical, but the look can still be easily re-created at home (with the help of a friend).