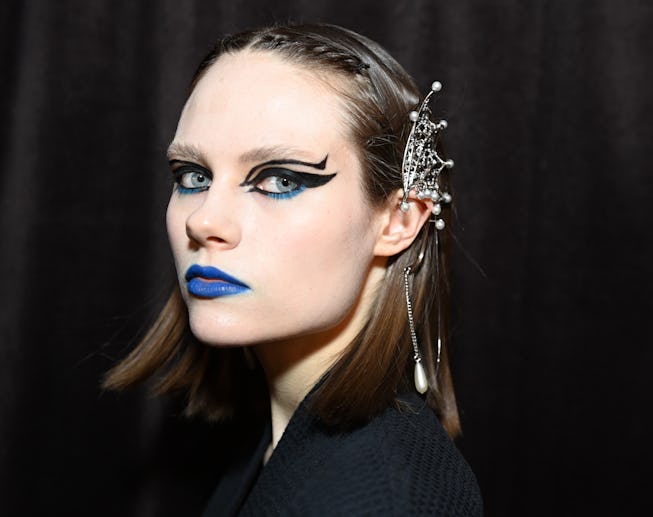 Dave Kotinsky/Getty Images Entertainment/Getty Images
8 Major Beauty Trends From The NYFW Fall 2023 Runways
"Wednesday"-core, ballerina buns, the new French manicure, and more.
New York Fashion Week has returned, and with it comes the buzz of excitement that only fresh fashion and beauty looks can bring. The Fall 2023 beauty trends are coming in hot, with a spirit of maximalism and intentionality that feels new to this season.
The first impression of the beauty looks coming out of NYFW is that the makeup and hair demand their own attention on the runway. From the models at Christian Siriano walking with bright magenta lips, to the two-toned, jewel-colored eyes at Anna Sui, eye-popping hues are having a major moment. On the absolute opposite end of the spectrum, another emerging dominant beauty trend is a macabre commitment to goth girl glam. What can we say? This season, the best beauty lives in the extremes.
Below, check out eight trends from the Fall/Winter 2023 runways that are already taking over.
NYFW FW23 Beauty Trend #1: Viva Magenta Lips
Christian Siriano isn't the only one channeling the energy and power of hot pink in 2023. Viva Magenta has already been named the Pantone Color of the Year. Consider it the next evolution of grown-up Barbiecore. Makeup artist Sofia Tilbury created this lip look using Charlotte Tilbury K.I.S.S.I.N.G. Lipstick in Velvet Underground.
NYFW FW23 Beauty Trend #2: Bolder Braids
Tia AdeolaCourtesy of BREAD
Ulla JohnsonCourtesy of Oribe
We've seen baby braids before, but this season's plaits are being taken to new heights and extremes. At Tia Adeola, Mike Martinez and Sahara Siggers created sculptural braided and curled updos inspired by '90s Atlanta style. At Ulla Johnson, Joey George created intricate braid patterns to go with the collection's deep fall Cottagecore vibe. There's a new braid for every aesthetic.
NYFW FW23 Beauty Trend #3: Wednesday-core
AdeamVictor VIRGILE/Gamma-Rapho/Getty Images
Kim ShuiCourtesy of MAC Cosmetics
Black is back. Okay, it never really left, but the sweeping obsession with Netflix's Wednesday from late 2022 is expected to keep a hold on us for many months to come. The new twist? Elevating the mall goth beauty look with some extra attention to detail. Take note of James Kaliardos' intricate graphic black liner at Rodarte, or the juicy black and red lips by Romero Jennings at Kim Shui.
NYFW FW23 Beauty Trend #4: Low Ballerina Buns
Balletcore is coming for your beauty repertoire. In a divergence from the spiky, piece-y Y2K-inspired updos that have been a ubiquitous trend for so long, neat ballerina buns are are re-emerging on the fall runways. There was neither a loose tendril nor a stray hair to be seen at the Jason Wu show with hair by Jimmy Paul.
NYFW FW23 Beauty Trend #5: New French Wave
Prabal GurungCourtesy of Kiss
PatBoCourtesy of KISS
The French manicure is a forever classic, but for Fall 2023, it's getting a cool-girl update. With black or red tips (or matte black ombre tips as seen at Proenza Schouler), the ladylike look gets a downtown edge.
NYFW FW23 Beauty Trend #6: Eye Candy
Sergio HudsonMark Grgurich
One of the most copied looks of the upcoming season is bound to be the contrasting, candy-colored eyes as seen at Sergio Hudson and Anna Sui. Why choose one bright hue when you can wear two (or three or four)?
NYFW FW23 Beauty Trend #7: Major Lip Liner
'90s hip hop-inspired lip liner has already been trending for the past few seasons, but the lips at the Luar show made them a whole moment. The makeup keyed by Romero Jennings gave the nostalgic look a futuristic spin with a greige liner (MAC Lip Pencil in Stone) amplified with shimmery shadow (Eye Shadow in Glitch In The Matrix), and topped with holographic gloss (Dazzle Glass in Pleasure Principal).
NYFW FW23 Beauty Trend #8: Sheer Base
Markarian FW 2023Courtesy of Essie
Call it the "glazed donut nails" effect, but all kinds of translucent nail colors are gaining serious popularity this season. At NYFW, mostly natural-looking nails—using a clear base or one coat of see-through, skin tone polish—created a shiny surface for accent details. At Sandy Liang, Holly Falcone using Orly created the "Princess" gothic lettering manicure on a clean nail. Julie Kandalec using Essie designed the Markarian nails which featured a metallic half moon art over a sheer neutral base.