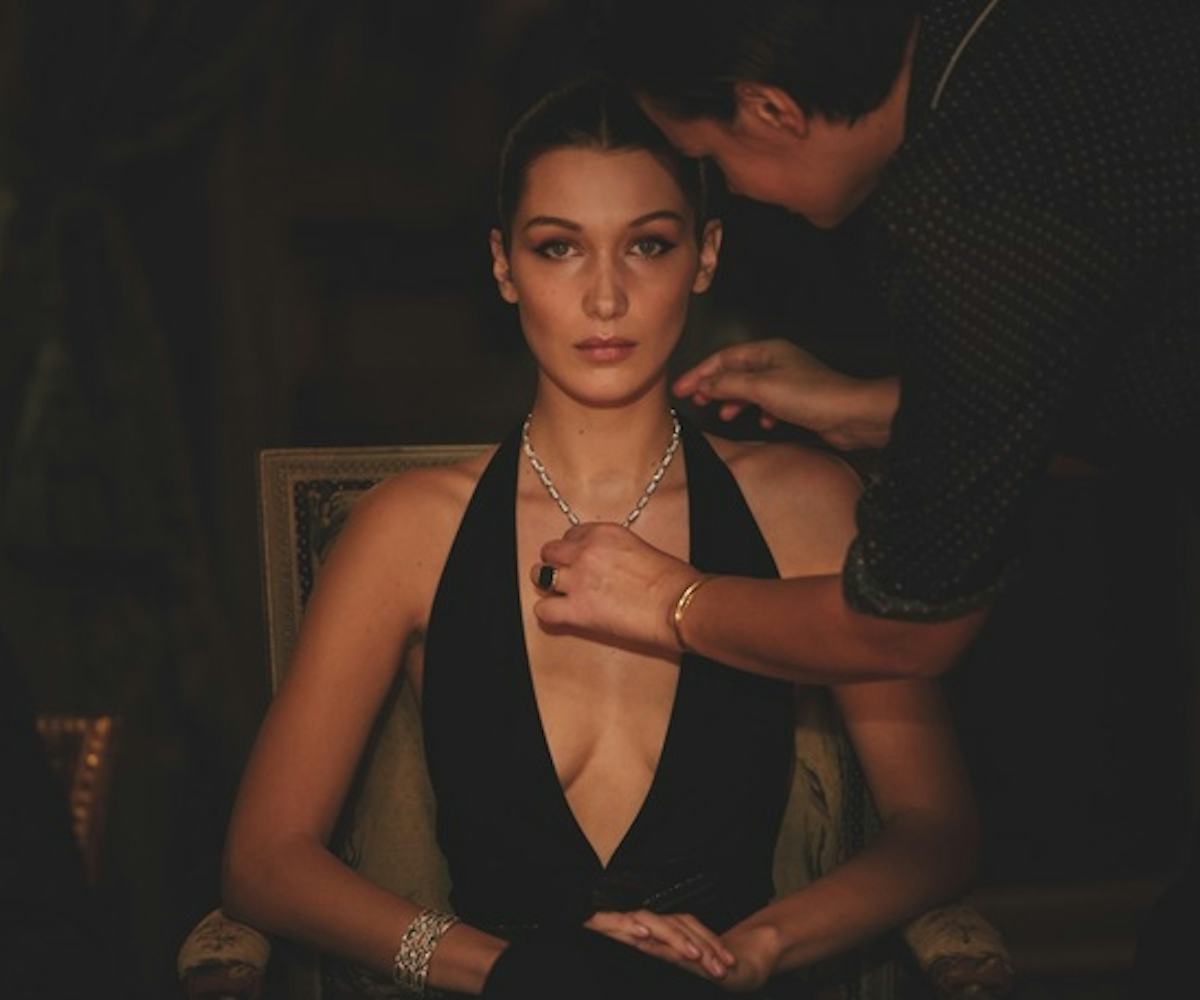 We Interviewed The Legendary Perfumer Behind Bulgari Goldea's The Roman Night
Bella Hadid is the face of the fragrance
The following feature appears in the September 2017 issue of NYLON.
Bella Hadid, the face of Bulgari Goldea's newest fragrance, The Roman Night, is arguably the Audrey Hepburn of the new millennium. And as the sun set in Rome during the perfume's launch, Hadid glided down the Spanish Steps with freshly chopped baby bangs and an armful of roses in a spectacular publicity stunt—her own "Roman Holiday"—that we'll surely never forget. The next day, we spoke with legendary perfumer Alberto Morillas about seduction, pulse points, and wearing fragrance while he sleeps, and discovered that both he and Hadid love the masculinity of the scent, which she carries all on her own—no Gregory Peck needed.
Can you describe your inspiration for the perfume?
This perfume is the story of nights in Roma. It's happiness. It's the spirit of the city. It's beauty. It's love, so it's also dangerous. It's many sensations.
What notes are used in the fragrance, and why did you choose them?
I started with a very simple contrast of flowers
and musk, which Bulgari loved. The history of Goldea is musk—luminous musk and black musk. This one is black musk.
Why black musk? 
When you wear perfume, there's the possibility of opening your heart. Seduction is not just about smelling good, it's also about revealing your personality. Black musk is great for the night, and makes for a perfume with some dangerous parts.
What's the best way to apply perfume?
When you spray in the air, you use a lot of perfume for nothing! It is much better here [points to top of forearm], but never here [points to inner wrist].
But everyone sprays it on their inner wrists, though. I'm shocked!
No. On the inside of the wrist, sometimes you are wearing a watch or a bracelet. It's a very oxidized place. The best is the top of the arm, because it's warm and easy to smell. We don't need to wear so much at once. It's better to apply a little bit three times a day. When you are not wearing too much [to begin with], you're able to spray on more when you are a little bit stressed. When you can be more relaxed, it's like medication for the heart and soul.
When did you start making perfume?
I was 20 years old. I started in my company in Geneva, and have been here for 45 years. I learned alone. It's a very technical job, but you also need to think a lot and relive the smells of your memories. This morning I got up very early because I was very nervous about this event. Waking up in Roma, every five minutes I feel an emotion. When I'm creating perfume, I need that time to think, and process my singular experience of a place through smell.
Does it get overwhelming to take in so much olfactory information? 
Sometimes I close my nose. It is impossible. But luckily I think in the night, and while I'm sleeping. When I sleep, I create a lot of perfumes.
Do you wear perfume while you sleep?
Oh, yes. Different perfumes at once. Sometimes the same perfume in different variations.
What's the emotional process of creating a perfume?
It's my job. I'm very passionate. I have extraordinary luck to be able to make this magic. I love the beginning of the process—you have a lot of emotion, you have a lot of happiness. But when you finish, you are happy as well, because you don't want to smell any more scents! When Bella called me and said she loved my perfume, I forgot about it for eight months, and just smelled it again today.
Have you ever walked down the street and smelled a fragrance on a woman that you created?
This morning I saw a lady, and I said, "Oh, you smell so good, what are you wearing?" And she said, "Your perfume!" I asked, "Are you sure it's my perfume?" She said, "Yes, it's [Bulgari] Man in Black." It's very hard for feminine perfume to work for men, but women can wear all masculine fragrances. Man in Black changed
a lot on her skin, I was very surprised. But in a
good way.
Hadid has said that she likes the masculinity of The Roman Night. Did you have that intention going into it?
There is some masculinity in all of my perfume. This one has patchouli and vetiver—it's not just flowers. Floral fragrances are very romantic, but wood gives you more energy.
Bulgari Goldea The Roman Night eau de Parfum, $114 for 2.5 fl. oz., available at Bloomingdale's.