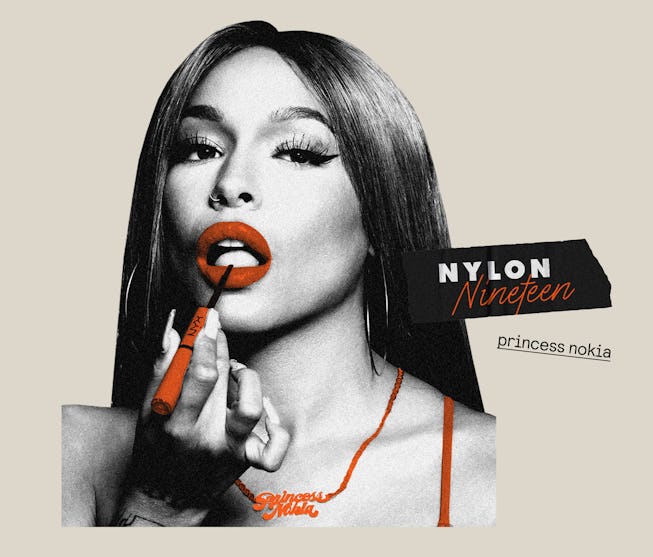 NYX Cosmetics
Princess Nokia Grew Up On Metal And Ben & Jerry's
The artist takes on NYLON 19 in honor of her first-ever beauty collab with NYX Cosmetics.
On top of being known for her witty rhymes and her sweet and funny personality, Princess Nokia's personal style, reminiscent of the '90s easy coolness, keeps her fans always wanting more. After releasing chart topping album last year, Nokia is back in the new year with her very first beauty collaboration, with none other than NYX Professional Makeup.
Being that a glossy colored lip is her absolute go-to, it was obvious that her namesake collection for the brand would center lip kits. "While I love makeup and all things beauty, am by no means an expert! I wasn't even allowed to wear makeup growing up! With that said, my style is not super 'glam' or fancy," Nokia shared with NYLON over Zoom.
With over half a year in the making, the four-shade lip-kit collection — that features Nokia's favorite shades of NYX Cosmetics Shine Loud High Shine Lip Color with a complimenting shade of the Slim Lip Pencil to match — instantly sold out following its initial launch on January 25. (The brand released a second drop on January 31, still available in-store and online at Ulta.com.)
The shades range from a soft brown to a deep purple that we're inspired by some of the artist's favorite beauty inspirations from the '90s and early '00s. "I loved beautiful Black and Afro-Latino supermodels like Naomi Campbell and Brandi Quinones. Those two women, and even Tyra Banks, are the peak of '90s Brown excellence, fashion, glamour, nude aesthetics," she shared with NYLON. "I even think of women like Jennifer Lopez, Ashanti, Christina Milian, Lisa Ray—there's just so many beautiful women I grew up loving that were just so glamours and gorgeous to me."
For Nokia, this collection means more to her than just putting her name out there. "I do brand endorsement stuff all the time, but this is something extremely personal. I wasn't just modeling, I was creating products of my own," she told NYLON. "There was a lot of different directions as to where we could go, but I chose this specifically. I just thought, like that's the most universal makeup product for women of color and for all ages. It's lipstick and lip gloss so there's something here for everybody."
To celebrate the lip-kit collection and her first beauty collaboration with NYX Cosmetics, Princess Nokia sat down to do NYLON 19, sharing her fav boozy drink — along with what she does to cure her hangover from it — and why she relates to Mr. Krabs so much.