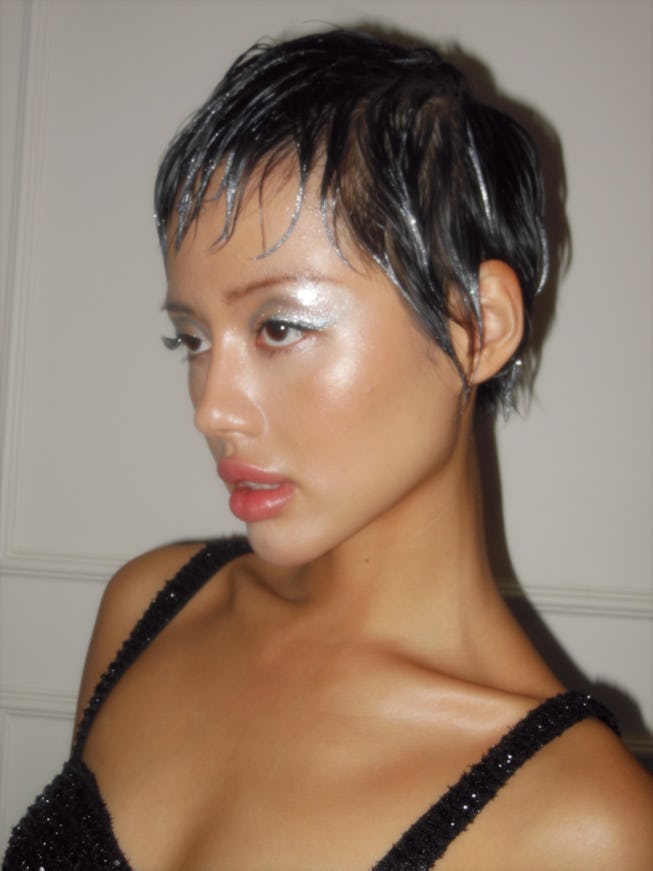 Alien Superstar Silver Shadow Is Taking Over
The 'Renaissance' effect takes hold in the form of one of fall's biggest makeup trends.
We may receive a portion of sales if you purchase a product through a link in this article.
Beyoncé's Renaissance World Tour has just wrapped up, but the cultural impact of the five-month-long tour is having a much longer tail, especially by way of the effect it's having on the beauty trend cycle. Every stop of the tour, dedicated fans flocked to arenas in elaborate black and chrome outfits and metallic shimmering beauty moments. Post-concert one key element of the "Renaissance effect" has held strong— "Alien Superstar" silver eyeshadow.
Fans, runways, and celebrities have all shown their take on wearable glam silver shadow this season. FKA Twigs showed off a shimmering close-up of her makeup done by makeup artist Raoúl Alejandre just earlier this month. Even more recently, she also posted snaps on Instagram wearing messy silver eyeshadow, a bold black cat eye, major lashes, and a black leather jacket for her cameo appearance at Madonna's celebration tour show in London.
Jason Armond/Los Angeles Times/Getty Images
On the runway, Chanel's AW23 Paris Fashion Week Show back March predicted (or dictated) the rise of silver shadow with models all sporting cool-hued shimmery lids. At the Aaron Esh show at London Fashion Week last month, makeup artist Ana Takahashi sent models down the runway wearing otherworldly, ethereal muted sparkling eyeshadow, clear lipgloss, and tight black eyeliner.
Chanel FW23Victor VIRGILE/Gamma-Rapho/Getty Images
Victor VIRGILE/Gamma-Rapho/Getty Images
During Paris Fashion week, Khanh Linh attended the Stella McCartney show, particularly leaning into the trend. "I wanted to create a look inspired by the outfit, which was black and silver and I drew inspiration from the aesthetic of old music videos," Aimée Twist, the makeup artist behind the look, told NYLON. For the molten silver finish, Twist used the Makeup By Mario Master Metals Pallete and the white shimmer shade from the Isamaya Beauty Industrial Color Pigments 2.0 palette to create a multi-dimensional metallic eye and also added sparkling silver tips at the end of Linh's hair.
Khanh LinhCourtesy of Aimée Twist
Edward Berthelot/Getty Images Entertainment/Getty Images
Twist says she sees silver shadow experience a resurgence every few years but sees the look coming back much bolder this year for a few reasons. For one, "silver complements most skin tones," she says. She also believes the past few years have emboldened people to get for experimental with shimmery shadow, that "plus the resurgence of Y2k trends— means ultra-shimmery, futuristic eye is making a significant comeback."
Get the Look: