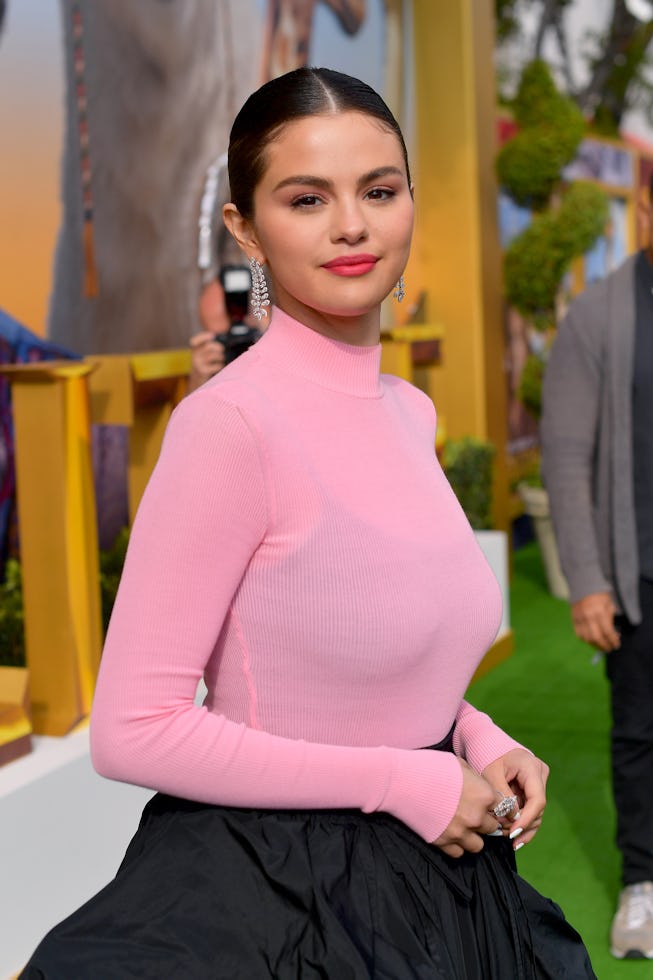 Matt Winkelmeyer/Getty Images Entertainment/Getty Images
Selena Gomez Goes Full Barbie To Promote New Music
Pink nails and lipgloss for her upcoming drop "Single Soon".
On Thursday, Selena Gomez announced new music coming next week, on August 25. "Y'all have been asking for new music for a while. Since I'm not quite done with SG3, I wanted to put out a fun little song I wrote a while back that's perfect for the end of summer," the singer wrote in an Instagram post with the cover of her upcoming song Single Soon, along with snaps from the music video. Today, the artist has given us a further sneak peek into the behind-the-scenes glam for the upcoming single, complete with a Barbie pink manicure and lip gloss.
Gomez posted a mirror selfie on her Instagram story today, wearing a metallic pink dress with multiple gold bangles, large hoop earrings, and a butterfly necklace. Her hair was up in a messy bun with face-framing pieces, and her makeup was in full glam mode — with a smokey eye and bright pink lipgloss. Holding her phone to the camera, her new manicure features long, squoval-shaped nails in a baby pink shade.
Music-wise, Gomez released her hit album Rare in 2020, dropping her all-Spanish EP Revalación the following year, and fans are patiently waiting for the new release. In the Single Soon cover art, we see the singerin the backseat of a car in a fur jacket, along with a note reading "I'm sorry I can't don't hate me" in the behind-the-scenes photos. This, along with the pink nails and lipgloss is all we have as visual clues when it comes to the upcoming single.
Gomez has recently been spotted swapping her usual pastel palette for black nails and heavy eyeliner (perhaps entering her grunge era?) recently. But her latest mirror selfie confirms she will always be a hyper-feminine girly at heart. Following the selfie on her story with a quote saying "don't settle for being someone's sometimes", we have a feeling that Gomez (and her new pink nails) is about to release a summer bop.