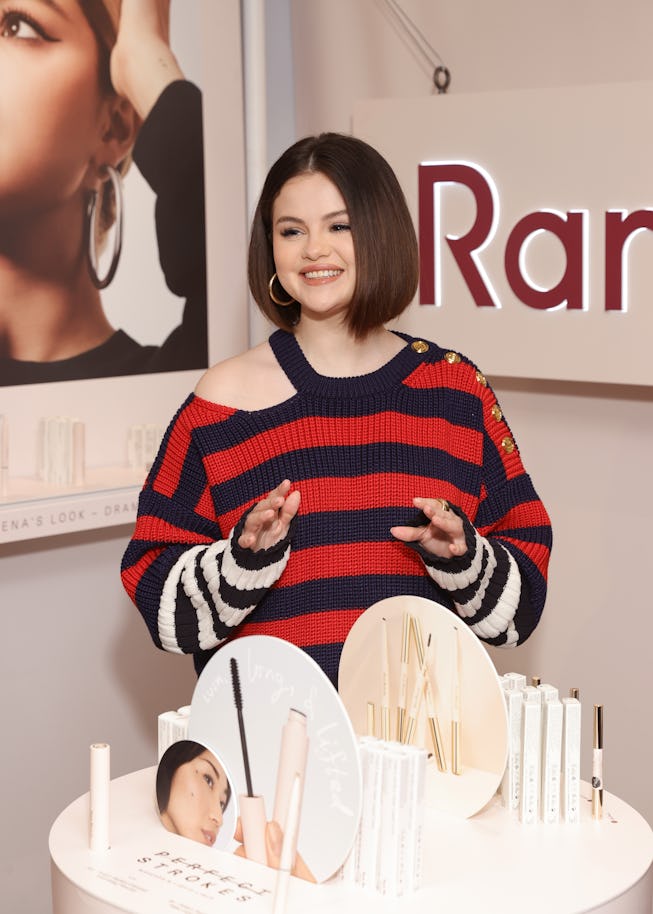 Mike Coppola/Getty Images Entertainment/Getty Images
Selena Gomez Got A Mysterious Back Tattoo
It has been revealed to be a friendship tattoo with Cara Delevingne.
While Selena Gomez might be one of the most-followed people on Instagram, at this point we all know (and love) that she's a step back from sharing too much online for the sake of her mental health. In fact, she's personally been off social media for a few years. This means that updates about the star often come from other accounts—including the first picture of her latest back tattoo that was posted by Bang Bang Tattoo. The Brooklyn, New York tattoo studio is a celebrity favorite spot, with the owner Keith "Bang Bang" McCurdy having inked the likes of Rihanna, Justin Bieber and Cara Delevingne.
In true understated Selena fashion, she first posted the tattoo in a vague and mysterious fashion—in black and white featuring her standing (jacket on backward) facing the corner. Naturally, as it's hard to make out what the tattoo is from the far vantage point, fans were requesting a closer look. "Darklena is coming," commented one. "We need a close-up!! I need to see the artwork in detail," wrote another. Honestly, same.
About two weeks after the original post, on December 28, the mystery of Selena's back tattoo was finally revealed! Responding to the earnest requests to see the tattoo up close and to see what it depicts, Bang Bang posted a follow-up image of Selena's new ink. Unlike the previous post that was entirely in black and white (and from very far away), the new post reveals that the tattoo is actually a pink watercolor rose inked between Selena's shoulder blades. He captioned the Instagram, "Watercolor on @selenagomez Thank you for always being wonderful".
But, it just keeps getting better. The next day, Bang Bang shared that Selena's large rose was not just one of a kind, but in fact was one of a pair of friendship tattoos. He also tattooed the same drippy, dreamy watercolor rose on Cara Delevingne's ribcage. "She [Cara] calls me Rosebudm so it's a nickname," she explained on Live with Kelly and Ryan yesterday. "And I've always wanted a rose and now I got one, and I love it."
Cara and Selena are both longtime clients of Bang Bang with the tattoo artist being responsible for Cara's famous lion finger tattoo and Selena's rosary and "rare" tattoos. The new flowers appear to be the largest pieces in either Cara and Selena's ink collections. But it's also a departure from the tattoo artist's style. In the recent post, he shares "fyi I didn't tell them til the end that these were my first watercolor tattoos ever". Honestly, he could have fooled us. Both women look incredible sporting their new ink and we can't wait to see what amazing outfits they will wear to show them off on the red carpet.
This article was originally published on