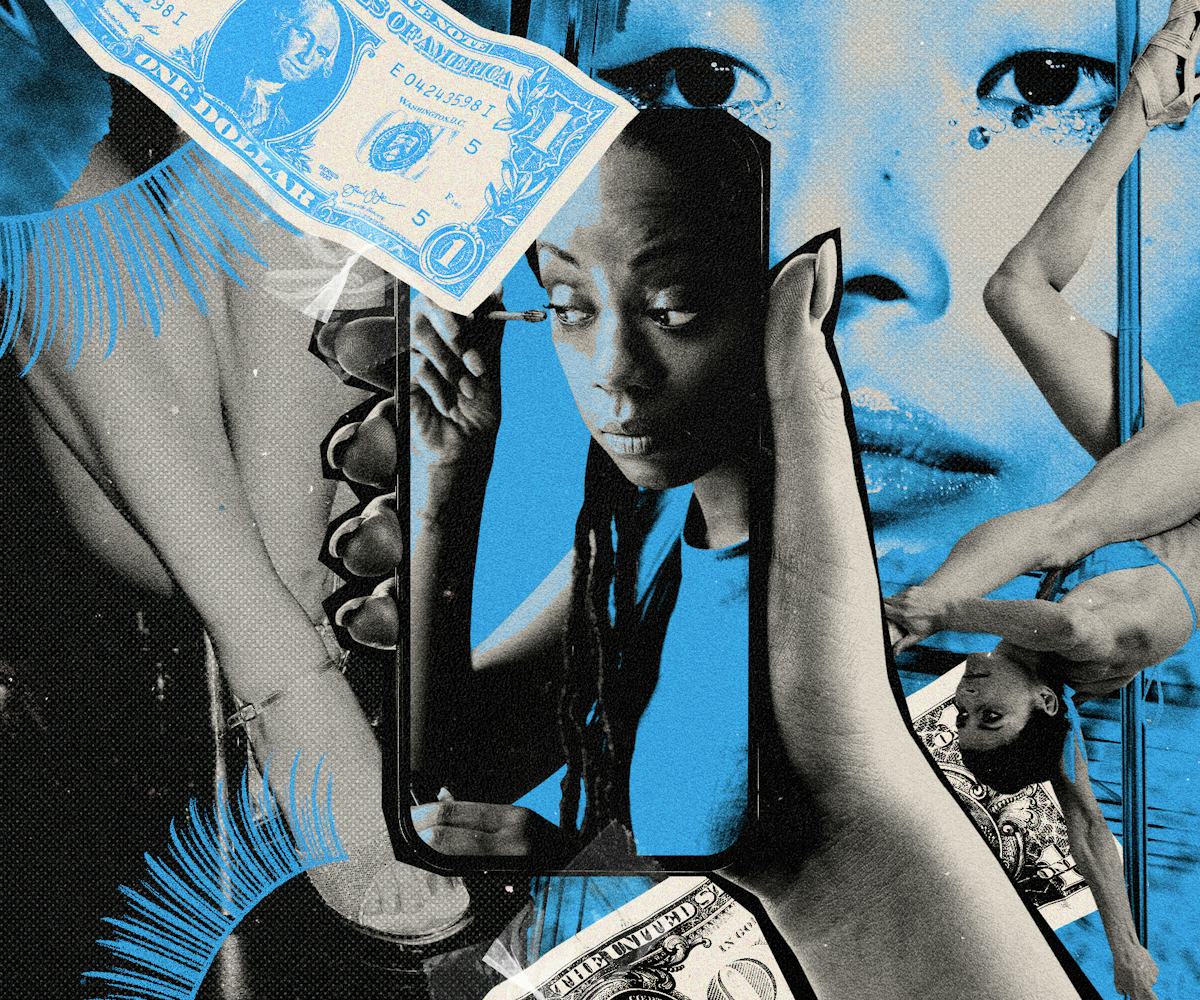 Ariela Basson/NYLON; Stocksy, Getty Images
#StripTok Proves That Dancers Are Some Of Our Most Exciting Beauty Influencers
You may start watching #StripTok makeup tutorials for long-wear foundation recommendations, but the personalities of the dancers will be why you stay.
Until earlier this year Charm Daze, a 23-year-old stripper and content creator based in Southern California, says she only ever had two makeup looks for dancing and she'd alternate between them. "Neither included much more than some Ardell Wispies and pink glittery eyeshadow," she says. Then, Daze developed acne and was propelled into the world of complexion makeup and skin coverage. As part of the process, she started sharing her search for the best "stripper makeup on acne-prone skin" in January. The series has since gone viral, with a recent video gaining 17.5 million views.
Daze isn't the only dancer sharing personal makeup advice on TikTok, with makeup tutorials from dancers often going viral on the app. The category is made to get clicks as it combines satisfying curiosity about strippers with the inherent nature of club makeup. When you consider dancers work all evening, often working up a sweat, and need to look good doing it, there's no one better to trust for makeup recommendations that are long-lasting, non-transferable, and waterproof. "It's basically indestructible," Daze says of her makeup when she's made up for work. "Shifts can be long and dancers are performing like athletes for hours and hours," she says. "Between outfit changes, lap dances, and stage performances we have to look our best."
It's not just the ongoing virality of content like Daze's proves that dancers have power and influence in the beauty industry and beyond. There's a reason why Flo Rida allegedly tests all his new music at strip clubs before releasing it to the general public. Despite the hate that strippers can receive online, people are always curious about what they are wearing, dancing to, and enjoying. Being on the outside of the societal norm makes dancers natural trendsetters. As shown on TikTok, people will continue to follow, whatever their reasoning may be. "There are many supportive and incredibly kind people interacting with my makeup videos, but there are also groups of equally incredibly hateful, bored trolls looking for any reason to tear down a happy sex worker," says Daze. "I just see their mean comments as imaginary dollars being thrown at me."
Daze says that she, too, is still learning more about stripper makeup. She's recently been experimenting with more fun and bright colors to enhance her eyes—and taking her audience along with her for the ride. "It's important to me to show my real skin because I went through a really confusing, dark time when my skin first flared up," she says. "To be clear, the blame is on society and not influencers, but too much influencer content portrays beauty standards or standards of living that even those influencers themselves are not capable of upholding." With Daze, amongst other dancing and sex worker content creators, being more open and leaning into beauty, they are simultaneously carving out a non-judgmental space for makeup lovers in an often unfriendly or unrealistic landscape.
On #StripTok, which has over 3.8 billion views, it's not just the dancers that are establishing themselves as beauty influencers in their own right. Makeup artist and owner of Glam Time Beauty Studio, Leila Lynch, has gained a following for showing a behind-the-scenes peek into the back of the strip club where she does makeup for dancers. "Stripper content is intriguing because you get backstage access that you typically wouldn't get," she says. "There are so many taboo moments that happen in this industry." Lynch often live-streams her entire shift creating compelling content doing makeup and sharing her personality through narration. It's a similar mentality to how dancers use their makeup. "The makeup captures people's attention," says Lynch, "but the conversation is what makes them stay throughout the night".
Lynch says that dancers' preferences in makeup are trending towards more natural looks recently, using minimal eyeshadow and instead preferring glowing skin with lots of highlighter. "Every client that sits in your chair will be different," says Lynch, who understands working with the dancers to create the look they want. "They all have their own unique look and in this line of work standing out from the other girls in the industry is important," she says. Lynch also says that posting makeup tutorials on social media has been a way for her to bring a "human aspect" to the world of exotic dancing. "People enjoy getting an inside look at who these girls are and not just the persona they keep up and portray online."
While people may start watching #StripTok makeup tutorials for long-wear foundation recommendations, chances are they are staying for the personalities of the dancers. The fashion and beauty industries have long been influenced by nightlife workers like drag queens and dancers in the ballroom scene. With dancing makeup tutorials on the rise, it is time that all nightlife workers—including strippers and sex workers—are given their fair credit when it comes to inspiring beauty trends. After all, if there is anyone who knows how to captivate an audience, it's dancers.