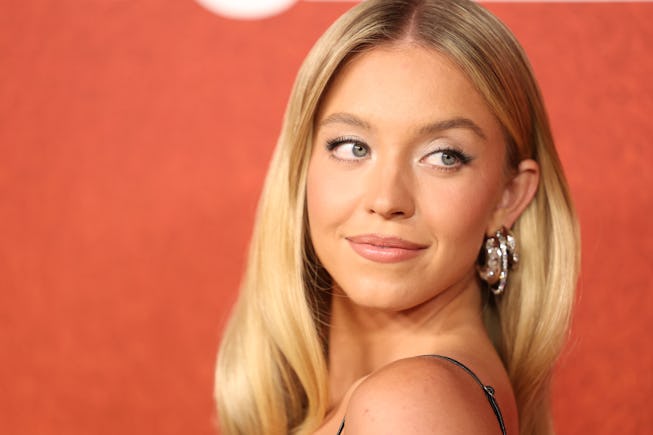 Sydney Sweeney Pulled Off A Full-On '80s Prom Perm For Her Birthday
The result was retro Barbie perfection.
Although Sydney Sweeney only turned 26 last week, her '80s prom-themed birthday party over the weekend has us fully convinced that the actress could have been a Brat Pack star. Posting about the retro-themed celebration with Revolve on Instagram yesterday, Sydney asked "Will you go to prom with me" in the caption. Her recent period makeover consisted of pumped-up '80s curls heavily parted to the side to go with a short pink puffy dress with a glittery bow bag, a corsage, and pink heels.
With celebrity hair stylist Glen Coco Oropeza doing Syndey's birthday hair and Amber Asaly on her makeup, the birthday glam squad was a dream team. "WE 👏🏼 LOVE 👏🏼 A 👏🏼 THEME," Oropeza posted on Instagram. Asaly also posted close-up shots of Sydney's makeup, which consisted of pink glitter eyeshadow, blue metallic under-eye eyeliner, blush, and (of course) baby pink lipstick.
Courtesy of Samuel Alemayhu
Courtesy of Samuel Alemayhu
Sydney's fans are already comparing the look to a scene in HBO's Euphoria where Cassie (Syndey's high school-aged character) dresses up and mistakenly looks like she's auditioning for the school play. "Did you get the part in Oklahoma?" one fan commented. Others compared her to '80s Barbie or even Carrie Bradshaw—which is probably due to the voluminous hair.
Courtesy of Samuel Alemayhu
Courtesy of Samuel Alemayhu
Courtesy of Samuel Alemayhu
Sydney's famous friends, including Camila Mendes, Nicola Peltz-Beckham, and Dylan Mulvaney, celebrated her birthday by staying on theme, in puff-sleeved and balloon-hemmed gowns and metallic silver outfits. With a party mood board straight out of a John Hughes-esque movie, Sydney clearly wanted to throw back to the beauty trends of a decade from before she was born for her birthday, and we love to see it.