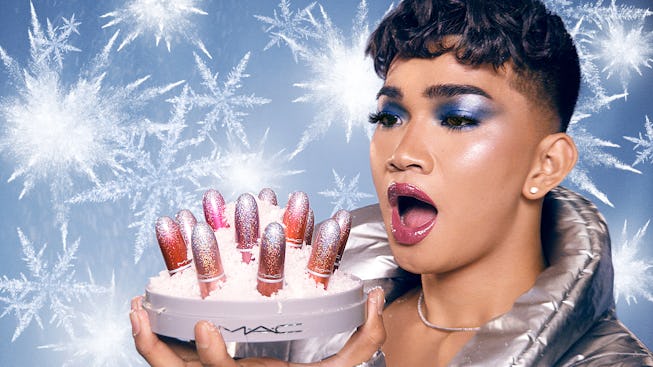 MAC Cosmetics
MAC Cosmetics Debuted Its Icy Holiday Collection With Some Familiar Faces
Lipsticks, lipglass, foil shadows, and more.
For its holiday 2020 collection, MAC Cosmetics took inspiration from fairytales, fireworks, and the magic of the season. Frosted Firework, the MAC Cosmetics holiday 2020 collection, will officially arrive on October 15, and ahead of that, the brand shared a first look at its magical makeup.
Available online and in MAC stores, the Frosted Firework collection contains everything needed to help you look your best and brightest this holiday season. Products arrive in dazzling pink iridescent packaging, and the line is centered on creating glamorous party-ready looks.
The Frosted Firework collection features five Extra Dimension Foil Shadows, five Lipsticks and Lipglass, three Powerpoint Eye Pencils and two Extra Dimension Skinfinish highlighter.There's a vast range of coloring included in the launch, with pops of ruby red, bright pink, soft gold, subtle neutral hues, and lots of shimmer. "I'm always seduced by the royal feeling of metallic shades of eyeshadow tones in Platinum, Gold and deep ruby red. The rich pigments and diverse frosty textures are easy to blend and suitable for both sheer and glamorous eye looks," Michelle Clark, NewYork Based Senior National Artist, said of the coloring choices in a press release.
Clark noted that the brand's launch of five foil eyeshadows is particularly special to the collection, as the item was directly inspired by a trending runway look. "Metals has been a dominant trend backstage this season," he said.
Along with the launch of new holiday-inspired goodies, MAC teamed up with some big names in beauty for the Frosted Firework campaign imagery — including YouTube's Bretman Rock and Karen Sarahi Gonzalez, and TikTok star Loren Gray. Check out the shimmer-filled photos for the new launch below, and shop the collection at