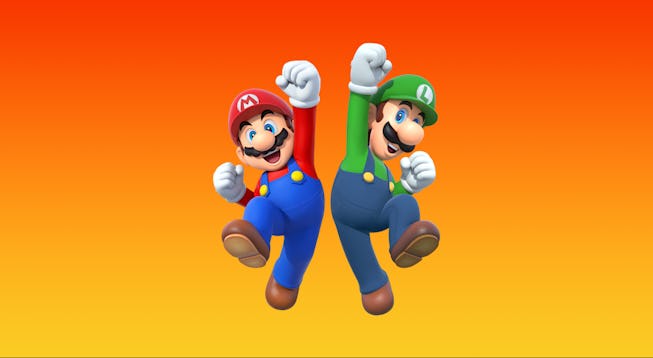 Shutterstock
The Super Mario Bros. Are Entering The Beauty Game
Brought to you by a new collab from Lush and The Super Mario Bros.
If you grew knowing any of the Super Mario Nintendo games, you probably had a go-to character you'd choose to play as every time. With 2023 The Super Mario Bros Movie coming out on April 5, soon you'll be able to not only relive the memories and watch one of the most iconic games of all time on the big screen, but you'll also be able to shop the game in a new way. Handmade bath, skin care, and body care brand Lush is bringing you the beauty-gamer merch you didn't know you needed. Ahead of the movie launch, the cosmetics company is releasing an exclusive Lush x The Super Mario Bros. Movie collection, available starting Friday, March 24.
The collection includes something for every part of your bathing routine featuring all of the most popular characters and elements of the game. There's a Princess Peach body spray ($45), Gold Coin Soap ($8.75), Mario and Luigi shower gels ($12.50), Bowser Shower Jelly ($9.50), and a surprise mystery Question Block bath bomb ($18) with power-up soap hidden inside, for a special ode to video game play. Each of the six surprise soaps has its own unique fragrance and color, including mischievous mushrooms, to the elusive and exclusive gold star.
With Nintendo + Illumination's The Super Mario Bros Movie coming out on April 5, fans of the movie (and the game) will also be able to create their own bespoke mystery gift boxes for $10 by adding their favorite products in the range in an iconic yellow Question Block box (much like the game, surprise seems to be a key theme here). "The collection is innovative and iconic with surprise and delight elements inspired by the film, and we can't wait for the reaction from fans," Stephanie Kraus, SVP of global design and product development for Universal Products & Experiences, explained in a press release on the launch.
We never expected to be looking to Mario, Luigi, Peach, and the gang to level up our beauty routine, but we're here for it if the collab can bring the joy of the game to our bathrooms. For Princess Peach fans and Mario enthusiasts alike, the range will be available in Lush stores nationwide, on the Lush App, and lushusa.com on March 24.