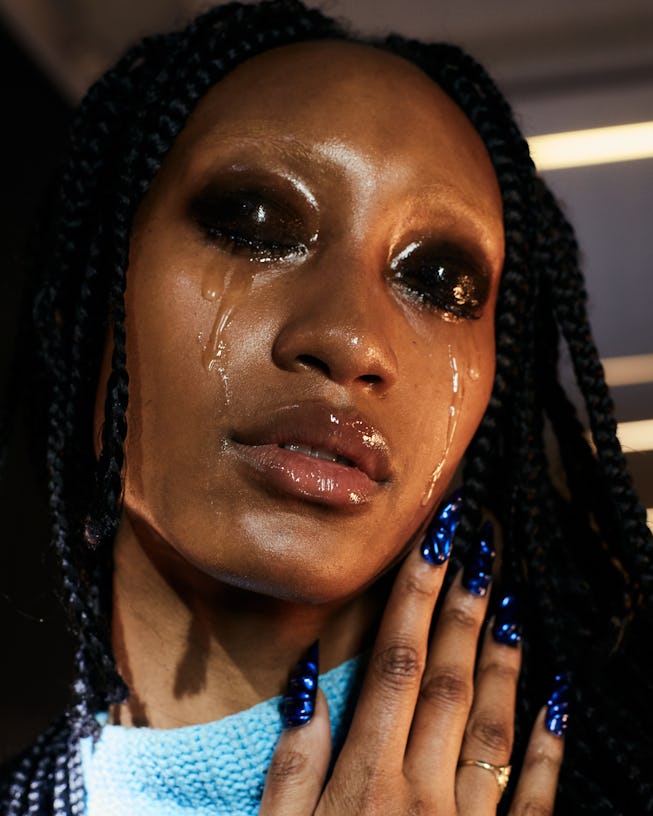 Julius Frazer / Courtesy of Head of State
TikTok's "Crying Makeup" Trend Hit The Runway At NYFW
Sad girl beauty is officially fashion week-approved.
Over the past couple of years, crying makeup tutorials have taken off on social media. We can, in part, thank celebrity crying selfies—including Bella Hadid's carousel of crying Instagram pictures in 2021 and her openess about mental health, Lizzo's crying video singing Billie Eilish's "Happier Than Ever" (posted in the same week as Bella), and Nicola Peltz Beckham's low-res crying photos last year—for the surge in "sad girl beauty". The trend has created, in a sense, a performative and filtered version of vulnerability. This performance was given a new and deeper meaning at the latest Head of State runway show during New York Fashion Week.
In the AW23 Collection, titled "Memories of Home", designer Taofeek Abijako transported attendees to the fire pits in Lagos. While Taofeek was born in Lagos, he moved to Albany, New York, at a young age. The collection explored the in-between of leaving home, coming home, and also building a home. Models walked the runway with knee-length braids (including Evan Mock seen with an ultra-long rats tail), smokey eyeshadow, and visible glistening tears running down their faces.
The crying makeup design was created by artist Kento Utsubo, with the key makeup artist being Robin Stright. After being given the brief to create a wet, mermaid-just-out-of-water look, the team used oil from Shiko Beauty to create the dewy eyelids and slow dripping tears, combined with dewy skin and lip gloss. The oil tears sitting across each model's cheeks gave the result of a long-lasting crying makeup effect that matched the emotional nature of the show. Ultra-long metallic nails in silver and deep ocean blue, created by Chidiebube from Chidi Nails, brought the water-themed beauty together.
"Sad girl beauty" has been viral for months, but Head of State's latest collection showcased a uniquely vulnerable take on the trend, which had been missing since the trend emerged onto the makeup scene. Combined with heartfelt storytelling, beautifully tailored clothing, and mermaid-length hair, the show set the bar for a "sad girl beauty" look that's purposeful in its story-telling. Not to be confused with blush-heavy crying makeup tutorials on TikTok or your favorite celebrity's tearful selfies.