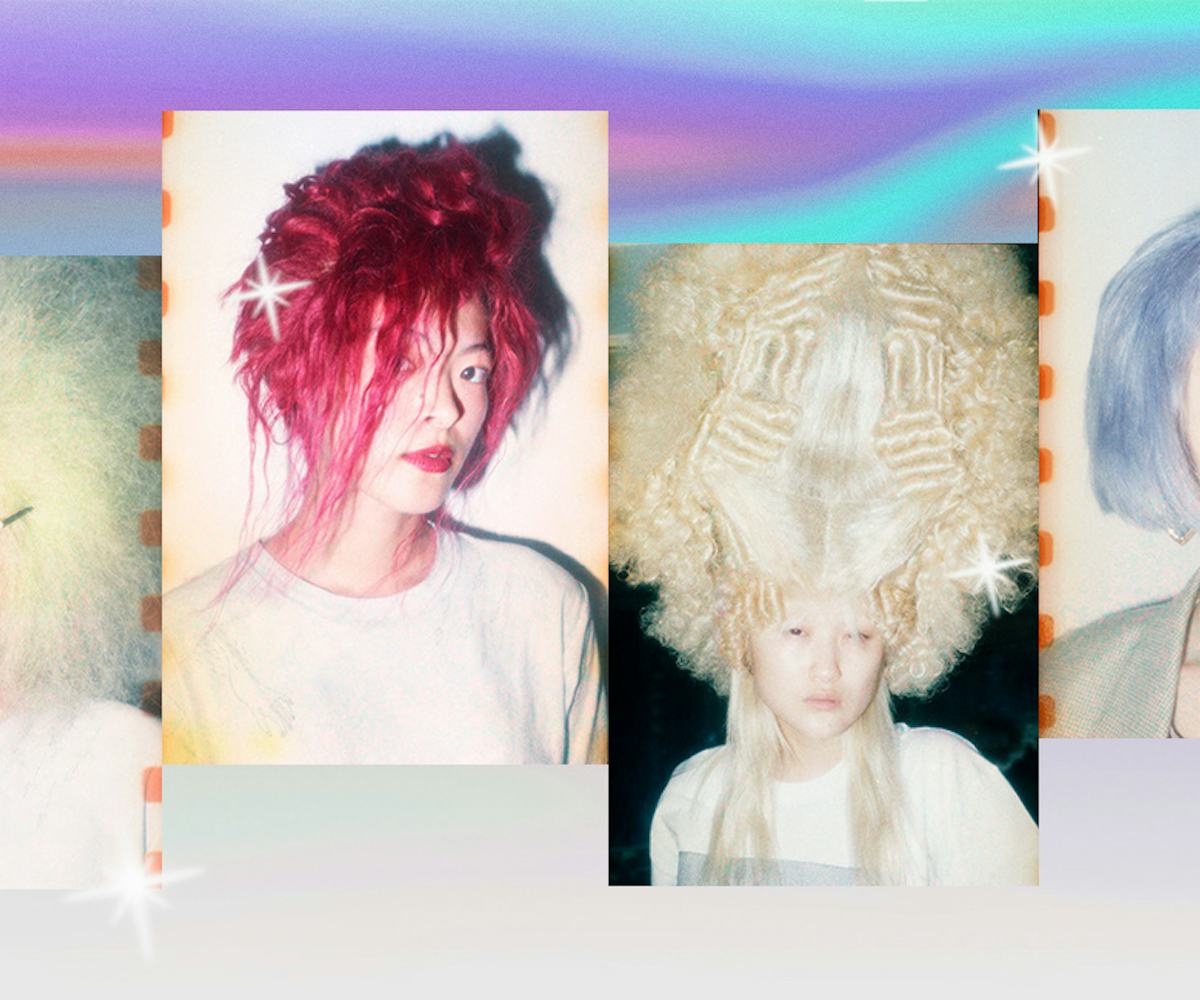 Meet Tomi Kono, Whose Wild Wigs Have Graced The Heads Of Gigi Hadid And More
Collaborations with Comme des Garçons and Proenza Schouler have left us in awe
Stepping into Tomi Kono's Tokyo exhibition earlier this spring was akin to entering another world. Inside a sunlit room constructed almost entirely out of windows (at the gallery space called Place by Method in Shibuya), his creations hung from clear strings attached to the ceiling. A platinum blond-and-black wig Gigi Hadid wore; Grace Coddington-inspired, fiery red, fluffy curls; quirky braids with beads; and colorful mohawks (the latter two posed as tributes to Japanese icons in entertainment from the '80s) were all there. And perhaps the most innovative part of the show was the fact that anyone who walked in could try on every single one of the styles and snap a selfie to reveal a total transformation.
As a Japanese wig designer and hairstylist, Tomi Kono has virtually created a brand-new category in the editorial world. Kono crafts lifelike wigs and headpieces in dramatic colors and shapes for runways for brands like Proenza Schouler and Comme des Garcons. Some of his pieces are so unique, such as the aforementioned Gigi Hadid piece, that people reach out and contact Kono to buy them, when, in fact, they aren't even for sale. And the Tokyo exhibition, dubbed Personas, was one of several that he has presented around the world. He's also had shows in Paris and New York and also published a book on his process of making headpieces, going into deep detail on the many interesting head props he has crafted for the Japanese designer Junya Watanabe, who is a part of the Comme des Garcons family. That's not all: He's worked with Vogue Italia, Vogue Japan, Vogue China, Vogue Germany, Vogue Korea, T Magazine, Interview, W Magazine, V Magazine, Mert and Marcus, Patrick Demarchelier, Ben Hasset, Derek Lam, Jil Sander, Roberto Cavalli, and many more.
"I have always been obsessed with transformations," explains Kono. "I like to change the models' character completely into a different person. I like the fantasy and creativity in the process. That's why I started making head props as an extended element on heads, and then I started making wigs." Interestingly, though wigs seem to be the artist's latest focus, it wasn't until after 2017, after his book was published, that he was inspired to start making them from scratch. He knots, colors, weaves, and individually strands each one. "Wigs have the power to change a person's persona, instantly," he adds.
Some of his most well-known work, however, was for Watanabe. Known for avant-garde geometrical shapes that project out of jackets and dresses, as well as a penchant for the color black and punk style, Watanabe often includes headpieces in his shows. "I don't see what he has been making, even the colors of the clothes. I'm not given any information," says Kono of the process. "For all nine collections I did with him, I worked with him was like that. It was a complete guess, and I had to come up with many ideas and proposals." One of his favorite collaborations with the designer was the Spring 2015 show, where models marched down the runway wearing colorfully graphic outfits with matching PVC halos by Kono.
As for his creative process when it comes to his wigs, which range from almost every color, style and texture imaginable, he says it's something he works on nearly every single day. "Making wigs from scratch is time-consuming, so it's becoming my daily routine," he explains. "Whenever I have some spare time, I knot hair into laces. Styling is the very last thing to do, as it doesn't last long." At his Personas exhibition, the master stylist had a small team with him who helped visitors try on each wig (a harder process than one might think, given the weight and volume of some of them), as well as brush and style them.
One of the other unconventional projects Kono has taken on recently is making wigs for a portrait series for the photographer Jeff Bark, who had an exhibition called "Paradise Garage" last month at Palazzo Delle Esposizioni in Rome. The project explores surreal, baroque scenes in Bark's own garage, and the wigs that Kono created are fitting. Kono falls into a unique role as he pushes the boundaries of the role of a hairstylist and wig maker, constantly working on atypical projects. For example, he also collaborated with a Tokyo antique shop Tatami Antiques to stage an exhibition of antique-inspired wigs. "I want to do collaborations with people with other industries such as architecture or product design," he explains. He also just launched T-shirts at Vacancy Projects Salon and has an upcoming (September 4 to 6) group exhibition with other emerging designers and artists, titled "I just αm," at Rooms Tokyo, presented by H.P. France.
Perhaps one of the most unique things about his work is that he's bringing wigs to spaces where one usually wouldn't see them: antique shops, art galleries, and portrait photography. His pieces are undoubtedly works of art, and rather than just use them in an editorial photoshoot and then store them in his personal archive, he's able to bring them to the masses so people can experience them. Kono's exhibitions come with a not-so-precious approach which is also unusual for almost any other form of art: "To actually feel and see how realistic the wigs are, I think people need to touch and wear it," he says. "Wigs can easily be damaged, because it's made of very fragile lace net, but I accepted this concept with courage and confidence."