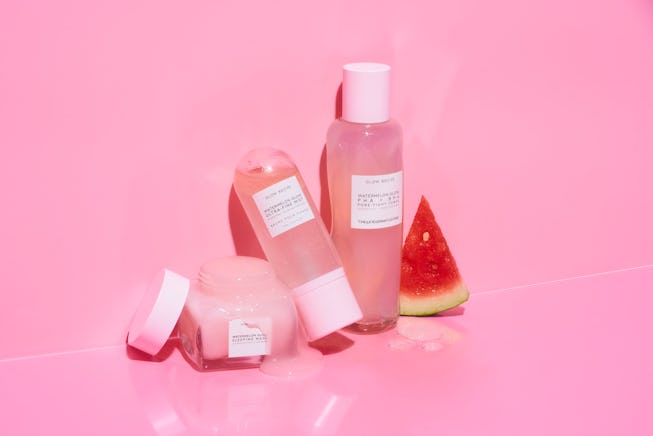 Courtesy of Glow Recipe
Watermelon Is A Super Fruit For The Skin — Here's How To Get It Into Your Routine
Everything you need to know about the summer's hottest skin care ingredient.
Watermelon has long been more than just a treat reserved for hot summer days. Beauty brands have embraced the fruity ingredient for the last few years, incorporating watermelon into countless skin care offerings. Watermelon products certainly smell sweet and can provide a much needed pop of pink on shelfies everywhere, but as some skin care experts shared with NYLON, melon beauty goods are super beneficial for the skin. And while there are many watermelon products to choose from, here are five of the best watermelon skin care products.
Glow Recipe, the brand behind a viral watermelon sleeping mask — responsible for breaking the trend in the U.S. — announced its latest offering, the Watermelon Glow PHA + BHA Pore-Tight Toner, which just launched on April 17. The product joins an already stacked lineup of melon-centric offerings from Glow Recipe, and as dermatologist Dr. Zenovia told NYLON, there's a reason why watermelon remains so popular in the skin care world. "Watermelon is an ingredient that is packed with antioxidant properties to help boost skin health. Watermelon contains high levels of Vitamin C and E, which can help the skin look more vibrant and firmer," she said.
L'Oréal Cosmetic Chemist, Manessa Lo further explained the beauty science behind watermelon's popularity. "Watermelon is inherently rich in antioxidants such as Vitamin A & C," she tells NYLON. "Antioxidants are generally beneficial in fighting off free radicals that our body absorbs from the sun which can cause premature aging of the skin. Vitamin C in particular helps with hyperpigmentation and cell turnover, which gives a more youthful skin appearance. Watermelon also contains high water content making it a natural hydrator both when eaten and when applied to the skin."
When looking at watermelon products, Marisa Plescia — Research Scientist for clean cosmetics brand NakedPoppy — advises keeping a close eye on the ingredient list. Speaking with NYLON, she notes that you should look for products that have Citrullus Lanatus (Watermelon) Fruit Extract or Citrullus Lanatus (Watermelon) Seed Oil listed at the top. "The higher the ingredient appears on an ingredient list, the higher the level of the ingredient in the formula. This helps ensure it's at more efficacious levels," she said.
Ready for watermelon season? Below, check out some of the best watermelon beauty products.
We only include products that have been independently selected by Nylon's editorial team. However, we may receive a portion of sales if you purchase a product through a link in this article.