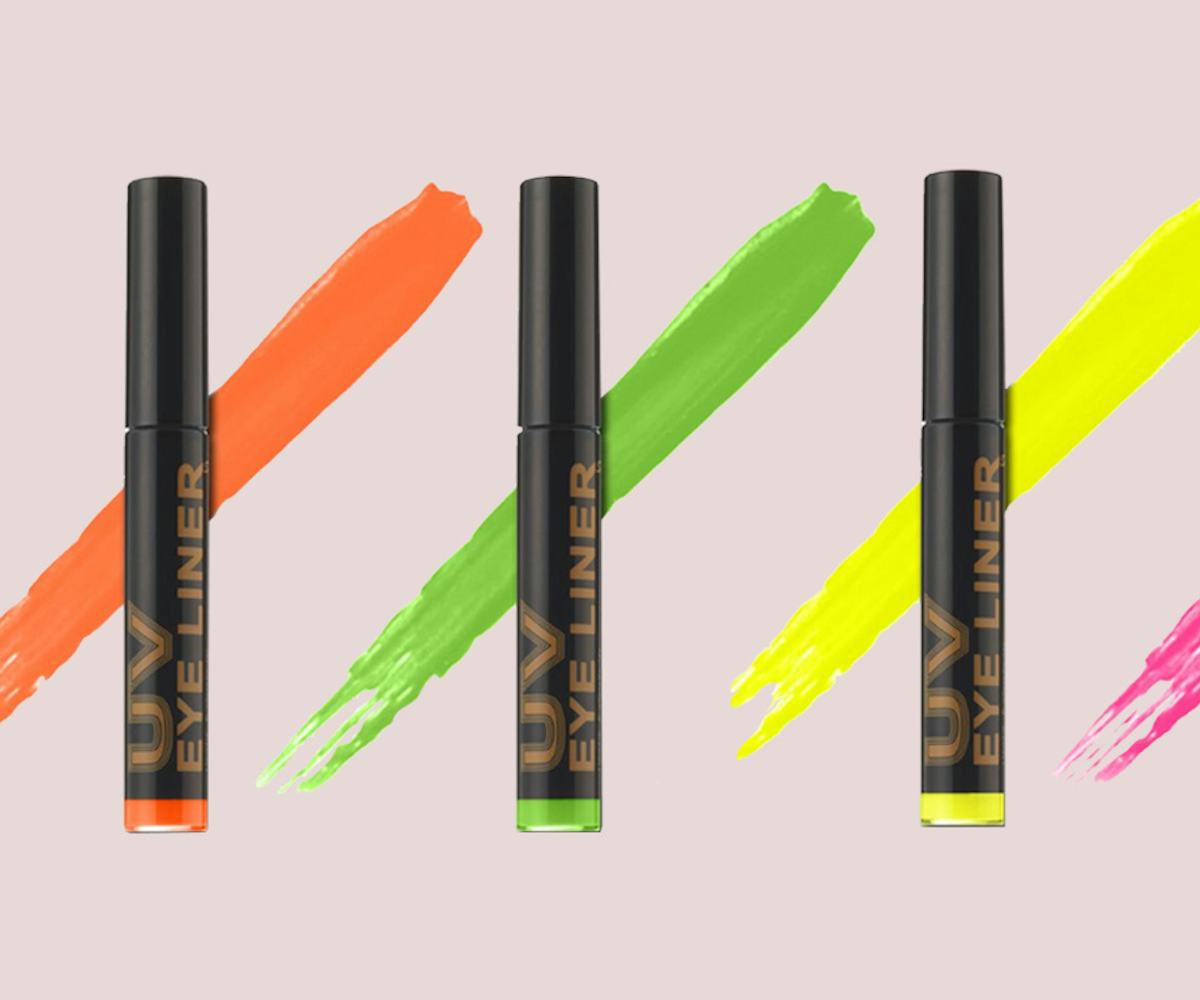 Photos courtesy of Stargazer
I've Never Gotten More Compliments Than When I Wear This $3 Neon Eyeliner
Friends don't let friends miss out on all the cool, under-the-radar things they know about, like which little-known beauty brand is low-key making the best highlighter around. And because we consider our readers to be like friends, we gather together all our best finds in our Don't Sleep On Thisseries. Check in every week to see what things we can't wait to share with you.
If you know me at all, you know that I feel weird leaving the house without some sort of eyeliner on. It's definitely one of my desert island must-haves, and I'll always opt for a swipe of it across my lids over any other eye product—even mascara.
So, imagine my excitement when I learned that the absolute best neon liner ever only costs a few bucks and is available on Amazon. U.K.-based brand Stargazer sells a UV Eyeliner in six neon shades that have converted me from being a basic black eyeliner-wearer to being an attention-grabbing bright eyeliner-rocker.
All it takes is a couple of swipes to turn your eyelids into a rave. I've worn it a few times now, usually as the centerpiece to an otherwise-muted outfit, and I've been extremely impressed with the results each time. After a full day staring at a computer screen (aka working), I've been able to go to a party afterward without even having to touch it up.
Perhaps best of all, this liner doesn't flake or smear off, and stays flawless for as long as you want to wear it. It doesn't even smudge onto my hooded lids! Once it's on, it's not going anywhere until I take a micellar water wipe to it. I can't say that about 99 percent of all other eyeliners, and I've pretty much tried them all.
And if there's anything I love more than eyeliner, it's getting compliments about my eyeliner, and this one has gotten me the most attention of any other eye look I've ever worn, by far. I swear, the first time I wore it, every time I turned around in the office, someone was complimenting my bright pink lids and was floored by the fact that my beauty look was made with something so cheap. And, if you want a more all-over neon eye look, the brand also sells loose pigments.
I've only tried the pink on my lids so far, though I've swatched the rest and can vouch for their pigmentation. I could embrace the slime green or neon orange trends with just my eyes, or use the neon yellow to make it look like I've taken an actual highlighter to my lids. Or, maybe, I could stack all six colors in one very Pride-ready eye look.
One thing's for sure: I really do not need plain black eyeliner anymore. That boring stuff is now relegated to the back of my vanity drawer.
Stargazer, UV Eyeliner, from $3, available at Stargazer or Amazon.
NYLON uses affiliate links and may earn a commission if you purchase something through those links, but every product chosen is selected independently.