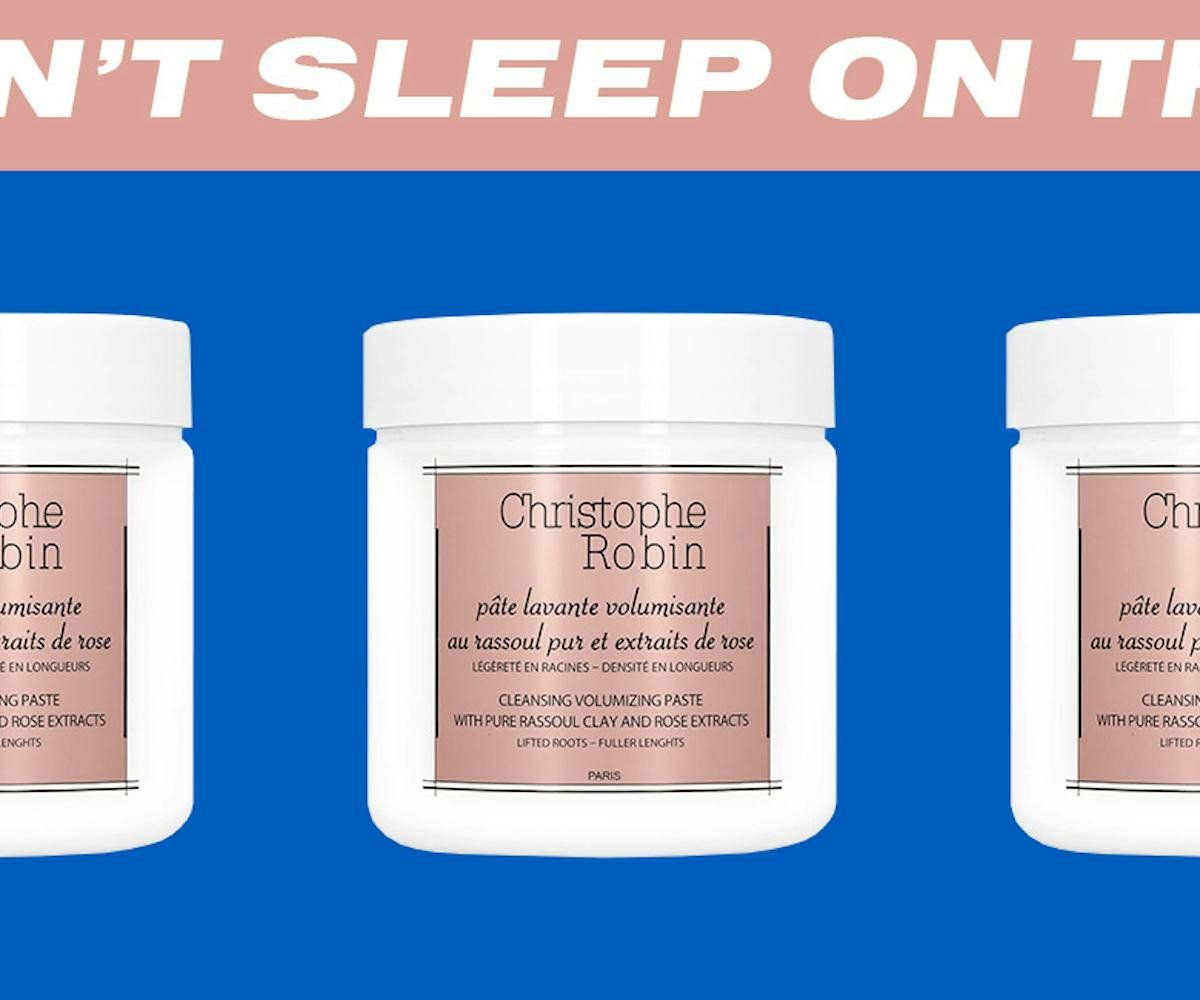 Photo courtesy of Christophe Robin
My Hair Hasn't Looked Limp Since I Added This Paste To My Routine
Friends don't let friends miss out on all the cool, under-the-radar things they know about, like which little-known beauty brand is low-key making the best highlighter around. And because we consider our readers to be like friends, we gather together all our best finds in our Don't Sleep On Thisseries. Check in every week to see what things we can't wait to share with you.
I have relatively thick hair, but it doesn't like to look that way (unless it's frizzing beyond belief, which is not the kind of thickness anyone wants). After I wash my hair, there's always one glorious day of it looking nice and put-together, but, after another day or two of treatment with heat tools and product buildup, it gets bogged down, and becomes limp and altogether pitiful-looking. After two or so days without a wash, my hair looks like how I feel after a hot yoga class (read: tired, lifeless, and greasy). And there's only so much dry shampoo my scalp can handle before turning into a flaky, gray-ish mess (no offense to dry shampoo).
So it would go every few days until I'd wash my hair and get that one amazing day of perfect, voluminous hair. Until I met Christophe Robin, aka the only man I actually like at this point in my life. One dab of his Cleansing Volumizing Paste in my hair between shampooing and conditioning keeps my hair looking full for days, instead of hours. My strands haven't looked limp once since I added this to my routine. Plus, it gives my hair a super-deep clean, so I really only have to wash my hair once a week, with minimal dry shampoo-induced graying.
Though I use it in addition to my regular hair routine, this paste can be used on its own, in lieu of shampoo. It can also serve as a clay mask for your hair: all you have to do is leave it in a bit longer before washing it out. It transforms from an oily scrub into a thick foam when you massage it into your scalp, and a dime-size amount will cover your scalp twofold with product left over to coat the rest of your hair—and this is coming from someone who prefers to use a nice silver-dollar size scoop of anything I put on my head. (Yes, I do go through hair products fast, which is why I'm glad my holy grail conditioner is only $3).
I don't often advocate for dropping a large chunk of money on anything, but my weakness is a hair-care product that makes my routine even a little bit easier, and this one has (not to be dramatic) transformed my entire routine. No matter how many products I've used over the past few days, any trace of buildup is gone, leaving my hair shampoo commercial-level sleek and shiny, and my scalp so fresh and so clean. And one jar lasts forever: I lucked upon this paste while I was still a NYLON intern, and the very same bottle has lasted me through my freelancing days and well into my job as a staff writer. It's been more than a year, and I still have more than half the jar left, so, even though it's a bit of a hefty purchase, it definitely pays off.
As much as I want everyone in the entire world to try this product out for themselves, I'm Gollum-level protective of my jar, to the point that I keep it in my bedroom and only bring it to the shower when I need to use it (in my defense, I do have five roommates). I do, though, tell everyone I know about its magical powers, watching as people ask in awe how many days I've gone without washing my hair. I'm usually very humble, but, if there's one thing I'll brag about, it's the length I can go between washes—I do always give credit where credit is due, though.
Christophe Robin, Cleansing Volumizing Paste, $53 for 250 mL available at Sephora, or $28.05 for 75 mL available at Amazon.
NYLON uses affiliate links and may earn a commission if you purchase something through those links, but every product chosen is selected independently.