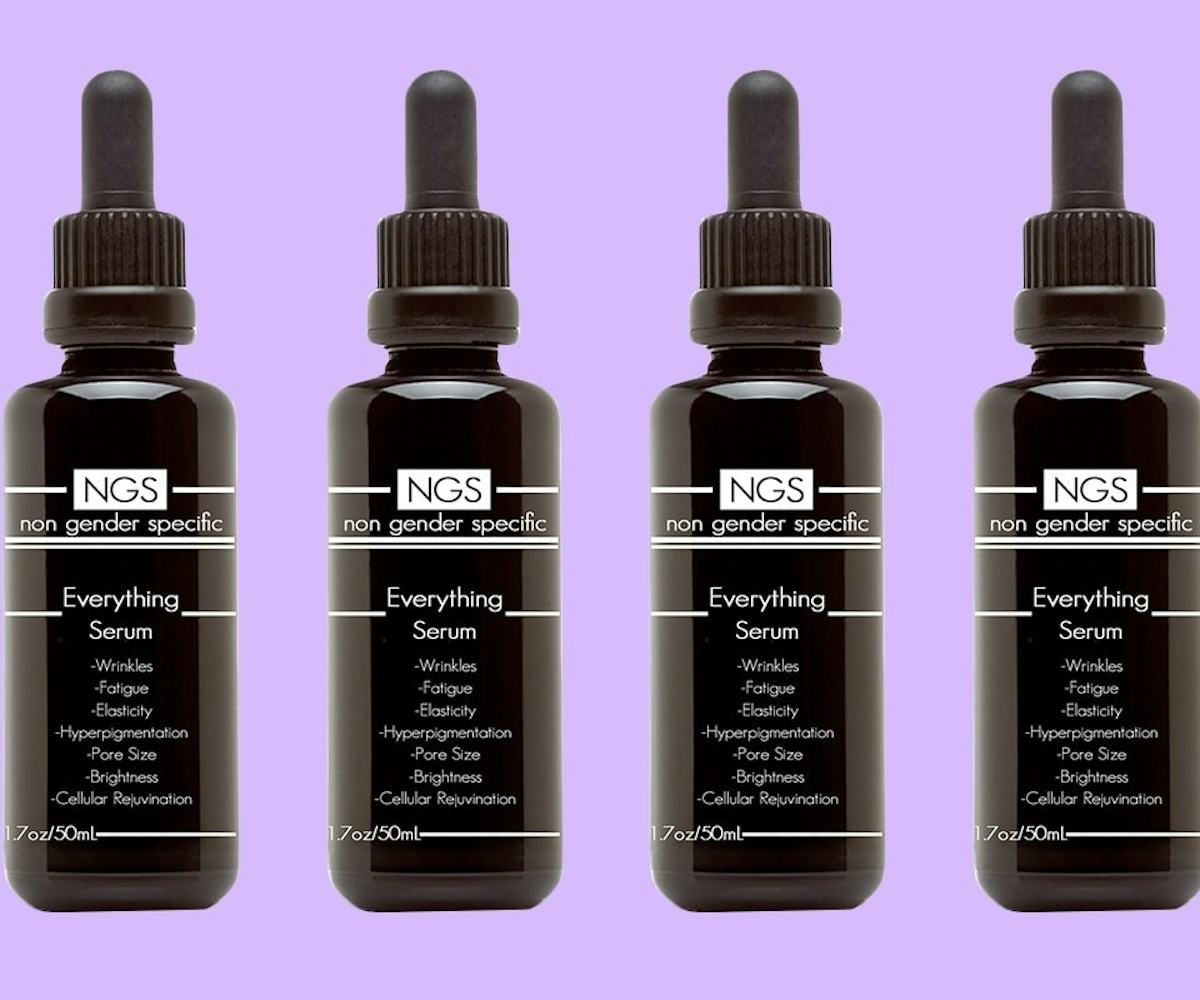 Photo courtesy of Non Gender Specific
This Serum Lets Me Skip A 10-Step Routine And Still Have Glowing Skin
Simplifying beauty is so satisfying
Friends don't let friends miss out on all the cool, under-the-radar things they know about, like which little-known beauty brand is low-key making the best highlighter around. And because we consider our readers to be like friends, we gather together all our best finds in our Don't Sleep On Thisseries. Check in every week to see what things we can't wait to share with you.
I really like the idea of a long, exhaustive skin-care routine, wherein I carefully place multiple different serums, toners, moisturizers, and the like on my face in a pre-ordained order, taking care to ensure that each product seamlessly works together. The only problem is, I don't exactly have time or the patience to curate a 10-step routine and so I... don't.
The thing is that, in the mornings, any unnecessary task that would force me to get up even a few minutes earlier than I need to is just not going to happen, and by nighttime, I'm too exhausted to think about anything other than when I'm going to be able to go the fuck to sleep. (Can you tell I love sleeping?) So, the fewer products that make up my routine, the more likely it is that I'll actually do it and not skip it entirely.
All to say, I'm so happy I found Non Gender Specific's Everything Serum, because it is pretty much everything I need—as its name might suggest. Now that I use it, I basically use nothing else. Well, I use dermatologist-proscribed clindamycin to keep breakouts at bay, and I follow it up with a moisturizer, but then there's just this serum and nothing else. And, to be honest, this serum is so moisturizing that sometimes, after putting it on, I don't even bother with a moisturizer.
It should be noted that this serum isn't thin or runny like many others of its kind; it actually feels more like a moisturizer in terms of consistency—though it's not at all heavy or slimy on the skin. Which, you know, is great, because who wants slimy skin?
Not only does my skin feel softer and more hydrated, but I also feel like this serum has made my skin brighter. In the mornings, if I put on makeup right after I put on just a layer of this, I barely even need a highlighter.
Sure, when I have the time and energy, I'll take a moment to spoil my skin with a toner and maybe another serum. But if I'm tired or in a hurry, pretty much all I need is a dime-sized amount of this serum to keep my skin looking great. And while this serum isn't inexpensive, when I think about all the different products it's replaced for me, it's actually pretty affordable. Plus, it cuts down on excess packaging and waste—and who doesn't want that?
Non Gender Specific, Everything Serum, $65, available at Amazon and Urban Outfitters.
NYLON uses affiliate links and may earn a commission if you purchase something through those links, but every product chosen is selected independently.