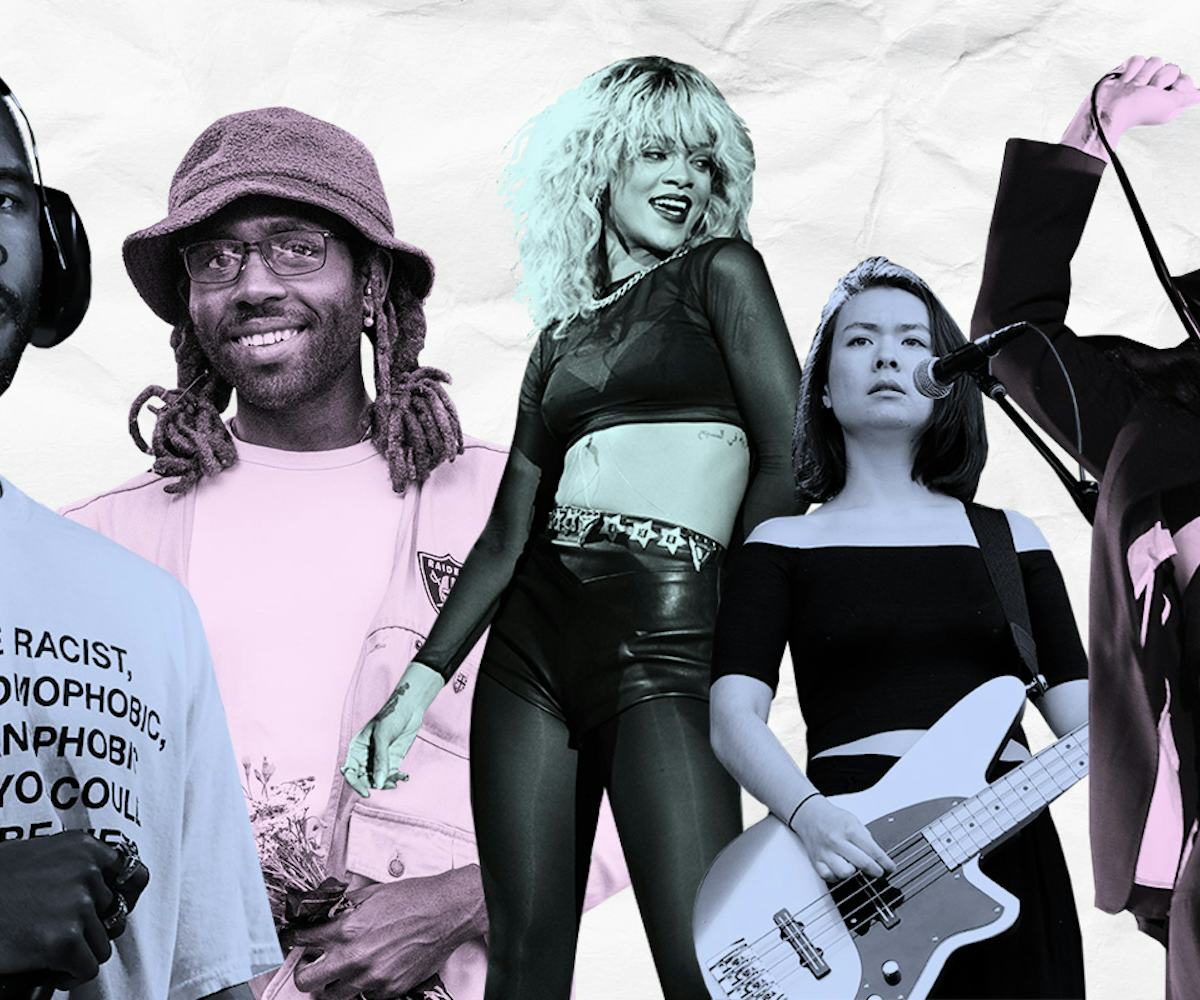 Photos from Getty Images
NYLON's Favorite Songs Of The 2010s
Featuring Rihanna, Mitski, and more
In music terms, a decade is nearly a lifetime. Over the past ten years, there have been rapid fire genre trends, wild ascentions of new pop icons, and, perhaps most importantly, plenty of bops to go around. In the 2010s, Beyoncé singlehandedly turned the music world down when she dropped "Formation" out of seemingly nowhere; we watched Mitski's searing and poetic lyricism develop in real time, giving us iconic sad-girl anthems like "First Love / Late Spring"; and Robyn's "Dancing On My Own" became an instant classic that will dominate party playlists for generations to come.
Rather than sharing another long, methodically debated and consensually agreed upon ranking, we've decided to show a little love to the songs that mattered most to our editors over the past 10 years. Below, NYLON staffers share their favorite songs of the decade, including Sky Ferreira, Taylor Swift, Solange, and more.
Favorite Song: "Perfect Places" - Lorde
Honorable Mentions: "Everything Is Embarrassing" - Sky Ferreira, "Teenage Dream" - Katy Perry, "Swim Good" - Frank Ocean
"Has anyone ever described the rollercoaster of joy, confusion, and disappointment that is daily life — as the well as the range of coping mechanisms people use to get themselves through — as succinctly and sagely Lorde does in 'Perfect Places'? It's a song that's somehow suited for both a late-night dance party and a good cry alone in your room; its upbeat, electropop sound is paired with lyrics that reflect the darker aspects human experience, which can sometimes feel like too much to bear. Her closing lines have been burned into my brain since I first heard them in 2017: 'All the nights spent off our faces / Trying to find these perfect places / What the f*ck are perfect places anyway?' Of course, there are none — the best we can do is make the most of where we are, and who we're there with."
— Alyssa Vingan Klein, Editorial Director
Favorite Song: "All Too Well" - Taylor Swift
Honorable Mentions: "Something" - Julien Baker, "Your Best American Girl" - Mitski, "Dancing On My Own" - Robyn
"As we near 2020, there's nothing I can say about Taylor Swift that hasn't already been said — including the fact that 'All Too Well,' off her 2012 record 'Red,' is almost universally regarded as her best song. And that's because it is! 'All Too Well' is the type of song where you can listen to it approximately one million times (and, give or take, I have) and still feel that gut-punch of when you first heard it. It's one of those songs where whenever I meet someone who hasn't heard it, I immediately make them stop what they are doing and put it on. So, if you're one of them — now would be a good time."
— Lauren McCarthy, Executive Editor
Favorite Song: "We Found Love" - Rihanna ft. Calvin Harris
Honorable Mentions: "Formation" - Beyoncé, "Royals" - Lorde, "Call Your Girlfriend" - Robyn
"Let me make one thing clear: 'Formation' is no runner-up to any song. But Rihanna's Talk That Talk track, featuring Calvin Harris, is a BOP — one that defined the decade by finding the middle ground between pop and dance, and served as a precursor for the EDM-pop hits to come later. Play the song today, or nine years down the road, and you will find everyone on the dance floor, singing 'we found love in a hopeless place' at the top of their lungs. Let's also not forget the trippy music video by Queen & Slim director and visual visionary Melina Matsoukas."
— Irina Grechko, Deputy Editor
Favorite Song: "212" - Azealia Banks ft. Lazy Jay
Honorable Mentions: "Work" - Rihanna ft. Drake, "Pink Matter" - Frank Ocean ft. Andre 3000, "Call Me Maybe" - Carly Rae Jepsen
"'Hey! I can be the answer,'" Azealia Banks declares in the opening lines of the song that would first make her famous. With rapid fire bars flowing like lava over a clanging Belgian beat, '212' felt more like a question than anything: was the world ready for a visionary MC with no filter and an ear for electro-house beats? Depending on whom you ask, the answer is yes, or no, or both. First released in 2012 as a free download, '212' set the tone for a decade that would struggle to accept and understand its non-male rappers while still consuming their music at ravenous rates. The ultimately triumphant song's haunting bridge serves as a timely warning to both listener and singer, grinding for survival, or fame, or both: 'Why you procrastinating girl?/ You got a lot but you just waste all yours and/They'll forget your name soon/ And won't nobody be to blame but yourself.'"
— Claire Valentine, Entertainment Editor
Favorite Song: "Nights" - Frank Ocean
Honorable Mentions: "If I Needed You There" - Joyce Manor, "Marvin's Room" - Drake, "Rewind" - Kelela
"It would be absolutely impossible for me to pick a favorite song of the decade if Frank Ocean's 'Nights' didn't exist — I've changed my honorable mentions three (!) times — but it is truly my perfect song. It satisfies my needs for both a straightforward, mid-tempo beat about mundane, 'everyday shit' and, once it transitions halfway through, a dreamy solo that almost sounds as if its happening underwater. It's nostalgic and sad, pissed off and deeply loving — the perfect way to encapsulate ten years in five minutes. It also doesn't hurt that I was on a family vacation in Miami when I heard it for the first time, alone on a beach as the sun came up like I was in an A24 movie. Hearing it always feels a little bit like that morning."
— Tanisha Pina, Beauty Editor
Favorite Song:"Losing You" - Solange
Honorable Mentions: "Electricity" - Silk City and Dua Lipa, "Two Weeks" - FKA Twigs, "Gosh" - Jamie xx
"Who knew that the release of Solange Knowles' 'Losing You' in 2012 would be the very beginning of her musical journey as an independent artist. (She parted ways with a major label to join Terrible Records in 2012, then started her own, called Saint Records, the following year. A Seat At The Tableblessed our ears and music libraries in 2016.) The bright and percussion-heavy 'Losing You' gave us a tiny glimpse of what to expect from Solange through the 2010s: genre-bending songs, inspiring live performances, and loads of Very Good Fashion."
— Maria Bobila, Fashion Editor
Favorite Song: "Best To You" - Blood Orange ft. Empress Of
Honorable Mentions: "Needed Me" - Rihanna, "Pick Up The Phone" - Young Thug & Travis Scott, "You're Not The One" - Sky Ferreira
"Blood Orange aka Dev Hynes is a modern day renaissance man. Songwriter, producer, dancer, composer, director... the list is endless. While any song off any of his five albums or collaborations of the last decade could be contenders for top song, 'Best To You' is exemplary of what Hynes does best. He has a unique ability to both bring the best out of his collaborator and inject his own off-kilter artistic sensibilities. On 'Best To You,' Hynes vocals perfectly frame Lorely Rodriguez aka Empress Of's crystal clear hypnotizing refrains that I have been unable to get out of my head for 3 years. Give Dev Hynes a piano and a pop star and he will give you 15 of the decade's best songs from Solange to Carly Rae Jepsen. While this feels like just the beginning for Hynes' career, let this be a bid for not just Song of the Decade but Artist of the Decade."
— Lindsay Hattrick, Designer
Favorite Song: "First Love / Late Spring" - Mitski
Honorable Mentions: "Bad Girls" - MIA, "Yoshi City" - Yung Lean, "Genesis" - Grimes
"I don't know an artist in this past decade who has held sadness so closely alongside her work — and has not been completely submerged by it — as well as Mitski. Seven years on since her first project, it feels like she's redefined the emotion in our collective conscience — maybe not changed it, but surely sharpened the image; made it clearer to understand, almost clinically. To this day, I don't think I've heard a song so plainly, and with such exacting precision, capture the terrifying experience of completely giving yourself over to someone better than Mitski's 'First Love / Late Spring.' The blaze-in-the-dark track, from the singer's 2014 masterpiece, Bury Me At Makeout Creek, is one that always feels like a rock in the gut whenever I hear it. 'One word from you and I would jump off of this ledge I'm on, baby,' goes the heartbreaking hook. And yet, when it's played live and singing along, I am almost always smiling."
— Steffanee Wang, Associate Music Editor
Favorite Song: "Fake Happy" - Paramore
Honorable Mentions: "Hot Dad Calendar" - Cayetana, "Everybody Wants To Love You" - Japanese Breakfast, "Maps" - The Front Bottoms
"Paramore wrote the ultimate sad-girl anthem and dipped it into a sugary sweet coating, creating what sounds like emotional white-knuckling. Despite the cheery rounds of 'ba-da-ba-da-ba-ba' that beg for woodland creatures to enter from the sidelines to dance and sing along, Hayley Williams is delivering message that is deeply unhappy. The facade cracks, if only for a moment, with each pre-chorus: 'If I smile with my teeth/ Bet you believe me,' she sings, followed by a sharp exhale. Her delivery is fierce, offering those who sing along catharsis in the release of their masked frustrations as they take on a similarly cutting, yet cool persona. When times are good, the song is an act — a flippant attitude to try on as you sing into a hairbrush. When times are hard, it's exactly the remedy any sad-girl needs to let it all out. And the 2010s were brimming with both."
— Allison Stubblebine, Editorial Coordinator
Favorite Song: "Wait A Minute!" - Willow Smith
Honorable Mentions: "Tough on Myself" - King Princess, "Happy & Sad" - Kacey Musgraves, "Sofia" - Clairo
"I can still remember the first time I heard Willow Smith's 'Wait A Minute.' After picking up my hip teen sister from middle school, she played me the song on repeat all the way home. 'It's really the best song in the world,' she told me after 35 minutes of the song on loop. Ever since that day, the three minute and 16 second track has not only managed to become one of my most played songs, but has gone on to continue to kill it with Gen-Z, gaining traction on TikTok and YouTube. The iconic song bangs from the second it begins and will always remind me of my little sister."
— Willa Bennett, Audience Development Manager