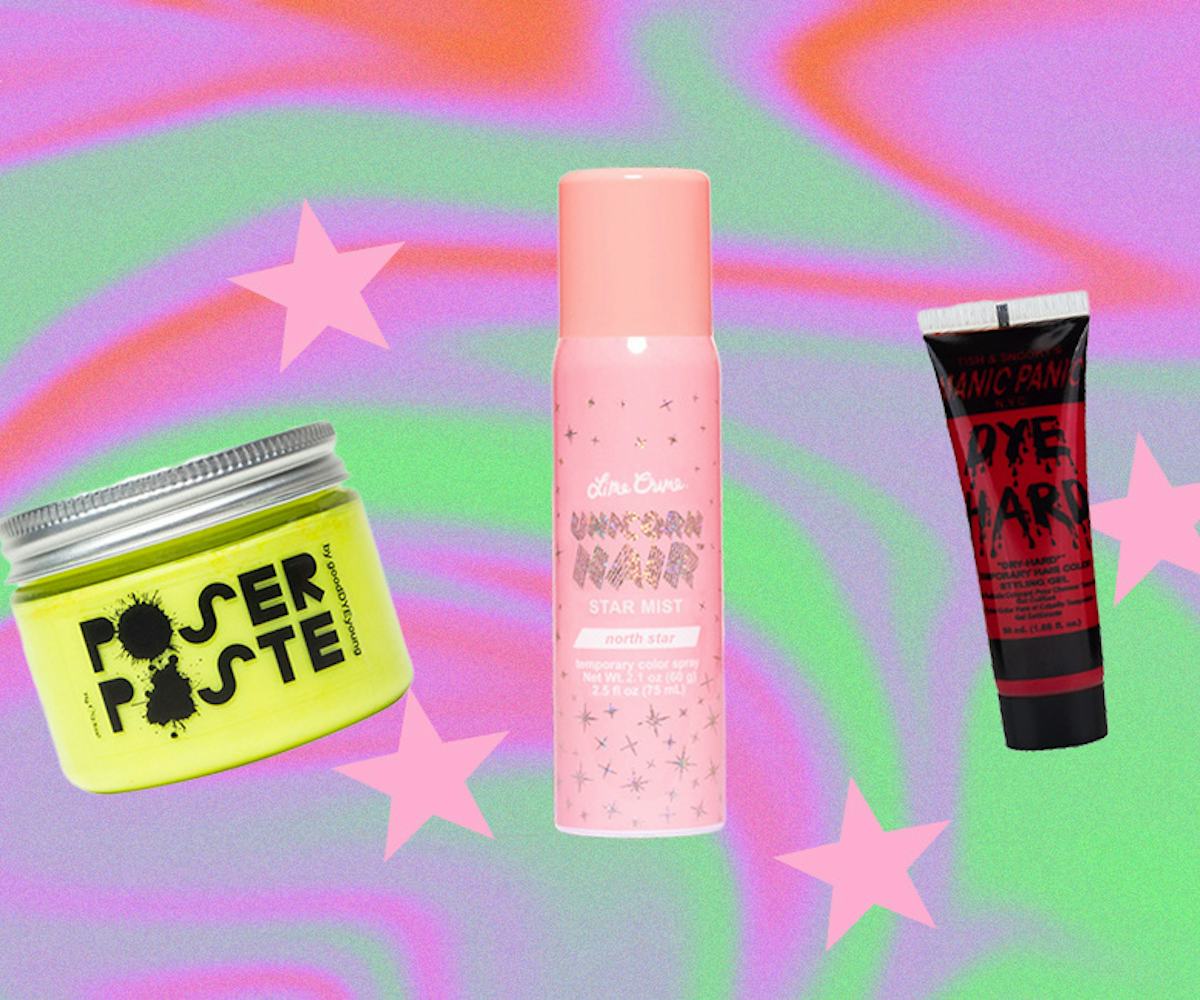 7 Temporary Hair Dyes To Try If You're Not Billie Eilish-Bold
Don't worry, they'll come out after a good wash
When Billie Eilish debuted her electric green roots, I had a few thoughts. The first was that slime season is clearly still in full effect. The second was a mix of shock and admiration at the fact that she was able to commit so wholeheartedly to shadow roots while I still shudder at the thought of highlights. The differences between the two of us are vast, sure, (there's a five-year natural hair journey thrown in there, for one), but I saw Eilish's switch-up as an opportunity to reexamine my own attitudes toward hair color. After careful thought (read: a brief moment of consideration while I scrolled away), my feelings hadn't changed, but my interest in day-of, Day-Glo shades deepened as did my urge to try something new. I settled for a pearl hair clip, but for everyone else who shares my feelings, there's temporary hair dye.
In a world where instant gratification has become the standard but (healthily) bleaching your hair continues to be a process, temporary hair sprays, paints, and gels offer up the opportunity to get the look without the hassle—and slip back into your normal look whenever you see fit. Permanently colored hair, though—whether it's a slight dusting of color on the ends or a whole-head color transformation—is a commitment, one that requires some level of after-care and decisiveness about your aesthetic. That's where temporary options come in. It offers the same low-key thrills of window shopping or trying on a new outfit in a dressing room—except we're talking hair color here, and, well, you may or may not get it all over your bathroom sink while you're applying it.
See the best options for temporary hair looks, ahead.
Manic Panic, Dye Hard Temporary Hair Color Styling Gel, $9.48, available at Amazon.com.
Lime Crime, Unicorn Hair Color Spray, $16, available at LimeCrime.com.
Kristin Ess, Rose Gold Temporary Tint, $12, available at Target.com.
Manic Panic, Amplified Color Spray, $10, available at Ulta.com.
Splat, Hair Chalk, $6, available at Ulta.com.
Good Dye Young, Poser Paste Temporary Hair Makeup, $18, available at Sephora.com.
Hush, Prism Airbrush Spray, $24, available at Sephora.com.