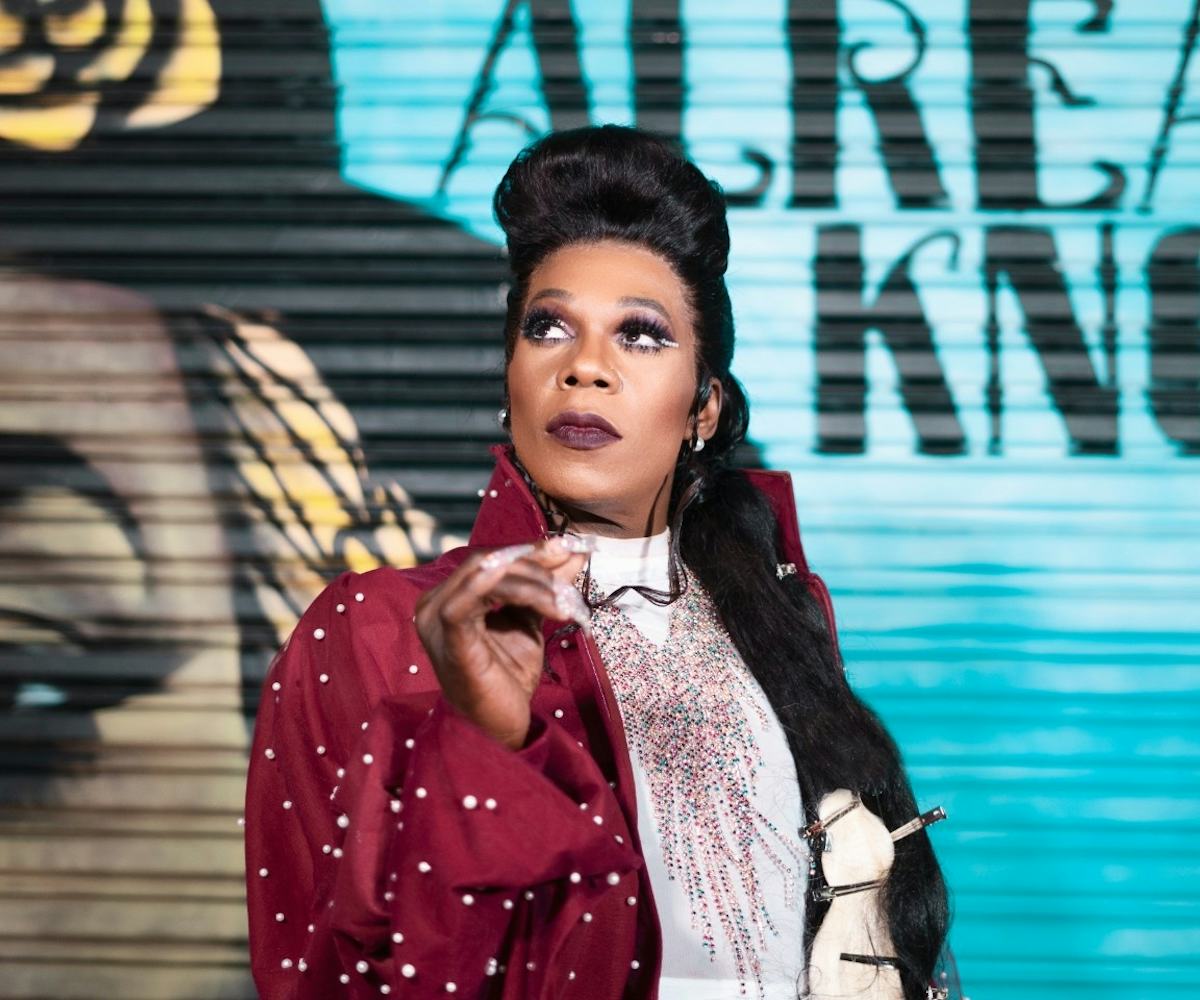 Brad Hebert
Big Freedia On Her Friendship With Kesha & Her Fearless New EP
The bounce icon levels up on her forthcoming EP, Louder
It was the day after the Super Bowl when New Orleans bounce legend Big Freedia stopped by the NYLON offices to talk new music, and Twitter was on fire over a TurboTax ad. The commercial, which used bounce beats and choreography for a jingle about simplifying taxes, was being received as a watered-down version of the lifeline that fuels New Orleans clubs — and the most recent display of how the genre had been corporatized. Sipping on coffee that Monday morning, Freedia, whose voice resonates through Beyoncé's "Formation" and Drake's 2018 hit "Nice For What", and whose name has become near synonymous with the genre itself, offered a more diplomatic read of the situation.
"With music, everything resurfaces, just like clothes and everything else out there in the world," Freedia explains, adjusting her quilted poncho. "Bounce is being that thing. Everybody's using it, from Megan Thee Stallion to Lil Wayne, to Drake, to Beyoncé."
As pop culture's attention toward bounce has intensified over the past few years, Freedia has been putting in the work to make the most of the moment. On her upcoming Louder EP, due out on March 13, she does exactly what the title suggests: "Coming more strong, more bold, more colorful in every direction," she says. "I want more to be said; I want to let them know I've been at this for a long time, and I'm coming loud in every angle." A tidy package of five songs, Louder is bursting at the seams with quippy hooks worthy of being tattooed on your forehead and beats that demand you shake your ass, no matter what the occasion. And this time she's doing it with Kesha, who's featured on her latest single and music video, "Chasing Rainbows," in tow.
Freedia and Kesha first met in 2019 during the inaugural Weird & Wonderful Rainbow Ride cruise where they both were in attendance as performers; Kesha didn't even waste time getting out of her hair and makeup after her own performance to catch Freedia's set. The pair wound up hanging out and getting matching tattoos with their respective teams, promising to stay in touch. "Everything was just God's timing to me," Freedia says. At that point, "Chasing Rainbows" was already done, but Freedia still needed the right artist to join in on the hook. Seeing Kesha perform on the cruise made her realize she'd found who she'd been looking for. It just so happened that Kesha needed Freedia to join in on "Raising Hell" as well.
Since then, Kesha has turned out to be Freedia's biggest champion. "Of all the artists that I've worked with, me and Kesha have connected mostly on a personal level as well," Freedia says. She's been on the frontline alongside Kesha throughout her High Road album cycle, even joining in for late-night performances of "Raising Hell." Later this spring, Freedia will hit the road with Kesha for much of her North American tour.
Their latest collaboration, Freedia explains, "is about chasing your dreams out there, no matter who you are, no matter what walk of life… 'cause nobody else gon' do it." She relates her own life story on the track, from her struggles growing up "being Black and gay in a church" setting, to where she's at now. "Read the scripture, it's revival/ Read the scripture, from the bible/ Watch the system, take my idols/ Now I pray for, all my rivals," she raps in the first verse. Although the song never gets hyper-specific, its message of perseverance and self-love is one that anybody and everybody can connect to. "It's not just for the LGBTQ community of rainbows or whatever — it's dreams of all kinds, every walk of life," Freedia explains. After Kesha joins in with Freedia's defiant "pray for my enemies" phrase, the two celebrate in singing over a semi-tropical accompaniment, "They don't wanna chase this rainbow/ Na na na na / 'Cause I am who I am."
Freedia unapologetically amplifies her voice and energy on Louder, effectively destroying all preconceived notions one might still have of her. As proven on the Icona Pop-featured title track, Freedia knows how to start a party, but "She Tipsy" and "GTFOMF" ensure that it wont stop anytime soon. On "She Tipsy," Freedia anoints herself the title of "that b*tch" and threatens to run you over if you can't keep up. On "GTFOMF", alongside featured artists Lil Aaron and Boyfriend, she does away with anyone who harbors bad energy, tapping into nu-metal sounds with distorted guitar rhythms and a take-no-shit attitude. Unlike those who have utilized bounce to cash in on a marketable trend, Freedia takes the opportunity to carve out a new sound, one that could occur nowhere else, a testament to her enduring place in the genre.
"I learned that my mind can open up even more creatively," Freedia says of what she learned during the process of recording Louder. "I can use a whole lot more sounds." She also realized that putting in that much more work came with pushing her creative limits. "We really dug in deeper than any of my previous projects, and it keeps getting better. My team keeps elevating, my manager keeps stepping it up with production and everything that he wants me to make, it sounds better, feels better, the whole thing," she adds. So after Louder, her volume and work ethic will by no means plateau — instead, she's just now taking off.
Louder is out March 13 via East West Records.