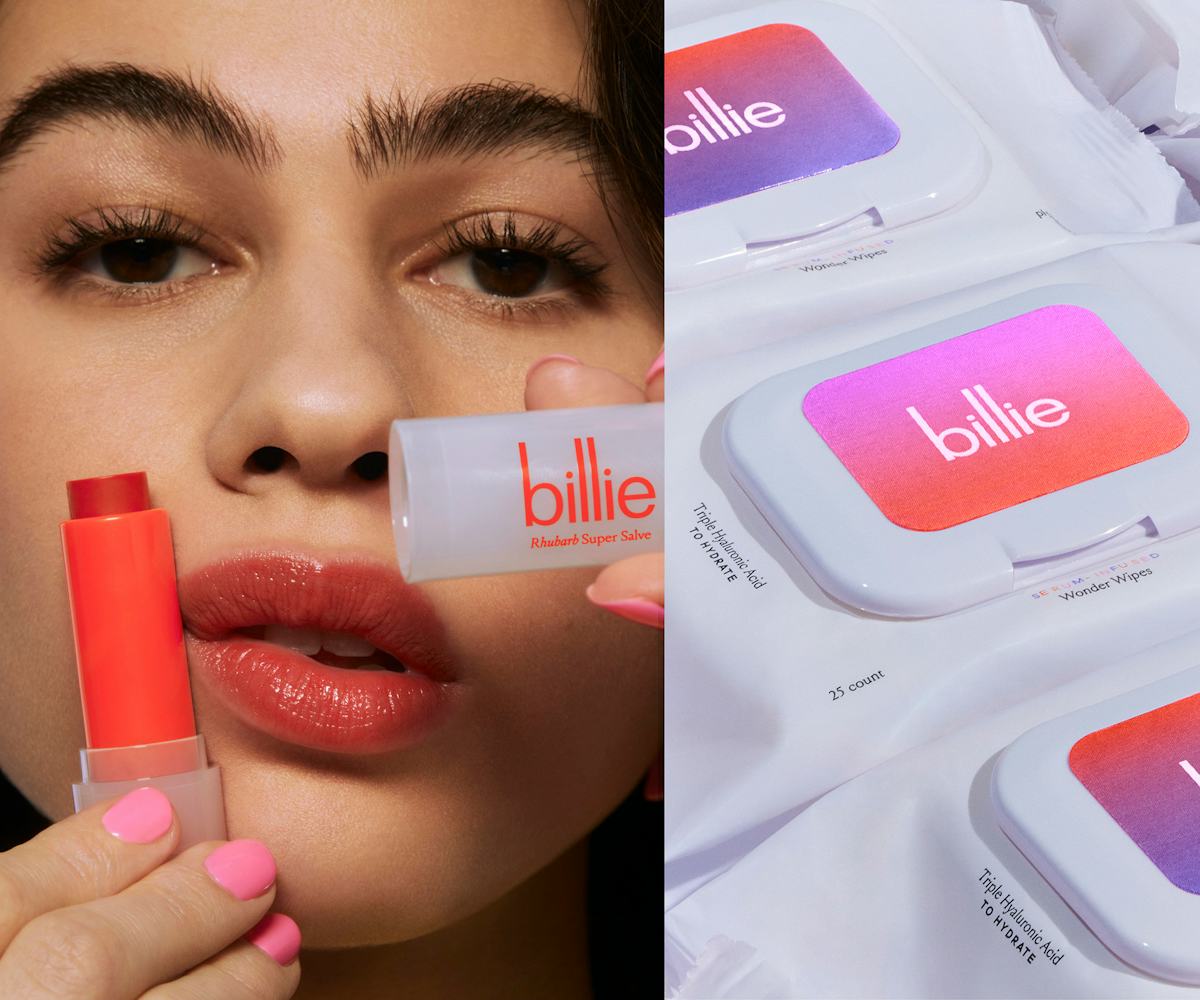 Courtesy of Billie
Gen-Z Favorite Razor Brand Billie Is Coming For The Rest Of Your Beauty Routine
The brand is stepping out of the shower
After turning the process of shaving into a colorful celebration, body brand Billie has unveiled three new items for nearly every step of your beauty routine. Beginning in 2018 with a razor and accompanying shaving supplies, the popular Gen-Z beauty brand is stepping out of the shower, now offering its version of a dry shampoo, lip balm, and cleansing wipes.
Since its debut, the brand has challenged beauty industry norms, creating inclusive campaigns and products that celebrated body hair and encouraged body positivity. For its latest offering, the brand turned to its customers and surveyed hundreds of shoppers to see what items were most needed. Based on the feedback, Billie created its new clean collection, noting each product was created without "harsh chemicals, parabens, phthalates and harsh foaming agents."
The launch of this clean beauty collection features the Super Salve Lip Balm ($9) in three tinted and two united shades, Wonder Wipes ($9) and Floof Dry Shampoo ($14), formulated for light and dark hair. The Wonder Wipes are touted as being an entire skin care routine in a single wipe, containing hyaluronic acid and Vitamin C, which should leave skin feeling hydrated and clean. The wipes are also biodegradable, made from 100 percent plant-based fibers.
Billie's Super Salve Lip Balm also includes good-for-you ingredients ranging from Sunflower Oil, which won't leave your lips feeling caked with product and Vitamin E, made to leave your pout looking and feeling smooth. For the Floof Dry Shampoo, which comes in adorable round packaging, you'll find a combination of ingredients including biotin, rice starch, and baking soda to both cleanse and volumize hair. "For the past 15 months, we've been working on what it would look like for Billie to step out of the shower and make it to your shelf," the brand wrote on Instagram of the products.
In addition to the new line, Billie launched its Clean Cash Calculator, an online tool created in conjunction with the Environmental Working Group. The tool allows you to compare products, seeing the full ingredient details of some of your beauty essentials.
Shop and look at the new products, below.
Floof Dry Shampoo
Billie, Floof Dry Shampoo, $14, available at MyBillie.com.
Super Salve Lip Balm
Billie, Super Salve Lip Balm, $9, available at MyBillie.com.
Wonder Wipes
Billie, Wonder Wipes, $9, available at MyBillie.com.