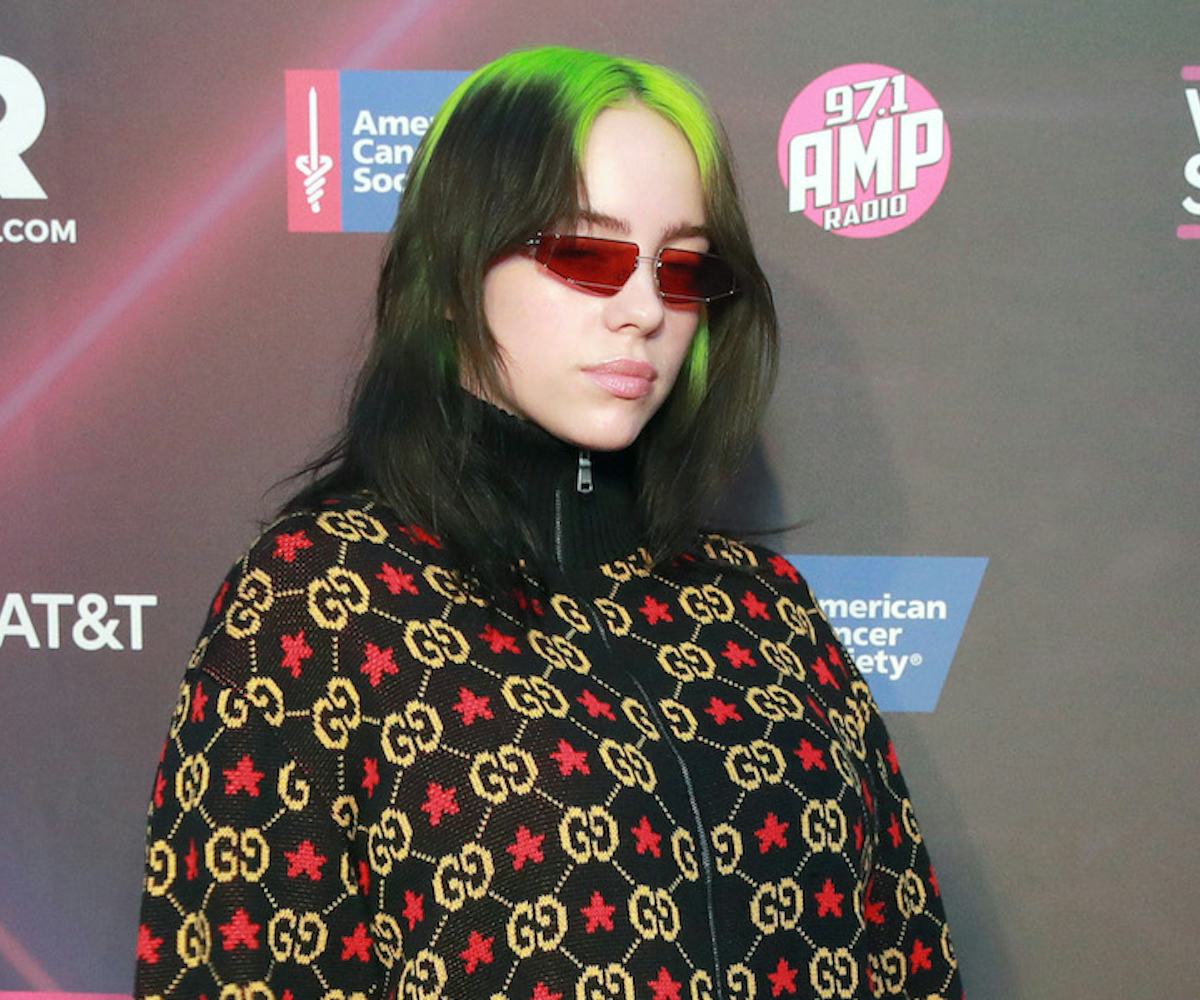 Photo by Rich Fury/Getty Images for RADIO.COM
Your Favorite Celebs Are Dressing Up As Billie Eilish This Halloween
Stephanie Beatriz, Jameela Jamil, Nina Dobrev, and more
It's official: Billie Eilish is the hottest costume this Halloween. At least, according to celebrities. After seeing the best celebrity Halloween costumes so far, it's clear that everyone is obsessed with a certain sleazecore queen.
Per NME, Eilish said she's "tripping" over all her celebrity likenesses; when sharing Anne-Marie's costume to her Instagram story, the "bad guy" singer described the look as "very accurate." The singer-songwriter went above and beyond to nail her Eilish look, even donning a foot cast and crutches as a nod to the singer's forever-sprained ankle.
Elsewhere, Brooklyn 99 actress Stephanie Beatriz chose to dress in slime-green everything and sport Eilish's former silvery hair for her Halloween costume, declaring on Instagram, "I'm the bad guy." Actress Nina Dobrev opted for a highlighter orange instead, completing her (very good) fashion look with eyeliner tears and contacts to achieve Eilish's dull eyes.
PRETTYMUCH's Edwin Honoret and former NYLON cover star Jameela Jamil also dressed up as Eilish this past weekend. As the week rolls along, don't be surprised if more celebs (and all your friends) end up donning their baggiest clothes and typing in all lowercase letters to get their Billie Eilish on. Peep all the best looks so far, below.
Stephanie Beatriz
I agree with Stephanie Beatriz and Billie Eilish on one major thing: slime green is forever.
Nina Dobrev
Nina Dobrev's contacts chilled me to my core.
Edwin Honoret
I'm ready for more people to match Edwin Honoret's energy this Halloween.
Jameela Jamil
Simple, but effective.
Anne-Marie
It's actually spooky how much Anne-Marie looks like Billie here.