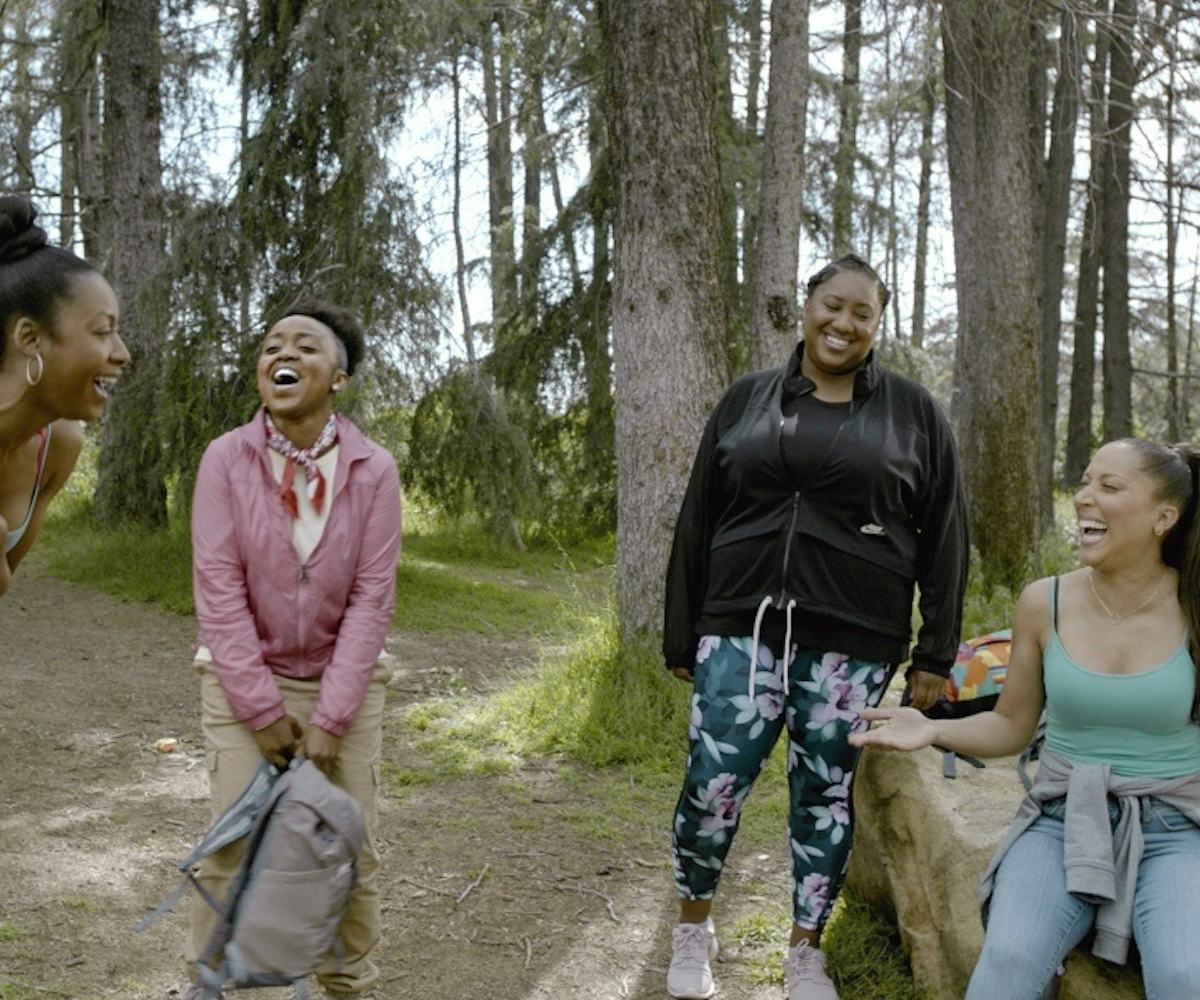 Photo courtesy of HBO.
These Are The Unsung Heroes Of 'A Black Lady Sketch Show'
The writers are the real MVPs
The news that A Black Lady Sketch Show had been renewed for a second season didn't come a moment too soon—especially after I realized that the debut season was only six episodes long. The series is a gift to Black women and a necessary disruption to the white, male standard that has defined sketch comedy before ABLSS's arrival.
Stars Gabrielle Dennis, Ashley Nicole Black, Quinta Brunson, and the show's creator Robin Thede have helped submerge us into a world that pushes boundaries, talks back to the culture, and keeps Black women at the center. But as phenomenal as this quartet is in front of the camera, we would be remiss not to acknowledge all the Black women in the writer's room who put pen to paper to create these hilarious worlds.
Lauren Ashley Smith is one of the show's co-executive producers, but she's also head writer, with the latter title being a history making one, since she's the first Black woman to be the head writer of a sketch comedy show. Joining Smith on the writing team is another history-maker: Amber Ruffin, who has been a writer on Late Night with Seth Myers for five years, and was the first Black woman to write for a late-night network talk show; Ruffin also narrates Comedy Central's Drunk History.
Another writer, Holly Walker is a veteran comedian who has toured with Second City and Boom Chicago. She is recognizable as a correspondent on The Nightly Show With Larry Wilmore, where she was also a staff writer. Despite being great on Twitter, Lisa McQuilan hasn't dropped a gem there since May and it's probably because she's really busy writing for grown-ish, Broad City, and a bunch other shows on ABC in addition to ABLSS.
Alikah Green was a lawyer/lobbyist at a firm in Washington, D.C. and really close to making partner before she decided to pack her life up and head to L.A. to pursue a career in comedy writing. It's the kind of life shakeup that could easily lead to unrealized dreams and a full time career as an Uber driver, but seven years later, it's safe to say that it worked out for her. Green has been a consultant on Real Time with Bill Maher, and a staff writer on Chelsea Handler's Netflix series, Chelsea. She's also written for both the BET and People's Choice Awards before heading to ABLSS.
Brittani Nichols is a queer woman who also hosts two podcasts (Brand New Podcast and Hamilton the Podcast) which is what you do when you're really funny. She wrote an award-winning dark comedy called Suicide Kale. Rae Sanni is a stand up comedian who's appeared on Comedy Central and wrote for The President Show and FOX's Rel during its single season. She used to work as a stripper but insists she was still broke while doing it.
Going over ABLSS's list of writers, I'd pay just to be a fly on the wall in their writer's room. They probably laughed louder and debated harder than any of us did on Twitter in response to the show. They are a real life dream team sent to formally reclaim joy for Black women. Their credentials are a gut punch for anyone who believes that there isn't source material for authentic Black women's stories and imagination. ABLSS shouldn't have been the first show of its kind when this talent pool is sitting right there. But now that it's here, I'm grateful for both the content and the Black women who brought it to life.