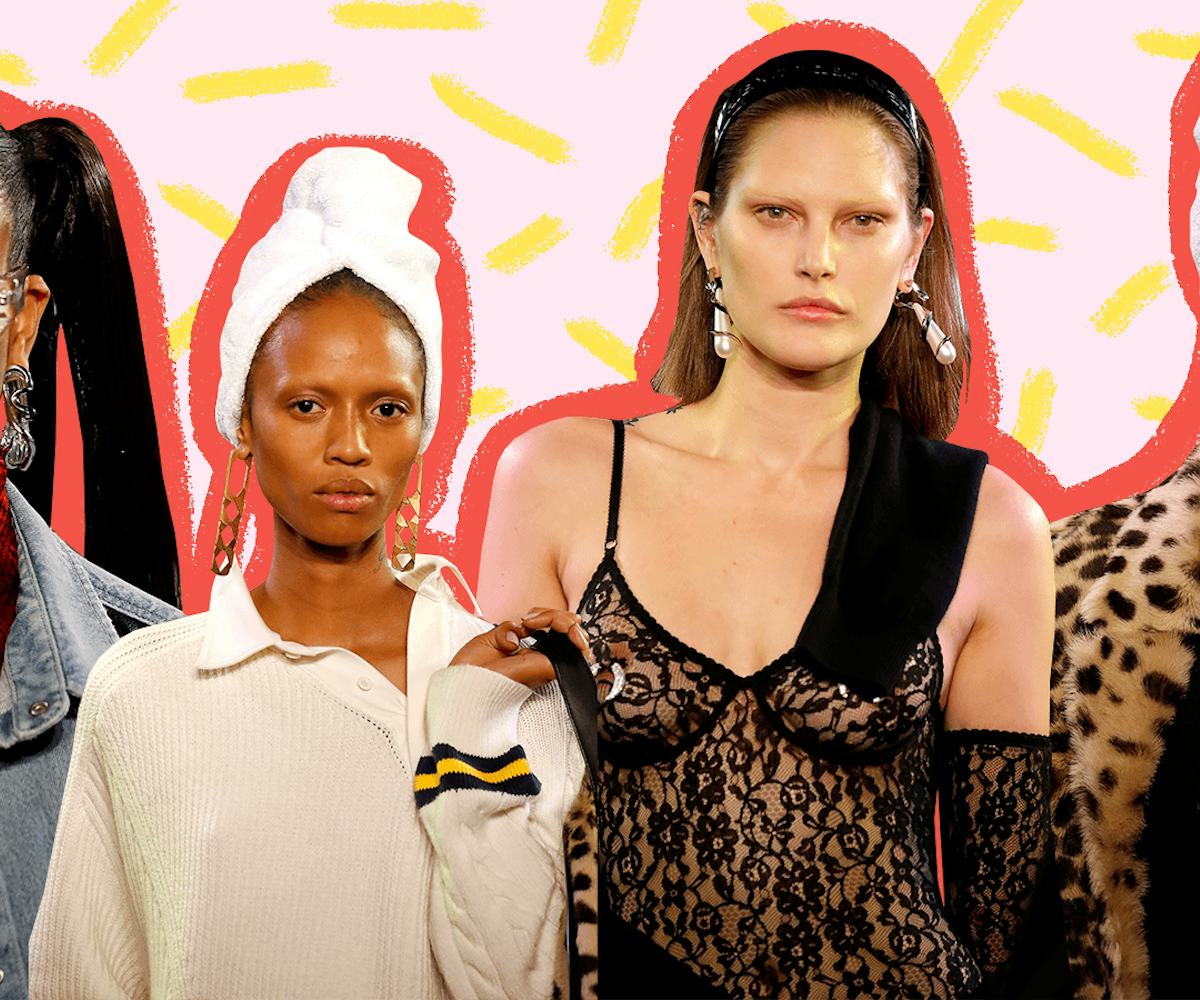 Photos by JP Yim/Getty Images
Everything You Need To Know Before Bleaching Your Brows
Things to consider before you make the leap
So, you've been thinking about bleaching your brows.
There's no doubt that taking your brows from your natural color to platinum, barely there shade is a look—and one that only the daring tend to take. But after we gushed over the brows at Alexander Wang's Fall 2019 Collection showing, where all of his girls—including Kaia Gerber—had theirs bleached on site, we're suddenly all itching to try this look out for ourselves.
But much like with making the decision to change the hair on your head, there are a lot of things to know and consider before you go ahead and bleach your brows. Like how often they will need to be touched up, and the risks that come along with DIYing it—but also, just how easy it is to fix if you ultimately decide it's just not a look for you.
We chatted with colorists and bleach experts Hannah Edelman (otherwise known as Hannah The Painter) of Brush In Hand Hair Studio and Julia Elena of Hairstory to get the lowdown on all you need to know before taking the leap. Get the full scoop, below.
Anyone can pull off bleached brows if done right (and worn with confidence)
Edelman splits brow bleaching into three major categories based on intensity. The first (and least intense) category is a shift, which is a subtle lightening—usually one shade lighter—ideal for someone who colors their hair a shade or two lighter than their natural. Next is the medium category, which she describes as a "bleach and tone," which is a two-step process that involves a lightener and a demi-permanent color. The third, the most intense and extreme, is the full bleach out—which is the edgy look we saw at Alexander Wang.
With that said, all levels of intensity can work on all skin tones and hair colors, as brows can be toned to flatter your skin's undertones. "As a general rule of thumb, your brows should match your hair's base color, aka the darkest shade of your hair," says Edelman. "If your natural color is much darker than your base color, bumping your brows lighter will create a more cohesive and convincing overall look."
However, if a full bleach is what you're going for, you can throw all rules out the window, according to Edelman. "[The wearer] doesn't care about the rules. It's a bold, in-your-face, on-your-face look carried by the wearer's badass confidence."
Be aware that you will get attention with this look
While we can all agree that bleached brows are a fun look to try out, Elena wants you to keep in mind that they also come with a bit of vulnerability. "You're exposing your face to something non-conforming after all, so you do need to be ready for that when you decide to bleach your brows."
You can achieve your desired look in just one session
Unlike trying to bleach your head from chocolate brown to platinum blonde—which can sometimes require multiple, spaced-out sessions—you can achieve the alien brow look of your dreams in just one session, according to Elena. "Usually, I bleach the brows in one session, and sometimes I may need to reapply for a bit depending on the original brow color." Easy, peasy.
Keep in mind, brows grow fast
After you bleach your brows, Elena points out that you'll begin to see your roots in just one week, and you'll see your natural color coming back in about two. Your brows will likely need to be touched up more often than you touch up your regular hair color if you dye or bleach it, too.
Go to a professional
While some bleach aficionados might want to DIY a bleached brow at home, Edelman suggests going to a professional—especially if you're going for the full bleach out. "A carefully applied brow shift can be done at home, but I would defer to a professional in any other case," she says. "I am going to give you a Jewish mother spiel: the risks are real! Your skin could have adverse reactions such as blistering, bleeding, and/or bruising. You could accidentally get the product in your eye. With any at-home lightening sesh, there is a possibility of severely damaging your hair."
Elena agrees—warning that, gulp, far scarier results can occur: "In an extreme case, you can lose your brows altogether if the bleach is left on too long." Nobody wants singed brows or a blistery forehead, so take their advice and seek the skills of a professional.
However, if you really trust yourself enough to DIY it (and aren't trying to go more than a shade or two lighter), make sure you protect your skin. "Apply a petroleum jelly base around your brows to protect your forehead and sensitive eyelid," says Edelman. "Place small pieces of foil over your eyebrows while they're processing. Also, try using a lightener that contains coconut oil, such as Pravana, to help soothe and protect your skin."
Don't worry if you end up hating them
So, you decided to go for it and decide it's just not for you—no need to panic, they are easily fixable according to Edelman. "You have options," she says. "After a shameful Insta story, a few minutes of demi-permanent color will put your brows back to where you want 'em. Be nice and put a little conditioner on them, too."
Elena kids that if you hate them, you can just shave them—but, no, really, she points out that you can tone them back to your original color or even try a different color should you feel adventurous. "Just remember, you can always have your brows back if you don't like the bleached look."
So, if you happen to find yourself bleached brow-curious, you might as well give it a whirl.