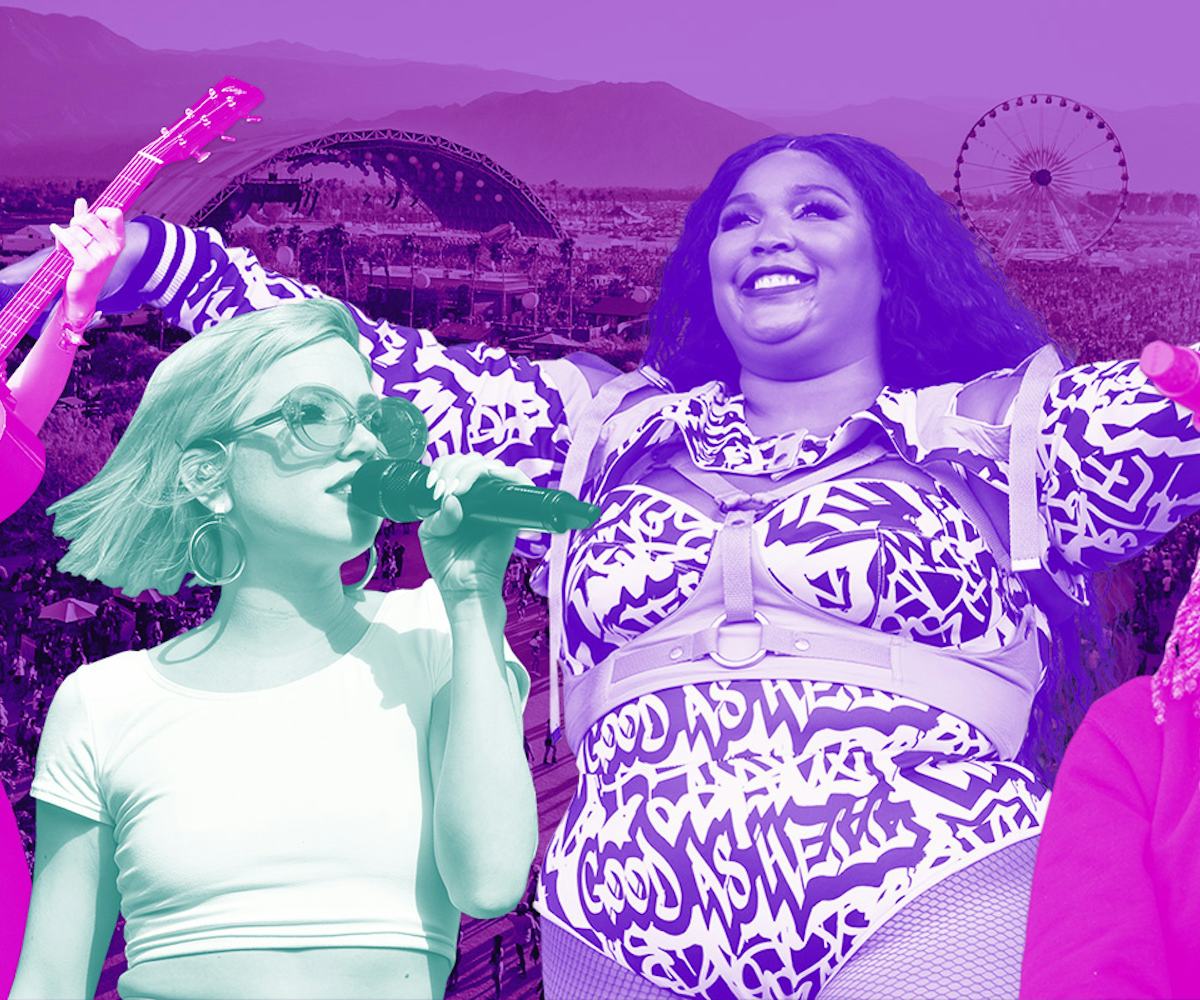 Photos from Getty Images
BookMoreWomen Is The Instagram Account Asking Music Festivals To Do Better
The account is behind many of the viral poster edits that emphasize the lack of women on the festival circuit
Two years ago, the Firefly Music Festival in Dover, Delaware was headlined by the likes of Eminem and Kendrick Lamar. Scan through the lineup poster's top acts and you'd only find a single woman amongst dozens of men: SZA. It didn't go unnoticed; Halsey was among the biggest names to speak out on the glaring omission, addressing the festival directly on Twitter, writing: "It's 2018, do better!"
It was this male-dominated lineup that inspired Massachusetts-based lab tech Abbey C. to edit the Firefly poster down to only the names of women-led acts, a means for her to emphasize the profound gender disparity of the event. (Abbey preferred not to disclose her last name as she wants her work to remain anonymous). When Lollapalooza 2018 revealed a lineup just as un-diverse, she realized her edited posters needed a more visible platform and created the appropriately named account, @BookMoreWomen. "That's when I decided, maybe if people could see [the edited lineups] together — 'cause I'd seen these edited posters before, I didn't invent them — and see that it's not just one genre, one location or one company, that maybe it could get the problem across to more people," Abbey says.
Abbey is now a part-time digital disruptor of gender inequity on the music festival circuit. Outside of her edited festival lineup posters, you may have come across her Instagram account of the same name, which Brandi Carlile name-dropped once during an interview, or have had it suggested to you by the algorithm, because Kacey Musgraves and Margo Price are among her 6.7K followers.
In the two years since her first edited Firefly poster, Abbey's succeeded in spreading awareness to fans and artists, but most music festivals — especially in the United States — have still got a long way to go. In 2020, Governors Ball became one exception, but this was only after Abbey had a direct hand in bringing the bookers to their senses. A Governors Ball founder saw and responded to her 2019 edit of their line-up (which she deemed "Better!") and she challenged them to raise the presence of women on stage to 50 percent next year. They took her up on it: In 2018, the percentage of acts featuring women at Governors Ball was 28 percent; in 2019, 36 percent; and now in 2020, 42 percent. The quantifiable change in gender diversity from year to year is proof that the status quo is slowly shifting towards parity, and reaching a 50/50 gender representation at the Governors Ball stage might be in our future.
Back in 2018, 45 music festivals across the globe made a firm commitment to achieving a 50/50 gender split in festival lineups by the year 2022. Only a handful of small North American festivals signed the pledge, including New York's Winter Jazzfest, and none from the major festival circuit. Barcelona's Primavera Sound made good on its promise years ahead of schedule, embracing the equity rule in 2019 as its new normal with a lineup that boasted Erykah Badu, Janelle Monáe, and more.
Achieving gender parity in festival lineups is a hefty task, especially when considering how equal representation is quantified and qualified. When editing her posters, Abbey signifies acts as non-male if A) they are a solo performer who identifies as a woman or nonbinary, or B) if a band includes at least one full-time self-identified woman or nonbinary member. For example, if BROCKHAMPTON (13 men) and Arcade Fire (five men, one woman) were the only two artists performing, the lineup would be considered to have a 50/50 balance by BookMoreWomen's standards."But I do it that way for my sanity," Abbey laughs. If she chose to tally percentages by the actual number of women on stage, the results would be far more grim.
"The whole purpose of [my platform] was just to be a first step; to point out [the gender gap] and make sure everyone knew about it," Abbey explains. Of the performers who have spoken out on festival gender disparity — Kacey Musgraves, Kelsea Ballerini, and Brandi Carlile to name a few — most are women, and face greater threats under the country music power structure. They have "something to lose," as a result of their protests. Men, however, who hold the privilege and headlining slots, rarely speak out on the issue.
Abbey believes that the obvious next step to bypass the festival curators and promoters who seem set in their ways, is for those in positions of power to advocate for changes in the music industry. "I'd love to see [inclusion] riders like they've been talking about in Hollywood, where, if the Foo Fighters get on a lineup, they have enough pull to be able to say, Well, we'll play your festival but we only want to play it if 30 percent of the artists are women," she describes. It's the kind of move that Coachella's all-male headliners should've done to make for a more balanced 2020 lineup. Or what Bonnaroo's yearly male-dominated acts need to demand, given the historical and continued lack of women in the festival's top spots.
Abbey recognizes that change shouldn't have to rely on the top male performers, but festivals fundamentally have no incentive to initiate change. "When I think of festivals like Coachella that sell out instantly every single year, they don't have anything to lose," she says. Until the festival gender gap issue is incentivized to instill change — and most likely, the incentive will be financially related — the abstract conversation on gender representation will remain that way: abstract. But this shouldn't discourage fans and artists to stop talking and advocating. Abbey believes reaching gender parity is everyone's collective responsibility. "If you have power, if you have a platform, then you should be doing what you can to make sure that it's representative of your community," she says.
And for those that play devils advocate and say "there's not enough women [to headline] — it's just not true," she asserts. In fact, Abbey says that festivals actually have the unique opportunity to create more women headliners. "There's always — in the middle of the lineup, that fourth, sixth line — thousands and thousands of women and nonbinary artists who could co-headline," she notes. "In the bottom of the lineup, where they're putting in bands that they owe favors [to], fill that up with women and give them a platform. Expose them to your audience and in a couple years have them back; now they're a bigger artist." Maybe, while they're filling up those lower lines, they could bump deserving artists like Carly Rae Jepsen up to where they belong.
For now, Abbey will continue editing posters and doing her part to shake up the general perception of what lineups should look like. She's made a personal promise to herself, until festivals totally change, to only attend one if it features at least 40 percent women-fronted or -featuring acts. Her dream festival looks a little something like Primavera Sound in 2019; All kinds of women with diversity on every level, whether it be country of origin, race, religion, and sound. Hopefully, American festivals will take a page from the Barcelona book.
"I've never been asking for 50 percent overnight," Abbey says. "Just do better. "