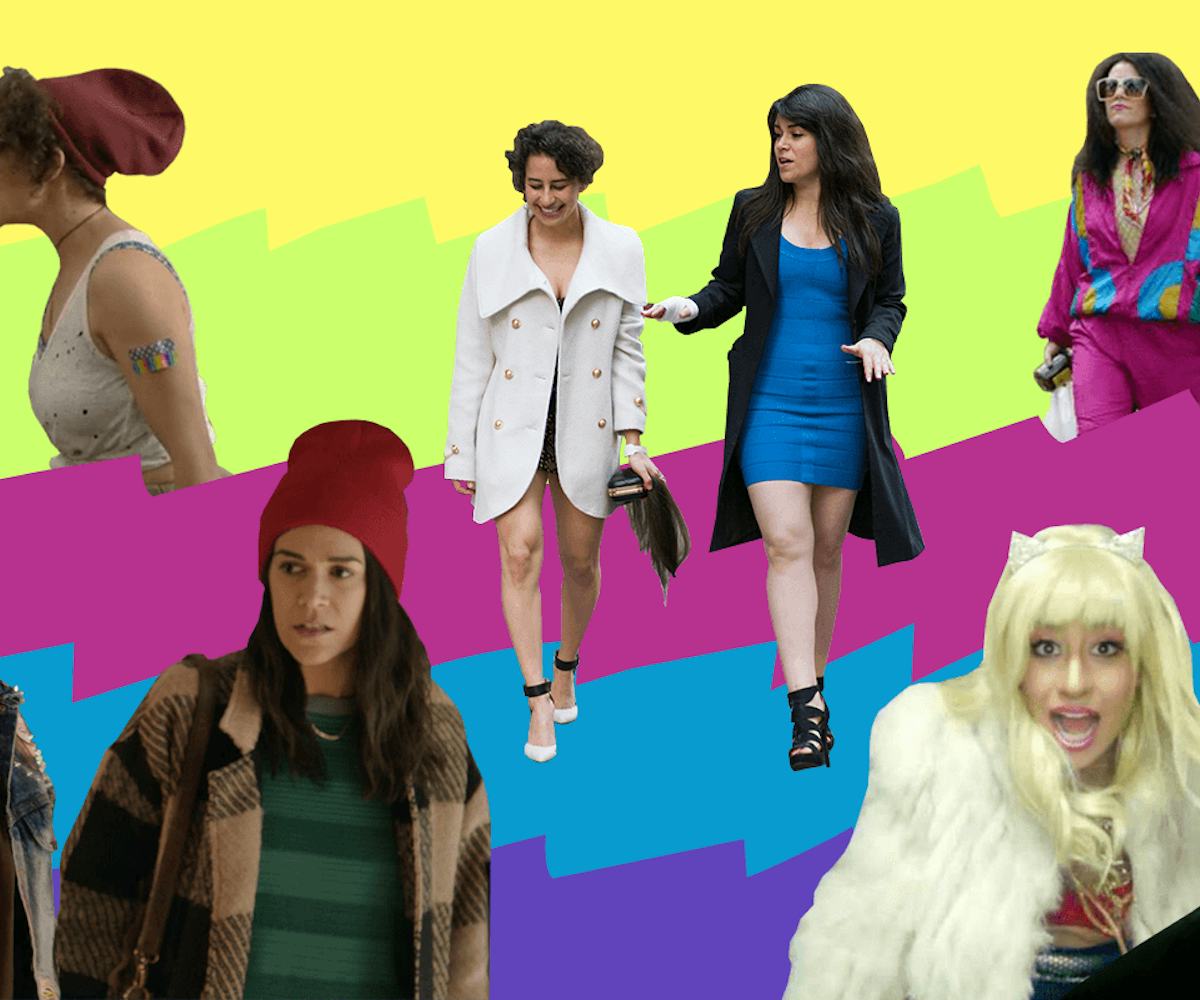 The 'Broad City' Costume Designer Breaks Down Her Favorite Looks From The Series
It's the end of a fashion era
Tonight, Broad City's triumphant run comes to an end. The show told the story of Ilana and Abby, two 20-something best friends navigating the often wild ride that is life in New York City. The series is memorable not just for its comedy, but also the NYC-centric shenanigans Ilana and Abbi get themselves into. No matter how wild though, it was always grounded in reality—and full of great outfits.
Costume designer Staci Greenbaum wasn't interested in an aspirational Sex and the City approach to fashion for the show. She was, instead, intent on making the pieces accessible (and realistic, given the girl's budgets), by dressing the two best friends in brands like American Apparel, Forever 21, and Urban Outfitters.
The personalities of Abbi and Ilana also dictated what they wore. Abbi is a little more self-conscious and timid, so she primarily wears practical pieces like pants and combat boots (even in the summer, as Greenbaum points out), while Ilana's quirky approach to life is relayed through her many, many crop tops and the occasional pair of period pants.
Though their style has more or less stayed the same (featuring staples like Abby's infamous blue bandage dress and Ilana's iconic strappy bralette), Greenbaum says both girls have evolved as they've gotten older. "I feel like they both have grown into their style, where they've just become more comfortable and confident in who they are," she says. "Even in Season 5, some of those moments for Ilana, they're not as ridiculous. They're not as insane. There was a point where we were like, 'This is how you get dressed, and we don't need to add any frosting.'" Growing up alongside the girls, audience members have gotten to a point where seeing Ilana in a see-through bodysuit isn't weird, it's just Ilana being Ilana—which was Greenbaum's ultimate goal. "We want the costumes to not distract from the story but help tell the story," she says.
Ahead, in honor of the series finale, Greenbaum breaks down her favorite looks from the past five seasons.
"It would be difficult not to talk about the blue dress, which I think is in Seasons 1 through 5. It became a really important costume, I think, on a lot of levels. I don't think it's that the dress itself was spectacular, but just the idea that we continually repeated it caught so much attention and people went nuts over it. I guess they didn't feel that they saw that that frequently on television and film, and it was just such a distinct color and a very distinct fit and kind of out of Abbi's norm. I feel like, since then, I have noticed now more on television people repeating things.
"It's become iconic, and everyone's worn it, [including Abbi's mom in Season 4]. We didn't know who was being cast as Abbi's mom, and Peri Gilpin just walked in and slipped right into it—just like the Traveling Pants—it was really magical, we just felt really lucky. The only person who never fit into it was Bevers, understandably. He made a real attempt in the Season 3 cold open, where it was like 60 changes in a minute, he was in it trying to get it on, and he definitely broke one.
"I would say, had I had more foresight, I would have purchased more of them. We had multiple dresses at the start, but only because there was a stunt woman for one episode. It was something that organically happened, and season by season, we began to see it scripted you know, just 'The Blue Dress.' It was really a running joke with us. At the end, I was like, 'Let's have a bonfire and give it a proper goodbye.' Don't worry we didn't do it, but it just became this really funny thing."
"Season 1 episode nine, 'Apartment Hunters,' was the cold open where Abbi and Ilana are in their version of their rap icons when they're rapping to the bank. Ilana is just in some crazy fangirl outfit: her red bra, that we've used from every season, really tiny short skirt, cat ears, big blonde wig. And Abbi was in the inflatable suit that mimicked the Missy Elliott video 'Rain.' So that was a really fun moment for us because sometimes, when you have these special costumes, you never know how it's going to be portrayed on camera, and that was one of those things that really did justice to the ridiculous moment we were trying to create. The show in and of itself was already somewhat of a heightened reality, but I think often times you get as much story out of the real, raw moments as you do the super-fantastical, so that was just the other end of the spectrum."
"From Season 2, I had a lot of fun doing Abbi and Ilana at Val Bar. And that's one of those moments when we're emulating this 1940s 'Come on Get Happy' video. For Abbi, it's always been fun to see her outside of her element because she typically dresses so normcore. And for Ilana, because she is always sort of an occasional dresser, dressing how she feels, that was just a really fun outfit. She had these big palm leaves on her bodysuit, and we found this vintage snake choker that was really great, and she had a clutch with brass knuckles on it."
"Another one from Season 2 that I really loved was Ilana in 'Knockoffs,' which was the episode where it's her grandmother's shiva. And again, Ilana's version of what was appropriate for a funeral outfit, in her head was like, if she was going to synagogue, her shoulders were covered, it wasn't that revealing in the chest, but it was completely see-through. It was another one of those great moments where we could showcase the 'Ilana bra' and give her a leopard fascinator, which just seemed truly and utterly absurd. But for some reason, when Ilana put those clothes on, the reaction wasn't absurd in the room—it's like, well that's just Ilana being Ilana!"
"I also really loved, in Season 3, when Abbi and Ilana switch places. I think it was in the episode 'Co-Op' when Ilana asked Abbi to take her place so she can get in her hours before getting evicted from the food co-op. Abbi was in a really quintessential Abbi outfit, and Ilana was in a really quintessential Ilana outfit, and you see them reverse roles. Again, you look at them, and you don't say, 'Oh god, that seems so bazaar or weird.' They're best friends, you know? So like, even though they have really different styles and different takes on getting dressed, they kind of worked it out, and it was just a really fun thing to do."
"I would also be remiss if I didn't talk about the tracksuits in Season 4 that the girls wore in Florida. It was such a fun thing to do, but it was also a challenge in that we wanted it to feel like every fashion moment. So it wasn't so jarring like in a weird way. Of course, some of the things they were wearing were super-ridiculous, but it was, again, similar to the bank cold open, and it was super-fun to do them in just these really vibrant varsity colors and patterns and meshing it with some of those other things we think you'd find in your grandmother's closet if you were cleaning it out. Like a beaded tank top and some really vibrant prints, and once you get down to that, like, Boca lifestyle, it's just a different way of dressing, but we tried to incorporate things that were Abbi and Ilana's in their closet when they were dressing as themselves and not as old women trying to get a condo.
"Most of the pieces were vintage or thrifted or eBay and Etsy, and then we would incorporate some new pieces, so some newer accessories, to try to ground it in their reality. We got very lucky, Forever 21 was having a moment of visors, so instead of making it all old lady, we incorporated pieces that were modern and useful, and it helped, again, make it seem a little bit more real."
"Another one from Season 4 that I love was the finale, 'Friendiversary.' I especially loved the jean jacket that I designed for Ilana. Someone else painted it and studded it, and it was all of these women that were so important to Ilana: It had Ruth Bader Ginsburg and Beyoncé and Abbi right on the front. It was sort of inspired by Don King, who wears a jean jacket that's handpainted every election season at the RNC. It's very Americana, we just did Ilana's United States of women."
"'Bitcoin & the Missing Girl,' where Ilana is dressed as [someone from] The Matrix, was really fun because, again, we don't always get these ridiculous costume challenges. We really wanted to emulate The Matrix, but we wanted it to feel like Ilana. So, if she went to a sex shop to buy it, what would she come out with? So we put her in head to toe patent leather and in this really fantastic corset. Then we made a trench cape just to go on the back, so when she'd do the backflip and is maneuvering through the city, it would give her a really great silhouette and a lot of great movement. We created this really silly necklace, where we got like computer cords from a while ago. We used iPhone 4 chargers, because she wanted to feel technologically engrained. And she rocked it, as she does with most things."
"Another costume this season that was, again, a particularly heightened moment, and it's not on Abbi or Ilana, but Smelly Pussy Donna. She was Abbi's roommate from college, she used to steal clothes, and there was all this sort of backstory about her. So, we finally meet her, and she says, 'I have this medical disorder that made my pussy smelly,' and she actually hosted a TED talk about it. So, in this TED talk, she comes out, and she wears this really chic-looking black jumpsuit, and she basically reveals that it's a big vagina costume. We were inspired by the Janelle Monáe "Pynk" music video and also Chachki's reveal from RuPaul'sDrag Race, so we wanted the reveal to be like that, but we wanted the costume to visually look like 'Pynk.' So, it was a really, really fun challenge and it was just a really fantastic costume. It just felt like we were being really 'welcome to 2019,' we're being super-hyper-feminist and you can wear a vagina costume, and you know what? It can be beautiful."
"This last one is very them being their normal selves, but I really love the costumes from Season 5 episode nine, 'Along Came Molly.' It's the second to last moment we're really going to see them together, and they're really just selling furniture. They don't know where the day's going to take them. It was one of those last moments where I feel is very much the heart of the characters and who they are. So, Abbi was in a yellow tank top with a tiger graphic all over it, and it reminded me a little bit of Abbi's artwork, which is kind of fun. And they both had fanny packs, because they love being hands-free, to sell furniture. We actually custom-designed the fanny pack for Ilana. There's a super-talented artist that I know who does really amazing artwork. Her name is Dylan Rothman, and then Molly Shaheen, and we've been using her packs on our show for the last few years, especially on Ilana. It was kind of ridiculously sized, but it really worked on Ilana, and it was a really fun moment visually where what they were wearing complemented each other without taking away from who they are individually."