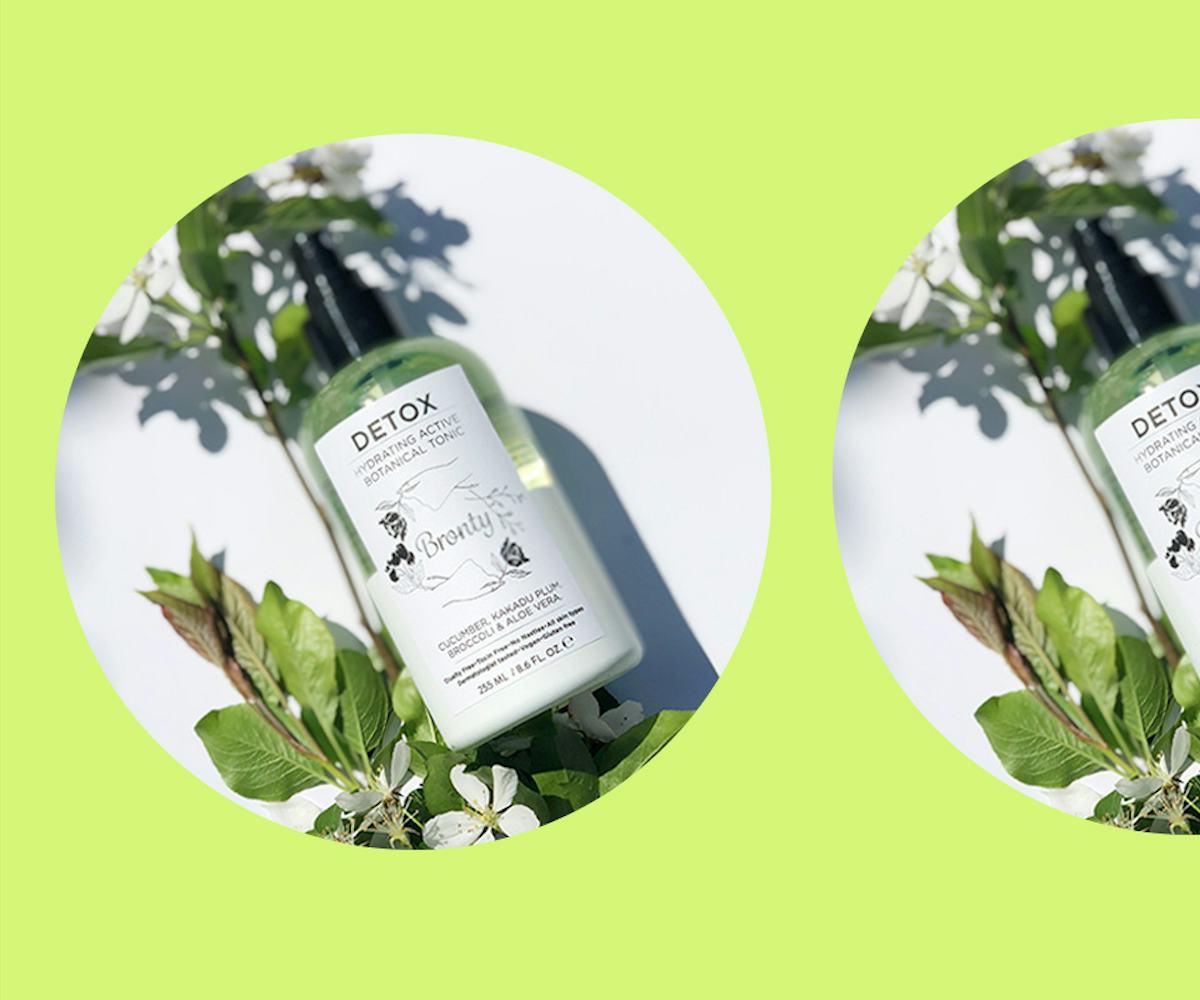 Photo courtesy of Bronty Beauty
This Facial Spray Helps My Skin Survive The Most Stressful Week Of The Year
Plus, it's the perfect size to carry around everywhere
Friends don't let friends miss out on all the cool, under-the-radar things they know about, like which little-known beauty brand is low-key making the best highlighter around. And because we consider our readers to be like friends, we gather together all our best finds in our Don't Sleep On Thisseries. Check in every week to see what things we can't wait to share with you.
Not to complain, but while Fashion Week can be super fun and all, it tends to take a pretty serious toll on my skin each season. Take the long, grueling days spent running around from show to show and combine them with the lack of sleep, the unbalanced diet, and the influx of sugary cocktails served at after-parties, and I'm pretty much looking like hell by the time it's all over. Bring early September's humid and gross conditions into the equation, and it's the perfect concoction for a full-fledged breakout, dark circles, and an overall dead-looking complexion.
This season, I preemptively decided to do something about it. Rather than try to revive myself post-NYFW with a weekend of peels, masks, and heavy moisturizers (and, like, a lot of naps), I would try to prevent total destruction from happening in the first place, and I would do so by bringing some sort of easy, on-the-go skin-care regimen with me, something that would easily slip into the numerous impractical mini bags I would be carrying around to the shows this season.
Lucky for me, I had already discovered Bronty Beauty, a new clean beauty brand specializing in simple-yet-luxurious facial tonics, and its absolutely perfect travel-size bottles. After spending approximately five weeks from July through August in bed with a broken foot, unable to walk and unable to try and fix my barely-working AC unit during the NYC heatwave (it's been quite a summer), I swore by the brand's Detox Hydrating Active Botanical Tonic for keeping my skin in check throughout my boring (and often super sweaty) bedridden days.
Look, over the past couple of years writing about beauty, I've had quite a few facial sprays come across my desk, and best believe, I've tried just about all of them. As a self-proclaimed facial spray aficionado, there are a number of things that I look for when it comes to what I choose to spritz myself with all day long: efficacy, a clean formulation, a good spray nozzle, and it has to (naturally) smell nice—and Bronty Beauty's facial tonics check all of the boxes.
Bronty Beauty founders Susie Coulter and Rebecca O'Donnell created the brand when they noticed the need for an easy daytime skin-care solution. "We've always been good with our morning and evening routines, but then, nothing between 8am and 8pm?" says Coulter. "We were constantly traveling or going from one meeting to another, squeezing in exercise and then getting home to be with our family. We wanted a product that would go with us, every day, that was botanical, powerful, routine-free, and no nasties." From there, this soon to be cult-favorite facial tonic brand was born.
The line currently offers six botanical sprays, specifically blended with benefit-driven ingredients to target different needs, whether you need a detox from daily pollutants and skin stressors (like me!) or are in the need of a good cleanse or glow boost. They're not meant to be just one step of a more intricate daily skin-care routine, but rather your go-to throughout the day. And simply put, these sprays are really good.
But anyway, back to Fashion Week. After falling in love with Detox while in recovery, I knew it would be the perfect single product to become my entire NYFW skin-care arsenal. The cucumber-, Kakadu plum-, broccoli-, and aloe vera-infused tonic is not only packed with antioxidants that hydrate, tone, moisturize, and encourage elasticity, but it also contains low molecular hyaluronic acid to promote maximum hydration. Kakadu plum also serves as a protectant against pollution, which, if you've ever spent an entire day running around New York City in the heat, you understand is crucial. The misting nozzle allows for a super fine spray that spreads all over the face effortlessly, rather than shooting me in the face with a direct stream of product (which, uh, definitely happens with many of the other facials sprays out there).
Most importantly, its natural cucumber scent is possibly the most refreshing thing I've ever had the opportunity to spritz myself with while melting on the A train platform commuting from one show to the next. It smells like summer in a bottle—but the good aspects of summer, not the sweaty, smelly, disgusting parts.
Usually, by day four, my face is already beginning to show the dreaded Fashion Week effect, but so far, so good. While, yes, there are still three days left of nonstop shows, I'm hopeful that by the time Wednesday comes to an end, I won't be having a full-fledged facial meltdown like I have in seasons past, which is all I could ever really ask for out of a facial spray.
You can shop Bronty Beauty's full offering of facial tonic sprays at BrontyBeauty.com.