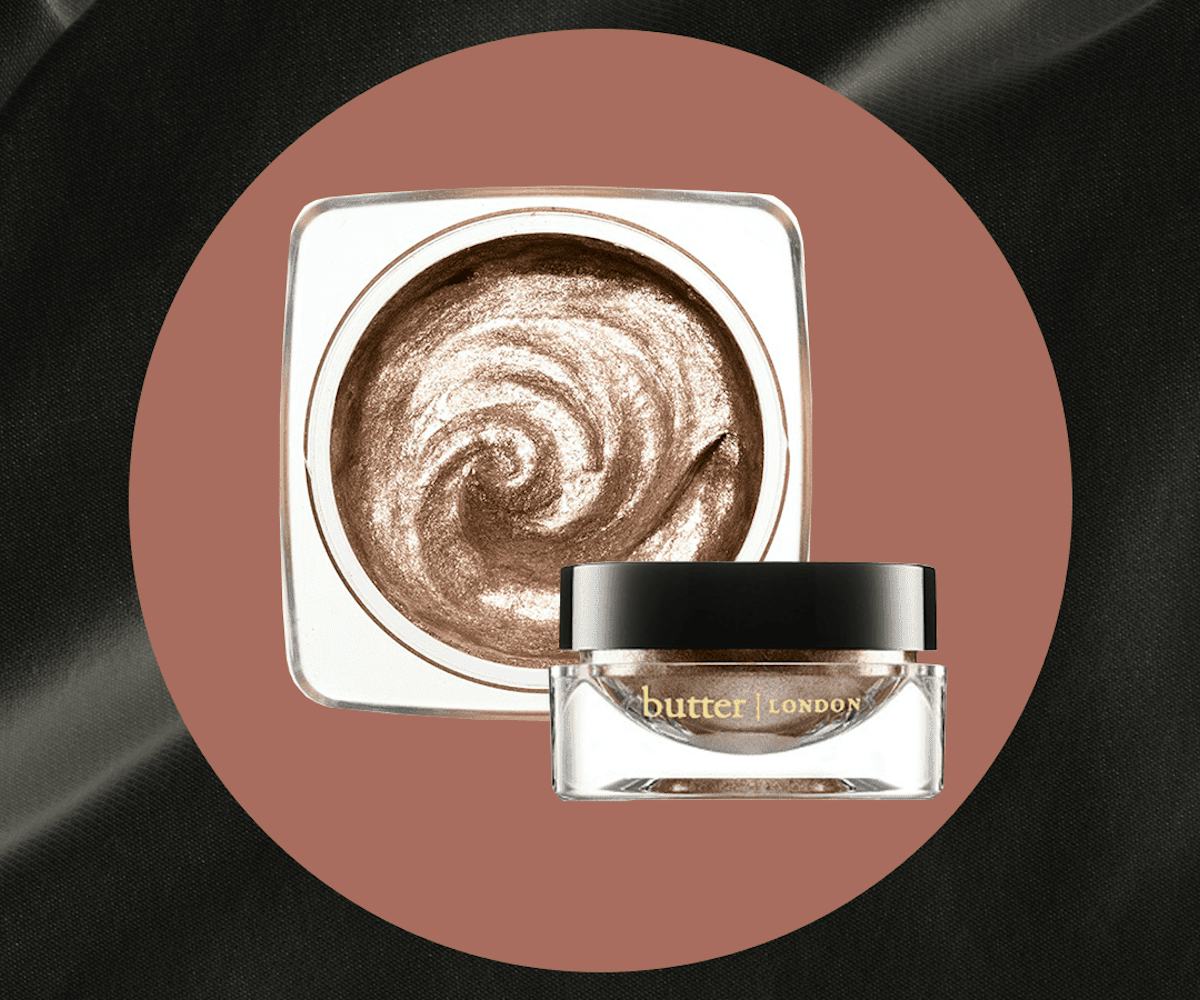 This Eye Gloss Brings Out My Inner Artist
Liquid eyeshadow is having a moment, but eye gloss needs some attention, too
Friends don't let friends miss out on all the cool, under-the-radar things they know about, like which little-known beauty brand is low-key making the best highlighter around. And because we consider our readers to be like friends, we gather together all our best finds in our Don't Sleep On This series. Check in every week to see what things we can't wait to share with you.
Applying makeup is really an art: Everyone has their own technique, secret trick, and routine. For me, if I don't have to use a makeup brush, I'm instantly hooked on the product. (My goal is always "it looks like I tried this morning, but I really didn't.") Which is why, when Ulta was having its 21 Days of Beauty sale last year and the Butter London Eye Gloss was half-off, I knew I had to get my hands on it.
Since it's in a pot, I was a little hesitant to get it at first because I thought it might dry out before I even applied it on my eyelids. But I'm happy to report back and say it has yet to dry out. Instead, it dries perfectly on my lids without clumping and creasing. A hybrid between liquid and powder, the texture is almost similar to pudding; the gloss itself feels wet to the touch as I apply it, and goes on so smoothly, I almost believed I could be a professional makeup artist. (Almost.) Or maybe even just an artist? I definitely felt like I became a master finger-painter, anyway.
Best of all, I can assure you this eye gloss stands the test of time. I wear it all day without any smudging or fading. A miracle, I know! Each shade has its own shimmer and instantly creates a glossy shine on the eye. The colors are bright and pigmented, which means a little goes a long way. From metallic rose gold to a creamy olive, there's a color for every look I want to create. My day-to-day casual shade is Moonshine, a beautiful cool-toned taupe which is neutral enough to subdue the sparkles for daytime. But when I add a darker shade to the crease of my eyes, I'm ready for a night out.
Also, unlike some shimmer shadows that feel practically glued to my skin, this eye gloss comes right off with my oil-based cleanser. After a long day out, I'm not the most motivated person when it comes to washing my face. The good thing is, with this eye gloss, I know I won't spend hours trying to rub glitter off my eyelids. And, as if it couldn't get better, it's vegan and cruelty-free.
Who knew being an artist—or a finger-painter, at least—would be so fun?
Butter London, Eye Gloss, $24, available at Ulta.
NYLON uses affiliate links and may earn a commission if you purchase something through those links, but every product chosen is selected independently.