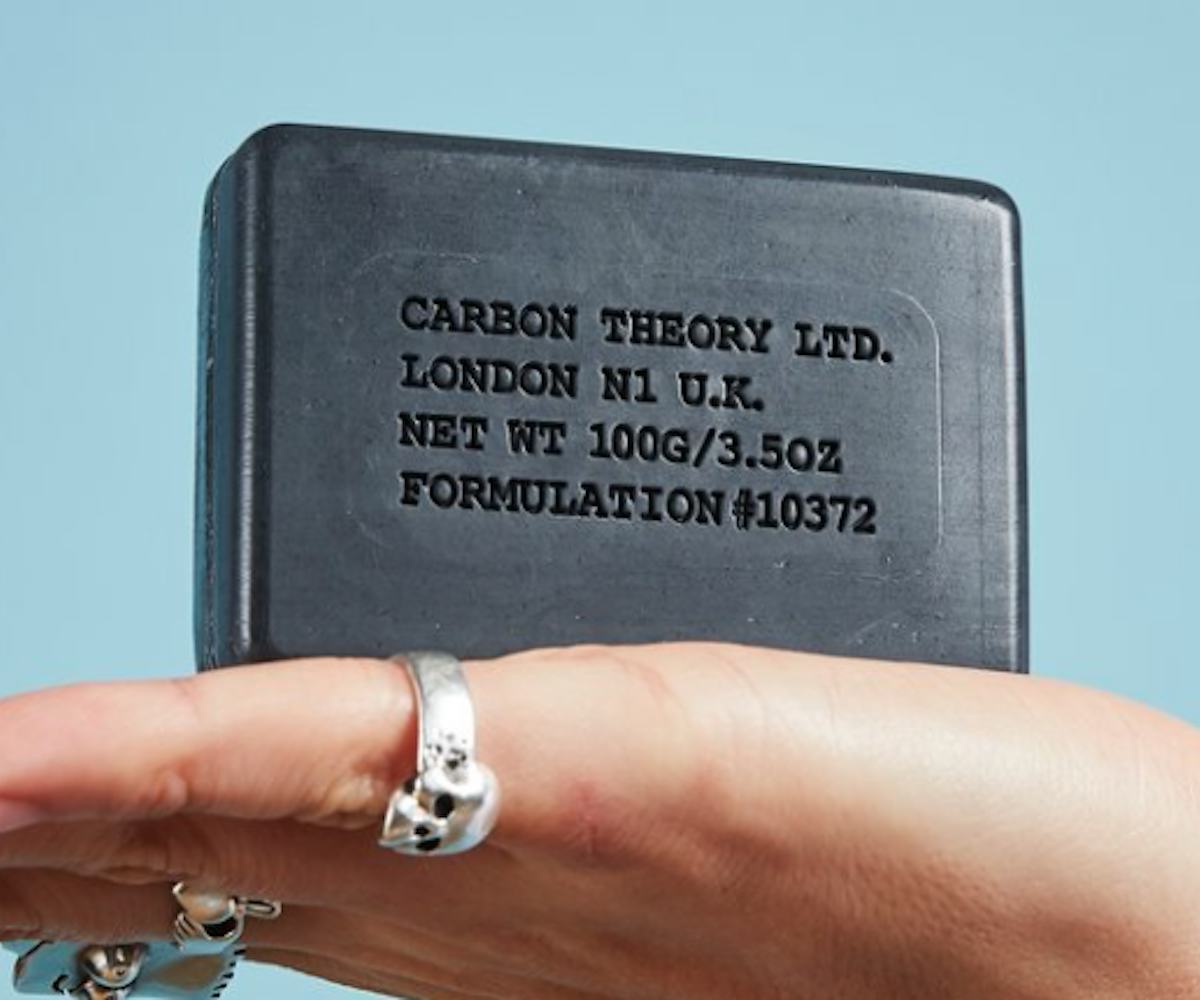 Photo courtesy of brand
This $10 Acne Bar Went Viral Overseas, And It's Finally Available At Ulta
Carbon Theory's entire "miracle" skin care line is selling fast
When it comes to solving our worst skincare woes, we all have our tried and true methods. While some acne treatments can require a bit of splurging, an affordable product that went viral in the United Kingdom has arrived in the States. Carbon Theory's Charcoal & Tea Tree Oil Break-Out Control Facial Cleansing Bar is now available at Ulta stores nationwide, and with a price point of just $10, and some seriously rave reviews to its name, the bar is already flying off the shelves.
One week after arriving to Ulta.com, the cleansing bar has officially sold out online. However, select Ulta stores still carry the product, and you're able to see which ones via Ulta's Store Availability tool, or sign up to be notified when the bar is restocked online. Additionally, if you're up for finding a new fave, four other Carbon Theory items are now available at Ulta, and all retail for less than $20.
As for what makes the Charcoal & Tea Tee Oil Break-Out Cleansing Bar so special, one need only take a look at the product in action. Before making its Ulta debut, the bar had become a viral sensation and was repeatedly featured in online press, as many users claimed and showed a successful before-and after-experience. Social media has called the bar "a miracle worker," writing, "The carbon theory charcoal and tea tree cleansing soap is amazing, I normally hate cleansing soaps but I've already noticed a massive difference in my skin."
Take a look at the ingredients, and you'll find that the bar's reports of skin success aren't exactly surprising. Made of tea tree oil, activated charcoal, and shea butter, the bar was made to draw out impurities and leave skin feeling and looking fresh. Ultimately, you'll have to try and see whether you experience similar results, but with nearly 2,000 users leaving top marks on the Carbon Theory website, this is one you might want to go ahead and add to your cart.
Below, take a look at some of the impressive before-and-after photos using the Carbon Theory Charcoal & Tea Tree Oil Break-Out Control Facial Cleansing Bar, below.
NYLON uses affiliate links and may earn a commission if you purchase something through those links, but every product chosen is selected independently.