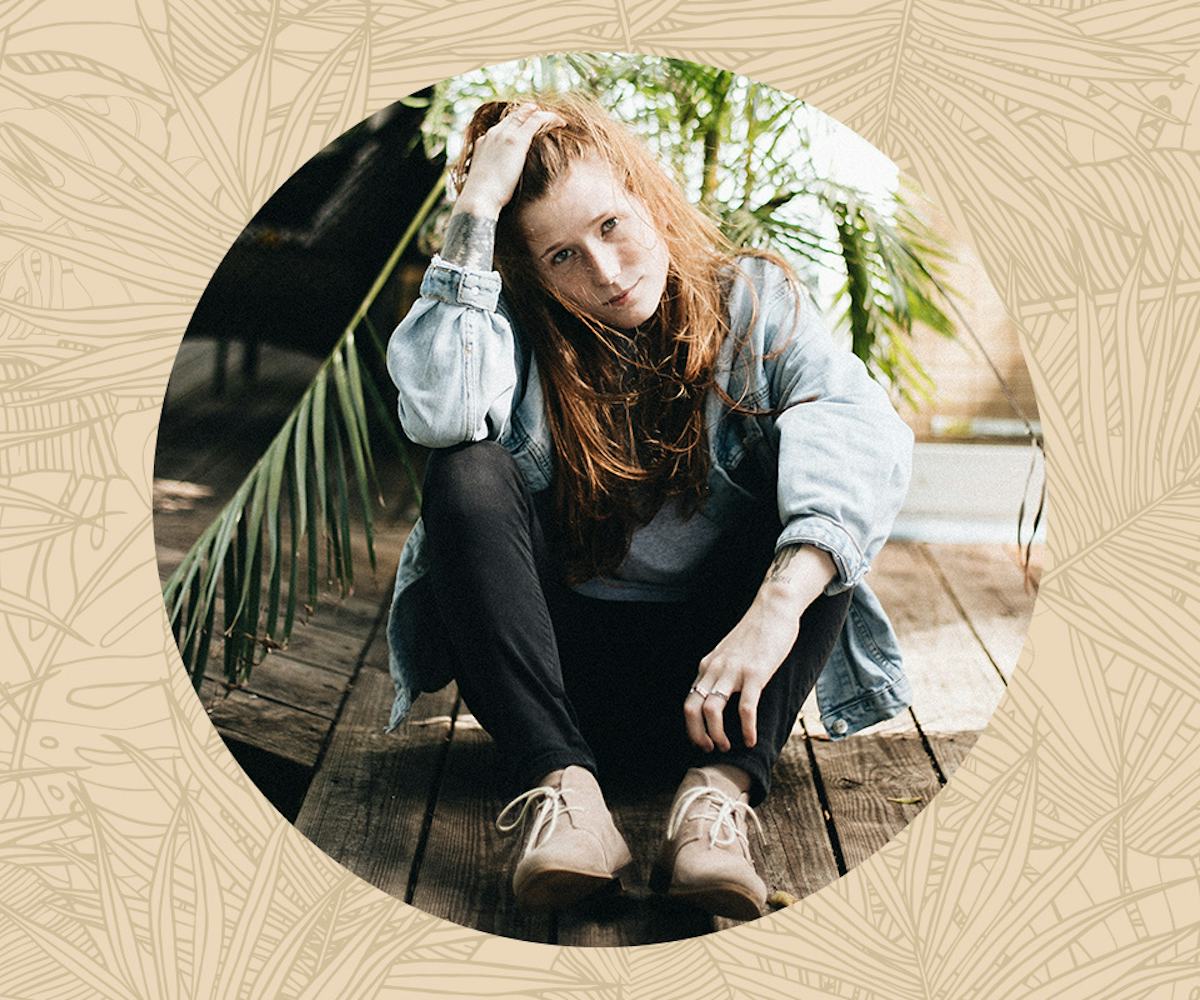 Photo by Imani Givertz
Cayley Spivey Is Not With The Band—She Is The Band
The woman behind Small Talks talks representation in punk and transitioning to pop
What started as a full band playing music at local coffee shops in tourist town Myrtle Beach, South Carolina, has developed into a nationally recognized solo project in the pop-punk scene by the name of Small Talks. And it was all started by Cayley Spivey. Now 21 years old, Spivey has been making music since she was 15 and has long worked with other people. But now that's changing, and she's fully embracing her role as the sole force behind Small Talks.
"I'm finally just now pushing that I'm a solo project," Spivey told me, recently. "I've always had a hard time allowing myself to [say], This is for me. Or, I'm doing this for me." Small Talks didn't start as a solo project, Spivey emphasized, but the original band members decided to go down different life paths, whereas Spivey was set on making music for the rest of her life.
Spivey creates all of Small Talks songs with the help of her producer, Eli Strobeck, working in a bedroom that substitutes as his studio. Her writing process starts with a piano or guitar and a few lyrics, and once she has a solid melody, she'll bring it to Strobeck. "That's the coolest part about it—it's kind of minimal," she said. The songs are hers, but for each tour she holds auditions for new guitarists and drummers, keeping an ever-changing performance dynamic.
Her sound has shown a predominantly pop-punk influence since her first EP in 2017, Until It Turns to Petals. The EP's seven tracks have clear punk and alt-rock influences and attempt to capture moments and emotions in time. Since signing with Common Ground Records in 2017, Spivey has performed extensively, playing a few dates of the 2018 Warped Tour and touring with notable names in the alt-rock scene, such as Broadside and With Confidence.
But it's her inroads into the not-very-gender-diverse punk scene that are the most notable. In a music genre where men are still firmly at the forefront, Spivey has had to work to make a name for herself: "I had a really hard time getting people to take me seriously because of [the scene] being very male-dominated." And fronting a solo project in the scene doesn't make facing the sexism of the music industry any easier. Even on her own tours, Spivey's been mistaken for just another groupie and asked which band her boyfriend's in.
"I just let them know what's up," she said. "I'm here. I'm in the band. Yeah, I'm a woman. I don't get why that matters at all." It's frustrating, but she tries not to let it get to her too much. "Honestly, my favorite answer when people ask what's it like being a woman in the music industry," she said, "is: 'It's like constantly being asked what it's like being a woman in the music industry.'"
But being a woman in the punk scene is important, Spivey thinks, she's just not one to label Small Talks as "a band with a cause." Because she thinks we should be past that by now.
"I just feel it just shouldn't matter at all—it doesn't, you know? But I get that question because there are so many differences between being a woman and being a man in this scene," Spivey said. "But I want to pretend we're past that part. I just want to be like: Who cares?... It doesn't really matter so much what gender you are—it's just cool that you're making music."
But while Spivey's made a home in the pop-punk scene, she wants to take Small Talks in a new direction. With inspiration from artists such as Twenty One Pilots and Hayley Kiyoko, she's transitioning her sound into the mainstream pop scene. Small Talks' sophomore album, A Conversation Between Us, is just the beginning of the shift that Spivey has planned. The new album, frequently described as having more of a pop influence, puts that shift into action.
"On the new record I wanted to take a more steady approach, and I wanted to push in the pop side of it," she told me. "I didn't want to completely stray away from what we've been doing, but basically, I wanted to put more into it. The new record is a more mature, really structured record."
Moving into the mainstream pop scene isn't easy, but she's hoping that pop's openness will help make her transition a little easier.
"I would be able to relate to so many other people in my scene," she said. "Rather than being like, 'Oh yeah, I'm the only girl on this tour for the 100th time,' it would be like, 'No, I'm the third LGBTQ girl on this other tour.'" Spivey identifies as pansexual, because, just as in her music, she also thinks doesn't gender matter when it comes to who she loves. Her sexuality influenced the content of A Conversation Between Us, she said, and she's beginning to understand that it's an integral piece of her sound. "[My sexuality] was actually something that I almost didn't feel was relevant to my music in the past," she said. "And the truth is it's really not—it's like my gender, it's just not important—but a lot of my songs are inspired by relationships that I've had, and that comes from me being LGBTQ."
With her sophomore album released, she's feeling confident in making that leap to pop. "I know what I'm doing in the pop-punk scene... but now I'm about to switch everything up and head completely headfirst into pop mainstream, so it's going to be complicated no matter what," Spivey said. "But I think, if I can pull it off, it's going to be the most rewarding thing I could've done because of the way the representation is different."
And as long as Spivey's music is making her listeners "feel something," she'll consider it a win. Her goal is to create a safe and welcoming place for her audience where they can feel seen, because "this is not my album—this is yours. I might've made it, but I'm giving it right to you right when I finish making it. So who does it really belong to?"
But Spivey is still hopeful about the representation in the scene she's leaving. "I think a lot of things are changing—we are getting closer to the point of it being normalized, but it's a long road."