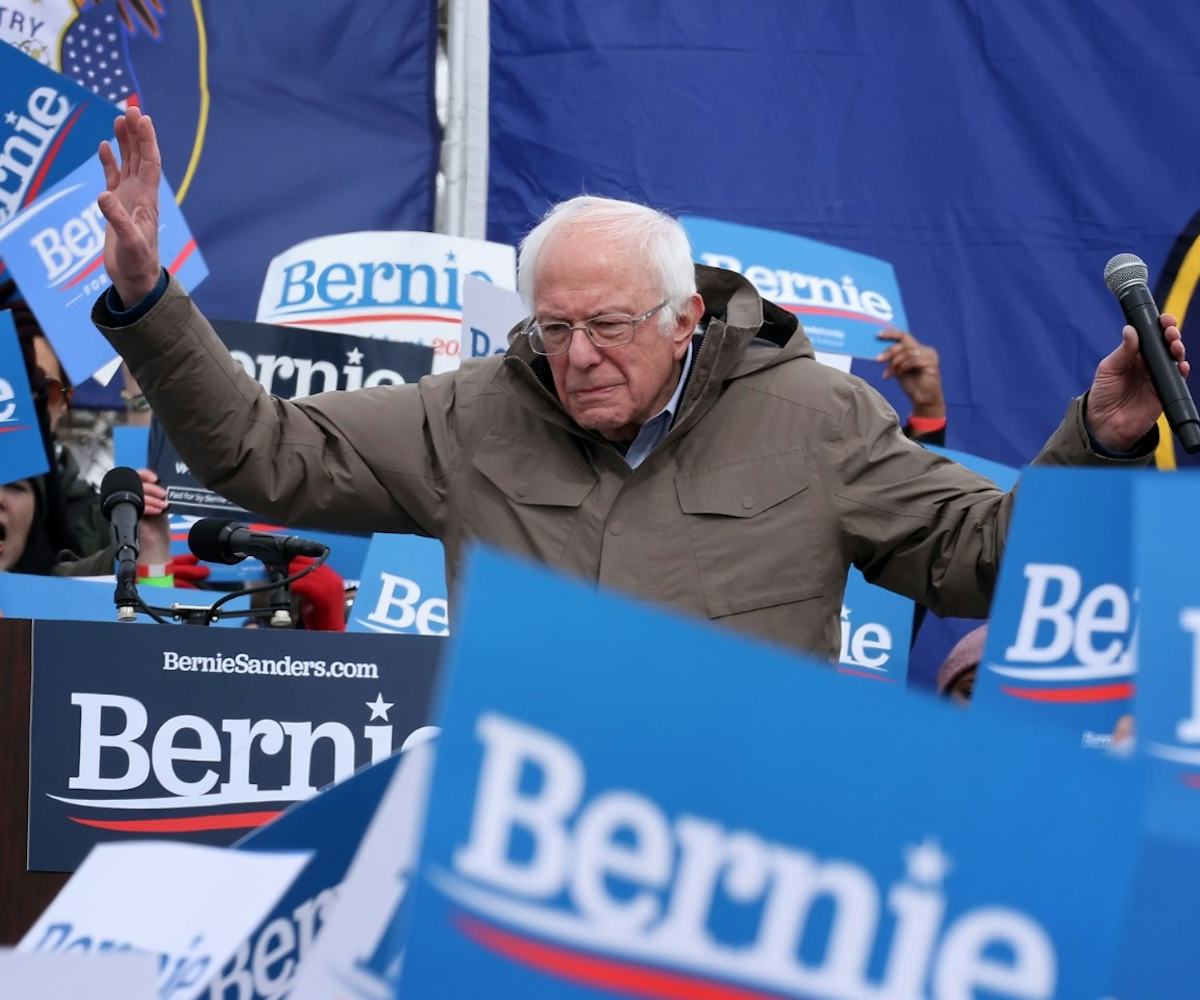 Photo by Chip Somodevilla/Getty Images
A List Of Celebrities Endorsing Bernie Sanders
From Ariana Grande to Hailey Bieber, some of the names might surprise you
After earning the support of musical acts including Soccer Mommy, Vampire Weekend, and Bon Iver, Senator Bernie continues to gain the backing of some of the biggest names in entertainment. As Super Tuesday officially gets underway, additional celebrities have joined others in feeling the Bern, and many encouraged followers to get out and vote. Considering the potential impact of celebrity endorsements, it's a pretty big deal that Sanders has managed to add Ariana Grande, Dua Lipa, and Hailey Bieber to his growing list of endorsements. Below, find a list of 13 celebrities using their star power to support Sanders.
Ariana Grande
Ariana Grande gave Sanders a ringing endorsement on social media, sharing a tweet that read, "MY GUY. thank you Senator Sanders for coming to my show, making my whole night and for all that you stand for." She even posed for a photograph with the senator, and he later returned the social media favor, thanking Grande for her support.
Best Coast
Bethany Cosentino of Best Coast kept her message of support short and sweet. Sharing a photograph of her alongside the senator, she wrote, "Vote."
Cardi B
Cardi B hasn't been shy about sharing her thoughts on Sanders. Back in 2019, she praised his agenda for a better country, and she later appeared in an endorsement video, confirming that she was "feeling the Bern."
Hailey Bieber
During a recent interview with Elle, Hailey Bieber acknowledged that she would be voting for Sanders. She didn't offer any reasoning for the vote, only saying, "'Go Bernie! That's who I'm voting for.'"
Diet Cig
The musical duo tweeted their endorsement of Sanders, complete with lightning emojis.
Miley Cyrus
The former Disney Channel star is a longtime supporter of Sanders, and previously shared her tweeted support of the candidate in 2016. She praised the senator for his continued support of the LGBTQ+ community.
Kim Gordon
The Sonic Youth member appeared in a mock cooking video, declaring her support for Sanders, and revealing his recipe for a better future. She also shared a selfie from a Sanders canvassing session.
Dua Lipa
As Super Tuesday voting got underway on Tuesday, March 3, Dua Lipa encouraged followers to get out and vote. She also revealed who she's supporting, sharing an image of Sanders. "What happens in America doesn't stay in America. The whole world is crying out for kinder and more inclusive leadership. If you are in a Super Tuesday state, please vote for the president you all deserve," she wrote.
Ezra Miller
Ezra Miller was among a list of more than 1,200 celebrities that signed off on their endorsement of Sanders. Joining the actor in support of the senator were M.I.A., Sky Ferreira, and Mykki Blanco.
Chloë Sevigny
Declaring Sanders to be "punk as f*ck," Chloë Sevigny told The Guardian that she was endorsing Sanders because, "I'm petrified of the US government right now. We need someone radical to take Trump on, and Bernie's record as a senator speaks for itself."
Cole Sprouse
The Riverdale star took to Twitter to clear up frequent misconceptions regarding Sanders's policies. "Bernie sanders is not a radical. Raising minimum wage is not radical. Pursuing healthcare for all is not radical," he wrote.
Tessa Thompson
Tessa Thompson attended a previously roundtable held by the Sanders campaign, Ellereported. While there, she explained that she believed Sanders was the only feminist candidate.
Jack White
The White Stripes member said Sanders was the only candidate he could trust, and he later performed at a campaign rally for the candidate.