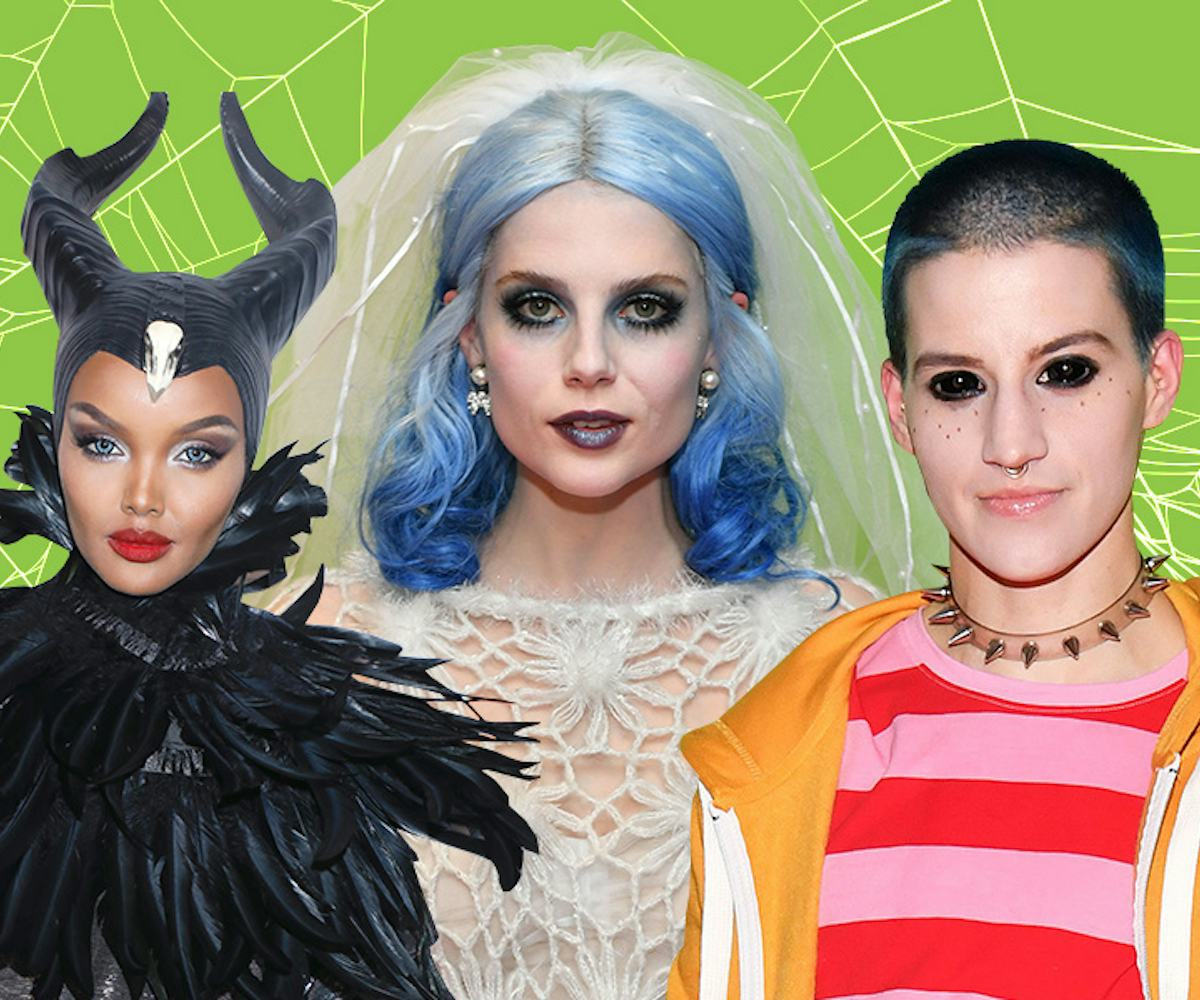 The Best Celebrity Halloween Makeup Looks This Year
From Ariana Grande to Kim Kardashian, Normani, and Cardi B
There are two types of Halloween people: those that are content to casually celebrate the season with a Hocus Pocus marathon and a cat-ear headband, and those that go all out. Many celebrities fall firmly into the latter category, especially when it comes to Halloween makeup looks. Some celebs fully committed: Ariana Grande donned facial prosthetics for her Twilight Zone beat, Heidi Klum didn't hold back with her Franken-alien-corpse look, and I've yet to figure out where Cardi B's Poison Ivy ponytail ends. Others were so spot-on, we can't help but stan (see: Justine Skye as a very accurate Shego).
See the best celebrity Halloween beauty looks of 2019, below.
Jordyn Woods as Cleopatra
If you needed further proof that Jordyn Woods is living her absolute best life, look no further than her Halloween looks. We're particularly partial to her Cleopatra costume (although her Mortal Kombat 'fit with Hot Girl Meg is a close second), which featured dramatic winged liner and a half-braided look we want to copy ASAP.
Ariana Grande as a Twilight Zone character
The dedication and attention to detail is unmatched — Grande definitely won Halloween.
Tracee Ellis Ross as DJ Quik
Tracee Ellis Ross turned lots of looks over the course of Hallo-week, but nothing compared to her rendition of DJ Quik.
Halsey as Marilyn Manson
Halsey might be the winner of Halloween — she managed to make a particularly creepy album cover sort of sexy, and I have to give her bonus points for the different colored contacts.
Nicki Minaj as the Bride of Chucky
The newly minted Mrs. Petty offered up not one but two good Halloween beauty looks, including a Bride of Chucky beat that comes super-close to the real thing.
Normani as Naomi Campbell
Normani showed up, showed out, and got the Naomi Campbell seal of approval in return.
Jade Thirlwall as a jester
Little Mix's very own Jade Thirlwall offered up a rendition of a jester using the group's beauty line, LMX Beauty.
Charli XCX as Madonna
Somewhere, Madonna has printed this photo of Charli XCX as an example of how to do a Halloween homage right.
Ashley Graham as Jessica Rabbit
Can we just take a moment for the perfectly blended shadow and the glossy red lip?!
Demi Lovato as Marie Antoinette
My edges have exited the chat.
LeBron James as Edward Scissorhands
The wig! The dark lip! The faux scarring!
Kim Kardashian as Elle Woods
If this isn't commitment, then I don't know what is.
Lucy Boynton as The Corpse Bride
If you see me pop up with a blue ombré bob, this is why.
Halima Aden as Maleficent
Okay but, she didn't have to snap like this!
Justine Skye as Shego
I actually wouldn't hate a live-action remake with Justine Skye as the star.
Theo Germaine as The Other Coraline
I could've lived without this nightmare, however, now that we're here, I'm a fan.
Gigi Hadid as The Mask
Leave it to celebrity makeup artist Patrick Ta to make a face full of green makeup chic.
Heidi Klum as an actual monster
I, like many others, am not totally sure what Heidi Klum is, but props to the makeup.
Cardi B as Poison Ivy
The hair just keeps going, and going... and going.