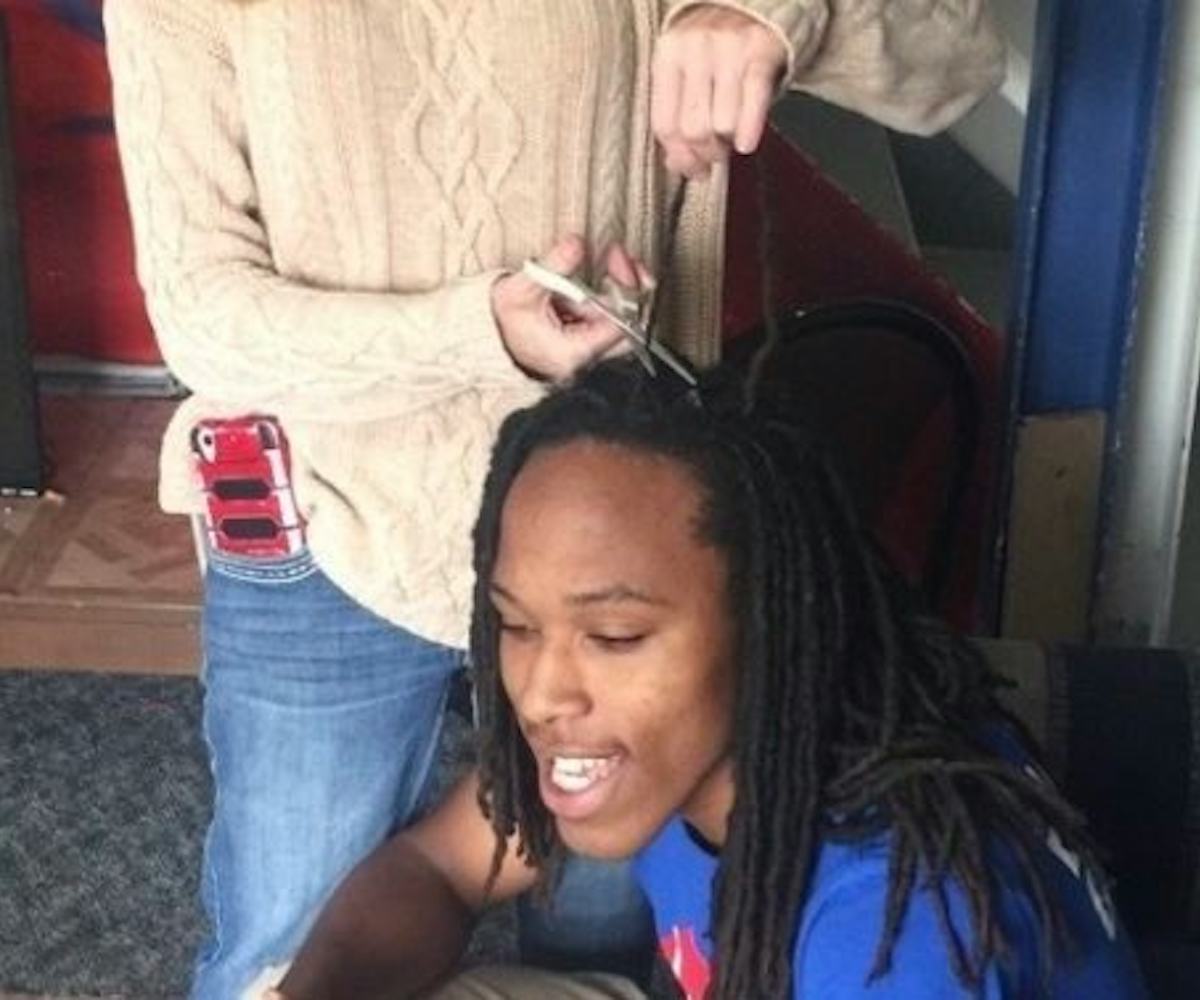 Photo via RzstProgramming Twitter
A Chicago Nonprofit Is Facing Backlash For Cutting Off Black Teen's Locs
It's just as problematic as you think it is
Local Chicago nonprofit The Crusher's Club is under fire following a Twitter post where the club's president, Sally Hazelgrove, is pictured cutting off a Black teen's locs. The photo, captioned "And another Crusher let me cut his dreads off! It's symbolic of change and their desire for a better life," quickly drew the attention of Twitter, where people quickly pointed to the problematic nature of the post. The since-deleted tweet, originally posted in 2016, was resurfaced by Twitter account @RzstProgramming following the announcement that the Crusher's Club would be one of two organizations receiving a large donation from Jay Z's Roc Nation and the NFL as part of the "Inspire Change" initiative.
In addition to sharing the original tweet, @RzstProgramming also shared a Facebook exchange between Crusher Club and a Facebook user who also took issue with the post when it was shared three years ago. "There's a rich cultural heritage associated with locs," the post reads. "Unfortunately, systemic racist systems seek to force compliance to white ideas of acceptable hairstyles. If we're gonna celebrate a young person's sacrifice of his culturally important hairstyle just so he finds more options for survival and success, the least we can do is name the fact that this sacrifice shouldn't be necessary."
Rather than directly addressing the larger implications (or even just the optics) of a white person cutting off Black hair in the name of "a better life," The Crushers Club haircutter appeared to conflate the experience with her own: "I cut my own hair off when I was trying to change my life as a young person, I don't have a problem with the hairstyle. I don't see race, children are children to me, but I will be more thoughtful about my words."
Following renewed backlash, the organization has deleted the heavily criticized tweets and shared a video entitled "Message from Kobe," which appears to feature the young man in the photo. "Cut my hair like three years ago, that was something I wanted to do," he says. "I was tired of it, tired of gangbanging, tired of messing up." The video has since been deleted, and the organization has shared an updated statement with The Fader. "The Crusher's Club does not have any policies prohibiting dreadlocks — we welcome all hairstyles from our youth. On occasion, our kids look to change their hairstyles and ask us to assist, especially since haircuts can be a costly expense for them. Our goal is — and will always be — to equip our youth with the resources to improve their neighborhoods, maximize their potential and develop into the leaders of tomorrow."
Discrimination against Black hair has a long, well-documented, and frequently updated history, whether it's the policing of styles at school or unwarranted commentary on the red carpet (Black Twitter will never forget, Guiliana Ranic). It's been the topic of books, whispered conversations between friends, the bedrock of a movement, and, more recently, its sanctity has become protected under New York and California law. Whatever the circumstances, there's a longstanding compulsion to control, comment, or interact with Black hair—a fact that isn't lost on anyone who has it. This particular video has reignited the discourse surrounding the association of Black hair with criminality or lack of professionalism, and rightfully so. Because even though there is a trope of cutting one's hair as a way to start over, that narrative only holds when the end result isn't a futile attempt to get in line with a white-centric ideal. In other words, it's just hair, until it isn't.
The situation has inspired some (including award-winning director Ava DuVernay) to share photos of their locs in protest using the hashtag #loclife, alongside stories of their success. While this can be a great way to shift the focus of the conversation, Black people shouldn't have to prove that locs and the people who wear them are worthy of respect. That should be implicit.