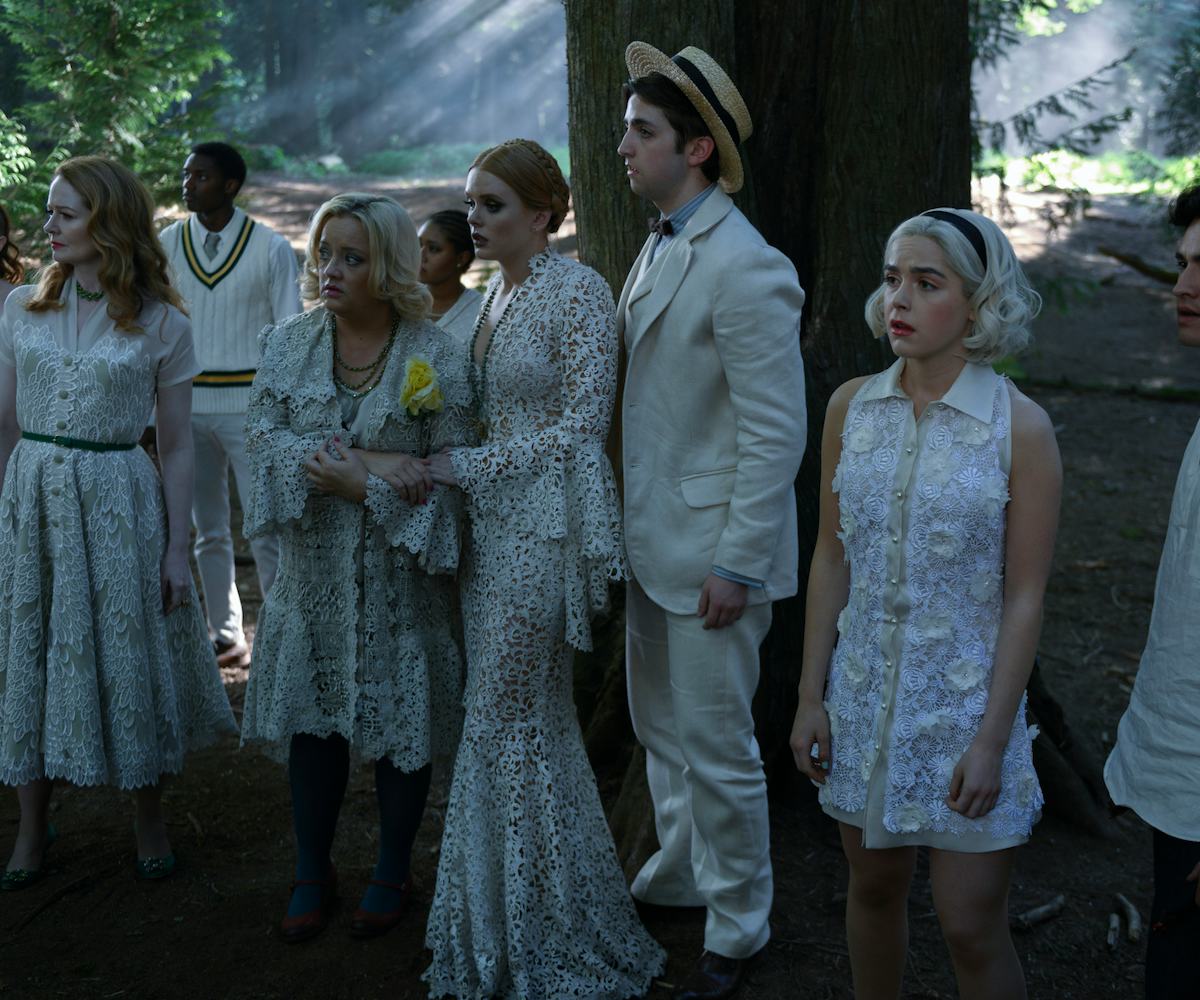 Photo by Diyah Pera/Netflix
All The Musical Numbers From 'Chilling Adventures Of Sabrina' Part 3, Ranked
There were good moments, and some... not so good
If you haven't sat down to watch Chilling Adventures of Sabrina Season 3, turn back now to avoid spoilers. The series takes a dark and quirky turn in the new season, pairing up Sabrina Spellman's (Kiernan Shipka) turn as Queen of Hell with a number of scripted musical numbers, performed by nearly every member of the cast at least once across the eight episodes.
It's a choice that Riverdale fans won't blink an eye at, but for regular Sabrina viewers, who haven't previously witnessed a campy musical theater number or classic rock cover thrown into a scene, it may be a bit of a shock; seeing Harvey (Ross Lynch), Roz (Jaz Sinclair), and Theo (Lachlan Watson) bust out into The Knack's 1979 hit "My Sharona" in the first episode was a surprise, to say the least. If Glee left an aching hole in your heart that only questionable covers can fill, Sabrina might just have the fix you need.
Netflix first teased the new season of Chilling Adventures of Sabrina with a musical trailer, enlisting Spellman as the show's witchy pop star; she performed an original song, "Straight To Hell," while then-unreleased footage from the series cut in and out of the music video. And while the song doesn't appear in any actual episodes, it is followed up with covers of everything from Wheatus to Run-DMC and the rendition of the modern Broadway classic Spring Awakening.
Below, NYLON has ranked all the musical performances from Chilling Adventures of Sabrina Part 3, from worst to Hm, maybe they're onto something.
Chilling Adventures of Sabrina: Pt. 3 (Original Television Soundtrack)
7) "It's Tricky" - RUN DMC (1986)
Seen in Chapter 22: Drag Me To Hell
Nothing about this performance makes sense, least of all the choice to make Shipka attempt to rap. Both Sabrina and Roz are brand-new to the cheerleading squad, and it doesn't take a cheerleading expert to know they wouldn't be taking the lead on such an involved number right from the start. The song only gets *worse* when they repeat the performance for the pep rally later in the episode.
6) "My Sharona" - The Knacks (1979)
Seen in Chapter 21: The Hellbound Heart
The only good thing about this performance is Roz's momentary solo vocals (and her sexual tension with Harvey). If The Fright Club — the trio's band name — continues on in Part 4, let's hope they discover music more suited to their talents (and generation).
5) "Hey Mickey" - Toni Basil (1981)
Seen in Chapter 27: The Judas Kiss
The best part of this performance is the way that Ambrose Spellman's (Chance Perdomo) spellcasting can be read as a distasteful reaction to the performance in front of him. He's tired, so please stop turning vintage songs into cheerleading performances... at least when the songs aren't entirely necessary to pump energy back into the coven.
4) "By The Sea" from 'Sweeney Todd' (1979)
Seen in Chapter 26: All of them Witches
Albeit one of the shortest performances of the season, Hilda's (Lucy Davis) delightful Mrs. Lovett is enough to send you straight to her Wikipedia page to see if she's ever starred in the onstage production. Cast Lucy Davis in Sweeney Todd already, you cowards.
3) "Teenage Dirtbag" - Wheatus (2000)
Seen in Chapter 22: Drag Me To Hell
When the show could have leaned into Ross Lynch's actual rockstar potential — in case you forgot, he's in The Driver Era and grew up performing with his family in pop group R5 — it instead covered up his singing with unfortunate gang vocals. But, at least this time, the song choice felt as though the characters would have chosen it themselves. Their fictional selves were almost alive when it was released!
2) "Tender Shepherd" from 'Peter Pan' (1960)
Seen in Chapter 28: Sabrina is Legend
When the songs are arranged to their witchiest potential, the musical interludes are best executed. So of course, when Zelda (Miranda Otto) suggested preventing widespread death by putting the entire town to bed with a haunting lullaby, it was total *chef's kiss* writing.
1) "The Song Of Purple Summer" from 'Spring Awakening' (2006)
Seen in Chapter 24: The Hare Moon
This is arguably the only musical performance perfectly matched to the talent at hand and context of the show. If you're not familiar with Spring Awakening, it's every bit as horny as Chilling Adventures of Sabrina and just as intertwined with teen angst and self-discovery. The haunting arrangement lent itself well to this episode's Midsommar-esque aesthetic, and was the perfect sonic complement to the impending conflict with the pagan witches. Next time anyone suggests Shipka should rap, they should have the Spring Awakening songbook thrown directly at their head.