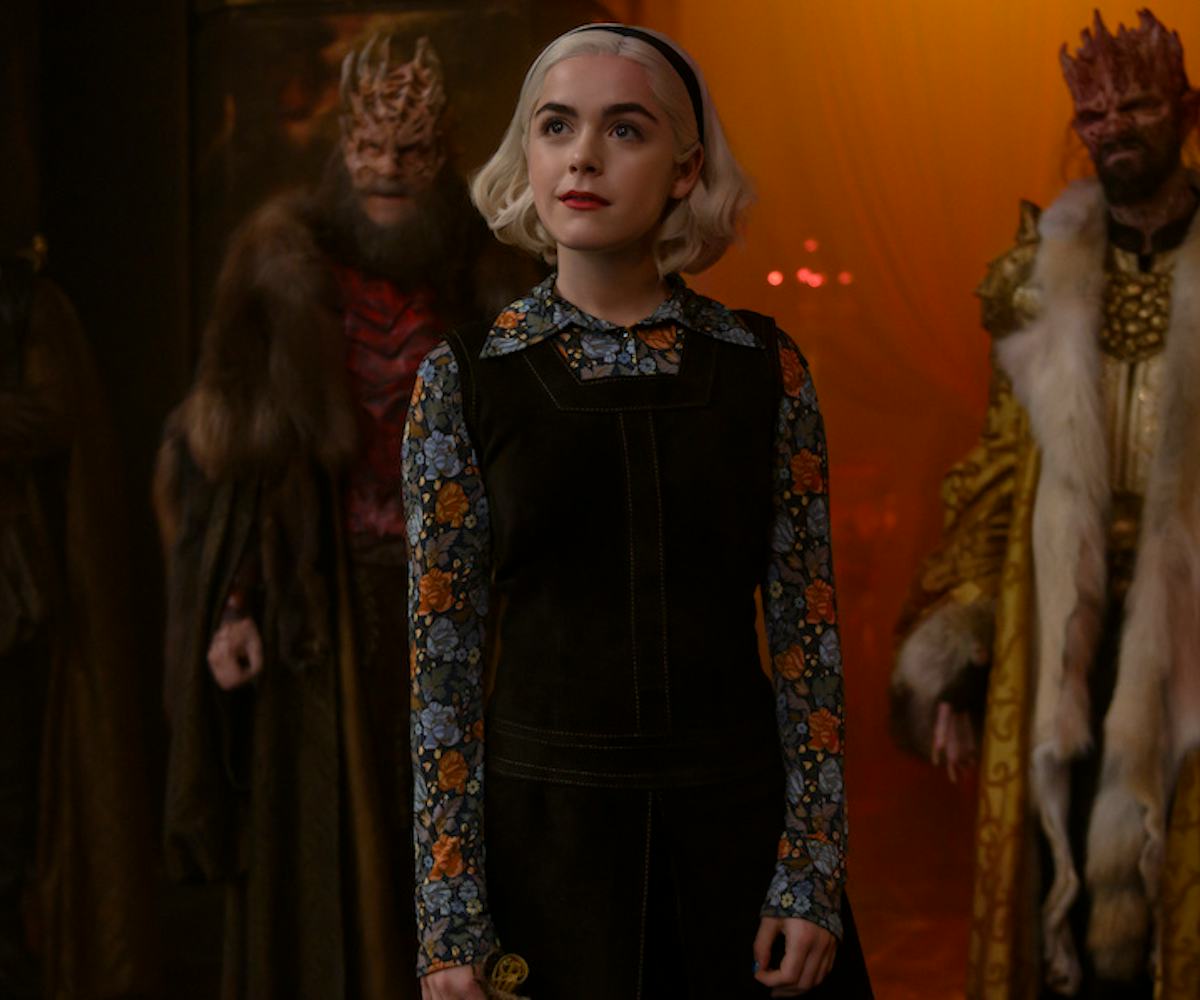 Photo by Diyah Pera/Netflix
The New 'Chilling Adventures' Trailer Has Voodoo, Sex, And 'Midsommar' Vibes
Is Kiernan Shipka the new Queen of Hell?
Sabrina Spellman (Kiernan Shipka) has been crowned the Queen of Hell in the new Chilling Adventures of Sabrina Part 3 trailer. Forget the campy music video trailer that was released by Netflix earlier this month — Spellman is back to being evil, and it's putting all of Greendale at risk. "You know what must be done, Sabrina. Claim the throne, save precious Greendale, and your boyfriend," Father Blackwood (Richard Coyle) ominously narrates at the top of the trailer.
At the close of Part 2, Spellman defeated Lucifer, trapping him in the body of her boyfriend Nicholas Scratch (Gavin Leatherwood). But she's yet to assume the throne of the underworld — and it's causing chaos on every level. "The balance is off in hell, so it is off in heaven, so it is off on Earth. To preserve one realm, you must preserve them all," another voice narrates, suggesting that, should Spellman not take the throne — and leave it open for Prince Hell of Caliban to assume — a slew of unknown evils will soon be headed for her hometown and family. There's bugs, voodoo, and even murderous plants that pose new threats to Spellman's world, all in an under-two-minute clip. But that does nothing to kill the horniness of Prudence Blackwood (Tati Gabrielle) and Ambrose Spellman (Chance Perdomo), who are deep in the middle of a witchy hookup as everything falls apart around them.
Spellman rocks a variety of styles throughout the trailer. In one scene, she's dressed like a Midsommar May Queen before an ominous crowd of masked figures; in another, a retro cheerleader who knows how to properly style a turtleneck. And, as new evil royalty, she might just revive the hoop skirt as she dresses in front of a crew of demons.
Watch the trailer for Chilling Adventures of Sabrina Part 3, below. The full season hits Netflix on January 24.