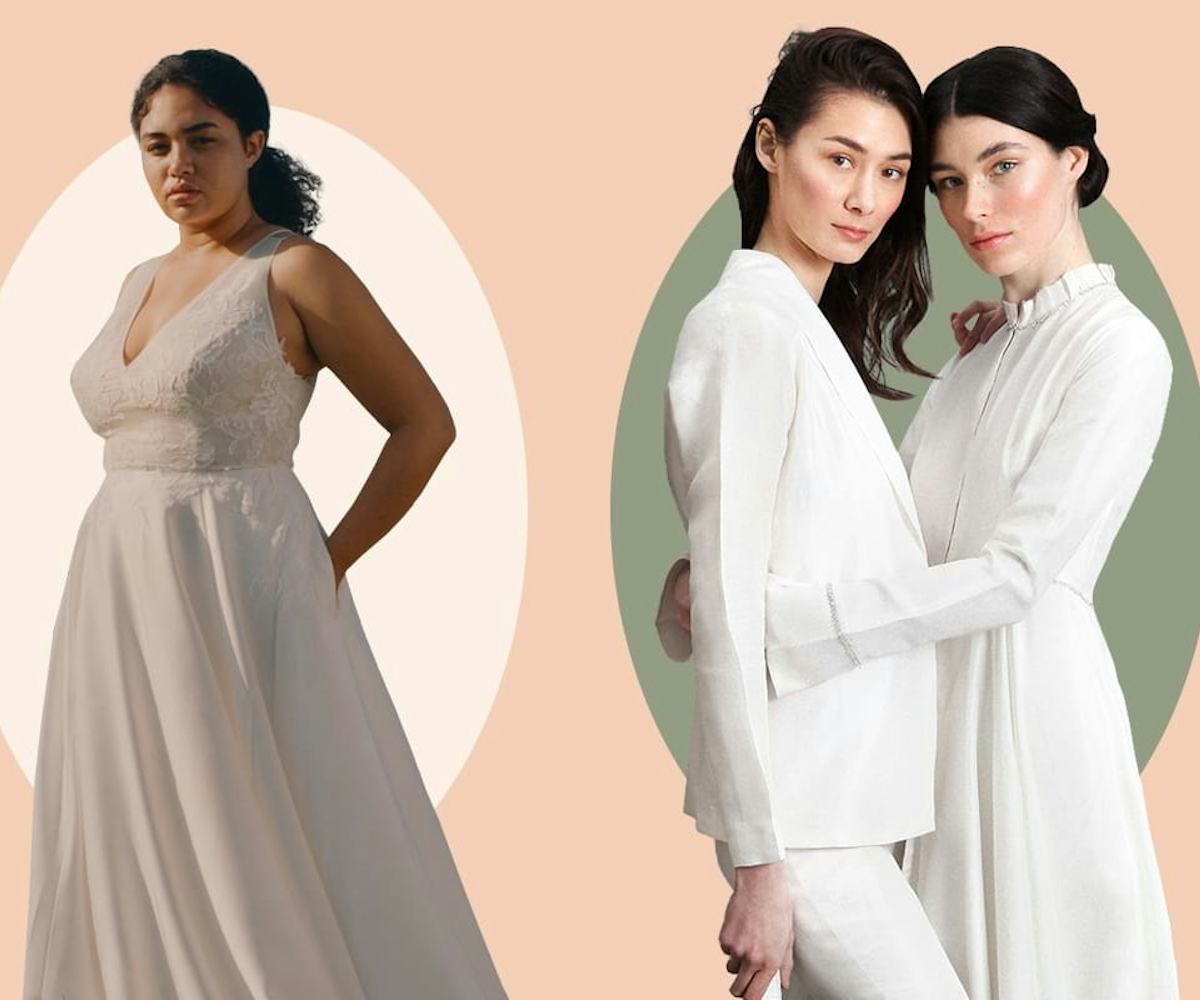 From left images courtesy of Floravere, Sahroo, and Lein.
The Bridal Fashion Revolution Is Here
Meet the designers who are leading it
Last week, I walked to a just-opened bridal boutique in New York City's Tribeca neighborhood. Expecting to be greeted with a typical window display of white gowns, I walked right past Floravere's storefront, which featured a riotous, flower-filled window display instead of what would ordinarily have been there: more of the same.
When I noted this to Molly Kang, co-founder of the bridal fashion brand, she smiled, "That's kind of the point." Having launched in 2016 by Kang and Denise Jin, Floravere has made a name for itself as the first direct-to-consumer, made-to-order brand that offers luxury wedding looks—made by a team that "hails from the foremost names in bridal" from "the same fabrics and construction as runway brands"—at much more affordable prices. (The majority of looks fall under $2,000 which, while not affordable to all, is a steal when compared to wedding dresses of the same quality currently on the market).
"Floravere was born out of personal frustration going through the wedding dress shopping process. For such a big purchase in our lives, we were shocked at how old-school the experience was, and even more shocked by the price tags," said the duo, whose website proclaims that "the bridal revolution is here." They continued, "It seemed like every dress we loved or saved on Pinterest cost $10,000 or more, while the dresses in-budget were crunchy, mass-produced, and not chic."
Three years later, they're continuing to make waves with the opening of their first bridal concept store—one which just so happens to list Serena Williams as an investor. In addition to having an unassuming entrance, the store boasts a beauty bar and showroom that sells swimwear from Solid & Striped and travel essentials from Cuyana among other items. Their approach to helping a bride have as easy as possible an experience also stands out—stylists communicate with the bride prior to her appointment by text messages or Instagram DM, rather than email or phone call. They also ensure that the pre-selected styles will wait for the bride-to-be in the private suite, where there will also be a mood board, a custom playlist, and a tablet positioned in a way to capture 360-degree dress shots ("because how many times has a mom taken a photograph of just the bride's chin instead of the full dress?" asked Kang).
"Traditional boutiques feel a bit like bridal factories, whereas we wanted to create an experience that feels much more personal, intimate, and calm," the two said. "Every detail of the design—from the private bridal styling closet to the in-store retail technology—is guided by an understanding that our bride has started the discovery and shopping process online, and so we can meet her halfway."
It's this same understanding of its customer that led Sahroo—a fashion brand launched in 2018, and originally inspired by the "ease and elegance" of the matching sets often worn in founder Sarah Abbasi's native Pakistan—to start a bridal collection this April. After Abbasi noticed that a pantsuit in off-white was selling particularly well, her interest was piqued. "Because we're a direct-to-consumer brand, we were able to talk to our clients and figure out what was happening. It turned out that all of these girls were brides, and they were getting married and looking to wear something that wasn't a traditional dress," she told me. "The more that we dove into that space, the more interesting it became."
Her research resulted in the brand's debut bridal collection, featuring white sets made up of hand-embellished shorts and a matching caftan with an oversized bow, slim trousers with a feather-trimmed crop top, silk flower-adorned capri pants and structured blazer, and a slip dress with slits so high it needs to be thrown over a pair of flared trousers (the brand's "interpretation of the gown"). "We had an opportunity to be integrated around something that isn't a white gown. There are so many very, very talented designers that do that incredibly well already," Abbasi said. "[Instead,] Sahroo is thinking, How can we dress our brides in something that isn't that gown?"
But the collection isn't just for the girl who wants to wear pants—though, for obvious reasons, it will appeal to her too. "When we were looking at the collection, we were thinking about how we can wear it again. [In addition to the wedding,] they can wear it to work, they can wear it to a girlfriend's lunch. That was very intentional," said Abbasi. "It shouldn't be that a garment has a life span of one day and then hangs in a closet." That desire for versatility is, according to Abbasi, "a really integral part of our design process," one that's relatable to any modern bride who has cringed at the thought of spending such a big chunk of money on an outfit that will only be worn once.
Instead, a lot of brides are now using the budget typically reserved for one wedding-day outfit on multiple looks for other wedding-adjacent occasions, like bridal showers, bachelorettes, engagement parties, and rehearsal dinners. Just recently, one of my friends selected a lower-cost wedding dress so that she could also purchase a jumpsuit from the same brand for one of her other events. "What's really interesting is that in the year that we've been here—between last year and this year—is the sheer number of looks. When I look at our orders, people aren't buying just one outfit, they're buying two or three outfits because the culture of weddings has changed so much," Abbasi said. "It's gone from a few wedding weeks to almost a wedding year."
This idea, that a wedding-day look can (and should) go beyond just one day, is what inspired Meredith Stoecklein to launch Lein in 2016. While studying at Parsons, Stoecklein was approached by a friend to make a wedding dress for her to change into after the ceremony. "I designed a cotton-raffia woven mini dress with silk organza trim to go with a pair of suede sneakers. A year later, her husband came up to me at a dinner party to tell me she had worn the dress I made her to their anniversary dinner last week, and that it took him right back to their wedding in Argentina, dancing until six in the morning," she said. "That feeling I had when he told me was the spark of Lein—I knew I wanted to design dresses that created memories."
After realizing that "there was such a missed market for wedding dresses with a ready-to-wear approach," she began launching tightly curated collections of fashion-forward midi dresses in Swiss dot–like fabric, satin pantsuits, ruffled jumpsuits, and maxi shirt dresses. Her latest collection takes it a step further into the ready-to-wear territory with a blazer dress, a loose utility jumpsuit, and a spaghetti strap mini dress. "I think more women are wearing what they want to wear [to their weddings]," she told me. "They are still honoring the traditions and meaning of weddings, but choosing to wear something that best suits their personality and their style."
It's the desire to, in the words of Kang and Jin, "disrupt the stuffy, antiquated, and sometimes predatory bridal industry," that links this new wave of bridal fashion designers and brands, that also includes the likes of Danielle Frankel and Reformation. "To date, the bridal industry has been totally dictated by tradition and outdated assumptions about brides... and the subtext of some of those assumptions are really antiquated and systemic. Just one example of this is the term 'bridezilla'—with the amount of money that a wedding costs, why is a woman who has high standards or is discerning labeled a 'bridezilla' when a man spending less money to buy a car would be considered smart and thoughtful?" asked Kang and Jin. "To us, the bridal revolution represents breaking all the rules and assumptions wrapped around weddings and empowering our brides to have the experience they deserve."
In addition to offering lower prices for high-quality dresses, they're breaking another antiquated rule by offering samples in extended sizes, a decision they made after hearing from "brides who felt alienated by the bridal industry's approach to sizing." They explained: "Boutiques typically carry samples in one size only, and bridal sizing traditionally runs very small compared to contemporary fashion [street sizing]. That means most women are putting on samples that don't even remotely fit, and are then made to feel on display and paraded around in front of an audience at a time when they feel particularly vulnerable." As someone who's covered weddings for years, this is a story I am familiar with; bigger-sized brides often can't find even one sample in the store that fits—let alone looks good or is within their price range—so they have to order and pay for a dress in hopes that it will look good when made for their measurements. Being direct-to-consumer, Floravere was able to act quickly on the feedback and offer samples ranging from street size 6 to 24 in its showrooms "so that our brides can feel empowered in their own bodies at any size."
Sahroo, likewise, attempts to disrupt the traditional model by using recycled materials for packaging and partnering with One Tree Planted to plant five trees for every order placed, as well as employing artisans that collaborate with the design team to hand-dye and hand-embellish the pieces—something that she doesn't see as mutually exclusive. "When going back to this ancient way of making garments, [I thought,] How can we honor those traditions and keep the beauty of them while being as sustainably-minded as possible while we go through this?" said Abbasi.
As more women are rejecting rules that society has once imposed on them, more brides are similarly rejecting the idea that a white dress is the only acceptable thing to wear at a wedding. This refusal to follow the cookie-cutter wedding formal is what, according to Kang and Jin, has "translated into an increasing appetite for wearing a gown that might be considered a little non-traditional or outside of the expected bridal uniform—whether that means wearing color or something that takes inspiration from the red carpet or perhaps a non-Western culture or heritage."
Abbasi seconded that based on her experience getting to know her brides: "We've had tons of intercultural, interfaith, same-sex couples come in, and I think that's what's fascinating. Our brides are incredibly diverse, but what pulls them together is this mindset that they want to be very beautiful but very secure and strong," she said. "What resonates is modern love."
As more brides demand wedding-appropriate styles that are as unique as their love stories, more designers will have to follow suit. "We are living in a time of change and women are more empowered than ever, and it's trickling down to how we shop, how we dress, and how we want to feel on our wedding day," said Stoecklein. "Bridal is modernizing, it's evolving like the rest of the world."
Good thing we have designers like this already paving the way down the aisle.