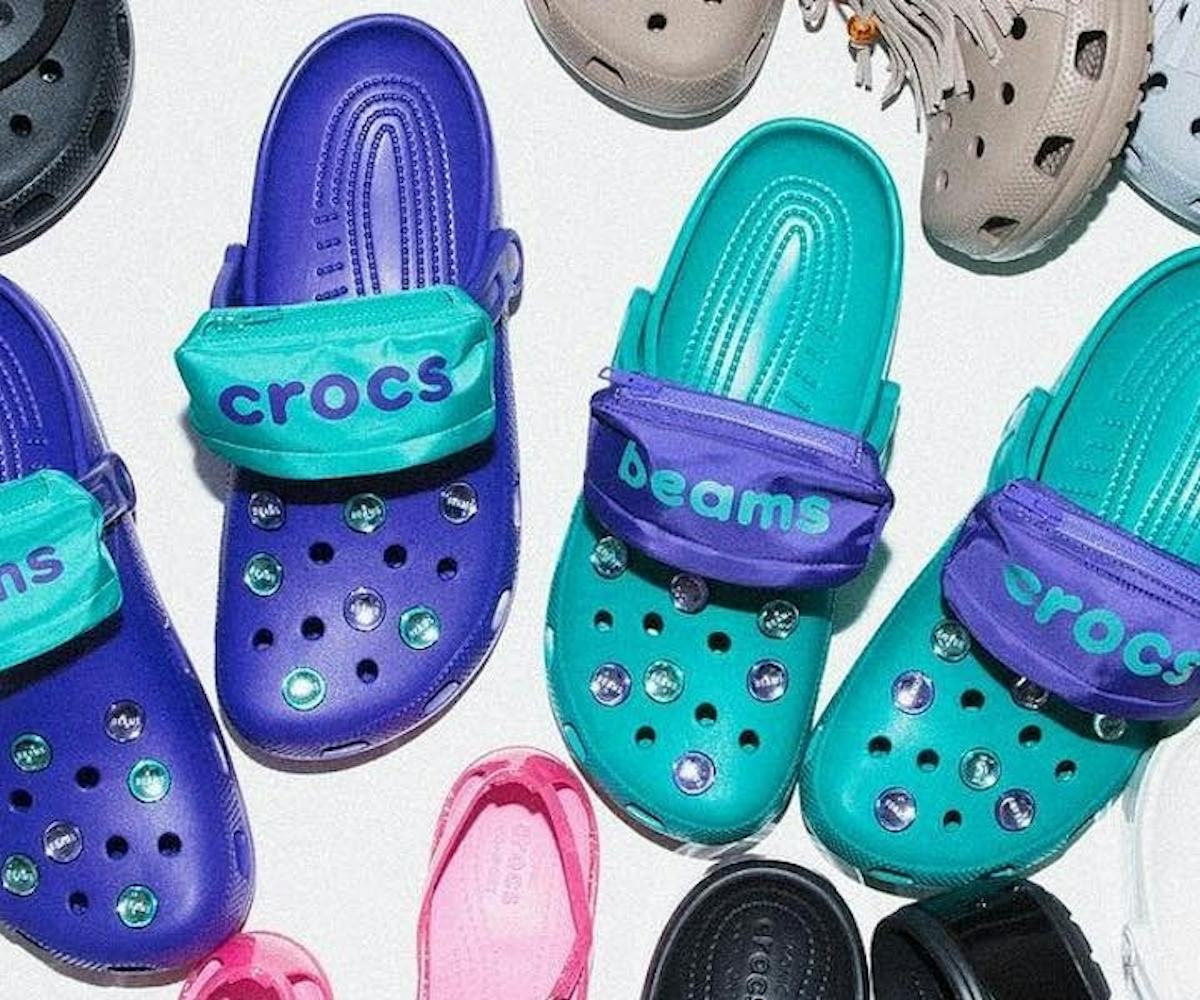 Via @beams_official on Instagram
Crocs' New Collab With Streetwear Brand Beams Is Peak Dad Fashion
Styles include visors and fanny packs
Crocs has teamed up with streetwear brand Beams to release a collection that will have all the hypebeasts shaking. On top of the traditional rubber clog, the brands have added translucent visors, fringe, and fanny packs. Yes, literal fanny packs now adorn the ankle strap and are ready to hold your smallest personal belongings and become the envy of all who glance at your footwear.
Are we living in a Crocs Renaissance? Depends who you ask. The fanny pack Crocs are almost too good to be true for the current lazy trends in street wear—Dad-core inception, if you will. The style even comes in color ways akin to your favorite '80s windbreaker—turquoise with purple accents and vice versa—and also feature little sparkly gem charms plugged into the holes. If subtlety is more your style, I definitely wouldn't recommend these bad boys, and rather the visor options which come in black or white.
Other styles seem to have gone to the Coachella of yesteryear, with long beaded fringe hanging from the ankle strap, which cover up a little lace-up accent. Like moccasins, but also not moccasins.
For those who don't partake in the dad-core scene, the collection includes two more feminine styles, including a sparkly sandal in pink or silver, and a set of bejeweled platformed Crocs in black or white. Despite my better judgement, I have already added both pairs to my cart on Beams' site and am one reckless click away from making this my signature summer shoe.
Per an Instagram announcement from Beams, the collection goes live this Friday, April 19. Check out the styles currently available for pre-order here, and peep a look at the collection below.