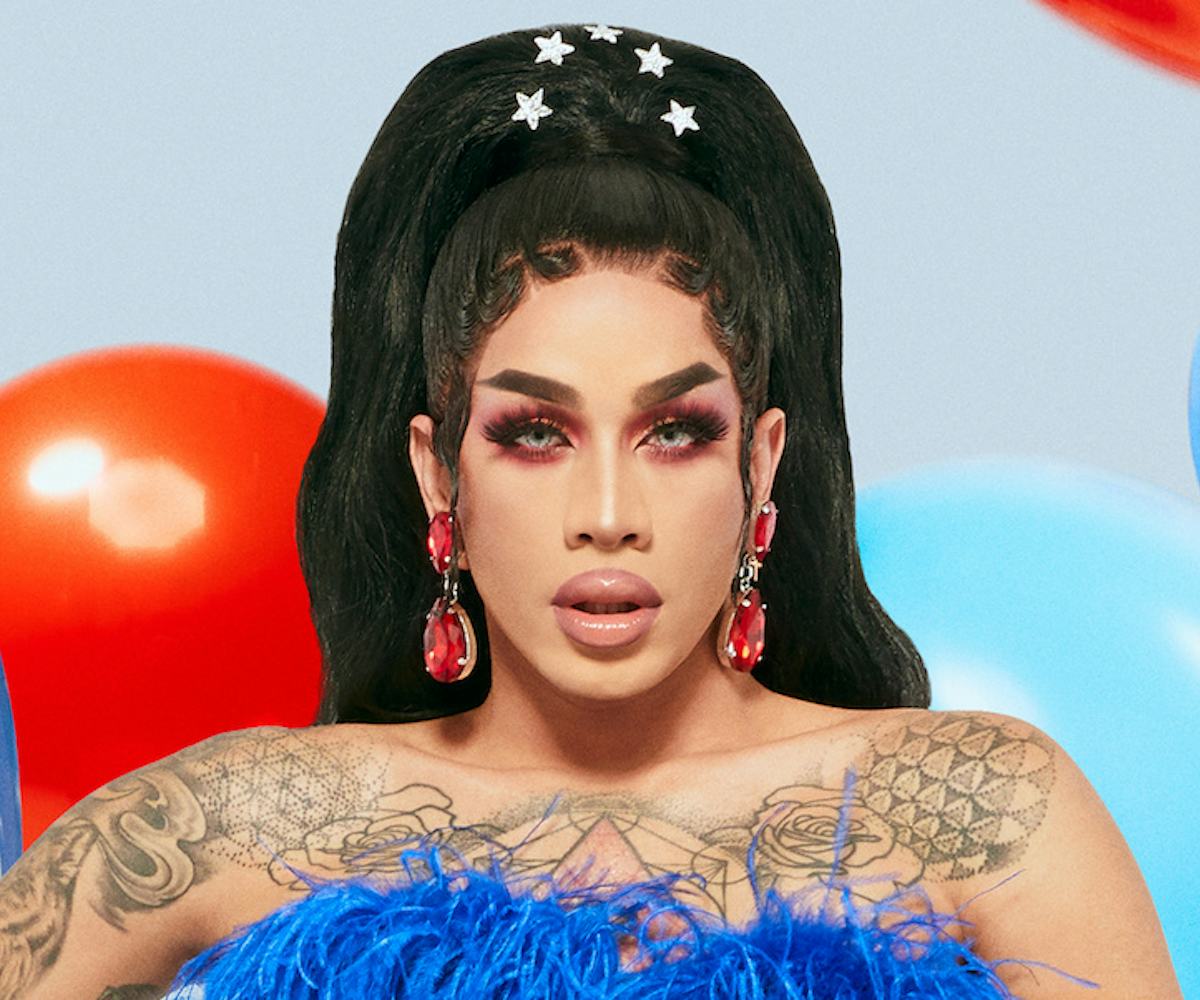 Photo Courtesy of VH1
Exit Interview: 'RuPaul's Drag Race' Queen Dahlia Sin On Going Home
The season 12 contestant shares her feelings on being the first to get cut
Every week, NYLON writer Michael Cuby will conduct an exit interview with the queen eliminated from RuPaul's Drag Race Season 12. This week, New York queen Dahlia Sin was asked to sashay away.
From the moment Dahlia Sin stepped foot into the Werk Room, dressed in a fashion-forward shredded and bejeweled denim dress with matching coat, it was clear that this Look Queen came to bring some real capital-F Fashion to the competition. The drag daughter of former contestant Aja, 28-year-old Dahlia, a Los Angeles transplant who got her start in New York, instantly solidified herself as a sassy queen who was unafraid to ruffle a few feathers. "The Haus of Aja is definitely known for drama," she proudly declared in her first confessional interview. "All we do is talk shit about everyone!" Tattooed and beautiful, she described her style as "very banjee, fierce, and better than all these other bitches that are going to be on this show."
But things didn't exactly pan out for the confident queen during the following episode, when all thirteen queens gathered together for the first time to compete in World's Worst, a spoofed hybrid of American Idol and America's Got Talent that specialized in "people with zero talent." As part of The Fruity Patooties, a squad of LGBTQ+ activist jokesters, Dahlia played a head of broccoli. But while her fellow fruity teammates (Jan, Rock M. Sakura, and Jaida Essence Hall) brought out all the high-energy stunts for the improv challenge, Dahlia found herself fading into the background as she tried to maintain the sexy, demure persona that has come to define her high fashion drag. Ultimately, Miss Sin landed in the bottom next to fellow Look Queen Nicky Doll, and after a similarly sexed-up Lip Sync For Your Life performance to Ariana Grande and Iggy Azalea's "Problem," the Doll Haus member was sent packing.
Last Friday, mere hours before the episode aired to the public, NYLON hopped on the phone with Dahlia Sin to talk about her feelings on being the first queen eliminated, whether she regrets not showing her emotional side to her fellow castmates, and why she thinks New York meme iconKandy Muse should be part of the Drag Race season 13 cast.
This episode's main challenge was World's Worst and you had to play a head of broccoli. It obviously didn't go too well for you. What do you think went wrong?
Well, even before going into Drag Race, one of my biggest weaknesses and challenges would be improv. I suck at improv unless some of it is written out and you have to do the rest. But when it's all improv, I suck at it so bad. I'm funny normally, but I cannot come up with stuff off the top of my head. I go blank. I just can't. I get scared. I was like, Did we have to do this so quickly? Why couldn't we have done this like...ten challenges in?
What kind of challenge would you have preferred to come first?
Anything but that! Any design challenge, really. I'm good at sewing. I'm also good at putting things together. So even if they were like, "Oooh, you can't use a sewing machine" or something, I would still be good at that. I'm good at acting, too, so I would have been fine in an acting challenge. But anything to do with fashion, I would have been good at, of course.
What were your first thoughts when you realized you were in the bottom?
I don't know if I can say this but...RIGGED! That was my first thought. That was it. I didn't have any other thoughts. That was it.
Were you nervous or scared to go up against Nicky Doll?
No, I wasn't nervous or scared because I've known Nicky for a little bit. I mean, I never really hung out with her in person in New York. I've just known of her. We followed each other on social media, so I knew of her and we've talked before. But I just knew that if it was going to come down to me and Nicky Doll, no matter what I did, I was going home regardless. Even if I did better than her in the lip sync, I was still going home because, no shade, she's the first French queen on the show and they're not going to get rid of the first French queen ever on Drag Race first.
In Untucked, there was a moment when all the other queens were consoling Crystal Methyd and you decided to walk away from the group. What prompted that response?
I was just annoyed. She cried on stage so I was just like, oh, here we go! People were just talking to her and just consoling her even though it was clear that me and Nicky were obviously in the bottom as well. So it was just like, "Okay, if you all are just talking to her, then I might as well not be sitting here. I'm going to go learn my lyrics. Bye!"
When Brita Filter came to console you, you opened up to her and admitted to not being a really emotional person. Knowing now that you were eliminated as soon as you were, do you regret not opening yourself up or being more emotional in that moment?
No. I feel like there's a time and a place for me to be emotional. Plus, also, you might not have been able to see, but I was crying in the back in my red look. Sometimes, I am an emotional person, but I guess you just didn't get to see it because, I don't know...editing. But no. I'm not an emotional person usually. I rarely cry. The only time I cry is if I see something sad in a movie, and even then, it might just be like an itty bitty baby little tear. A lot of people don't get that, but I can't help that that's how I am. I'm just not that super emotional. If I'm sad or something, I'm not going to cry about it. I don't know how to explain it but I'm not an emotional type of person.
You obviously are a look queen. Is there a look you're upset you didn't get to show off?
There are a few. There are like four looks I didn't get to show. Actually, no, pretty much all of my looks. My looks got better and better as it goes. It started off amazing, so you can only imagine how much better they got.
Is there a challenge you're upset you didn't get to participate in?
I don't know. Any of the design challenges. There's a lot that I wanted to do that I didn't get to.
No one wants to be the first eliminated queen. How do you feel being that?
Who wants to be the first queen out? That's crazy. If you want to be the first queen out, then you shouldn't be there. For what was on this episode and the first episode I was on, I didn't really get too much appreciation for what I gave. Especially for my runways. They went over my runway in two seconds. They said, "Oh, you looked nice" and that was it. My critique was over. All the other girls were getting twenty minute critiques and I just got, "Oh, your green outfit was cute" and that was it. I just kind of saw it coming based on how they were treating other girls and how they were treating me. You can almost sense when they're clearly not here for you.
But it does suck to be the first one out because who wants to be the first one out? Especially since there were girls who were in the bottom with me that I think definitely should have gone home. I think there were two other girls that should have been in the bottom that weren't in the bottom and should have been lip syncing for their lives instead. If I went home second or third, I could have lived with that, even though I would have hated to go home second or third too. But going home first was like horrible to live with — especially actually going home after.
So do you stand by the statement you made in Untucked that it should have been Crystal and Nicky in the bottom instead of you?
Well, to be honest, I think it should have been her whole group in the bottom. Two of her group members were in the bottom and then, randomly, I was in the bottom. I felt it should have been Crystal, Nicky, and Widow. All three of them should have been in the bottom. It should have been like, "Your group did the worst. You all should be in the bottom." But it was two of them and then me. So that was another thing that was like, "Well, okay, you guys just want me gone."
Finally, is there a specific drag queen that hasn't been on the show yet that you would want to see in a future season?
I would love to see my sister Kandy Muse and JanelleNo.5. Both of them, but especially Kandy because me and her started drag together and Kandy has made quite a name for herself in New York. And it's only right that we put another Doll Haus member on the show! But also just because she's an amazing queen. She can perform, she can turn looks, she can act, she can do basically anything. Girl, put my sister on!
I love the "sitting alone in VIP" meme.
Well, I can't say much but there's something coming out with that later!
I can't wait. And I hope you come out with something else later too.
Hopefully you see me on something else. Come on, All Stars! Give me the Vanjie edit!